Here's What You Don't Know About Silverwood
Last summer, I was asked to share my love for Silverwood as a member of the Conductors Team. I was thrilled to be a part of the program, looked forward to sharing my experiences and of course loved the fun perks! However, I decided to come back for a second year for a reason that might surprise you.
Growing up, Silverwood was an oasis of fun where my friends and family could connect and come together no matter what was happening in our lives. Silverwood is more than just an amusement park. Silverwood is a community of individuals that work hard to bring a little magic into our lives every time we visit and help us remember what is most important – each other. This is a vision that I want to be a part of. During times of division, we need unity – and few things are more powerful than a day of fun to get through difficult times and lift the human spirit when it is most needed.
Here at Silverwood Theme Park, there is a group of people who guests rarely see. I am referring to the team of dedicated individuals who spend countless hours working to design, organize and maintain the magic that provides guests with the experiences that inspire laughs, thrills, endless fun, and plenty of screams. These individuals coordinate every detail of the park to make sure that it is "show ready" for guests each day. Although they may not interact directly with guests on a regular basis, they deserve recognition for their enormous contributions to the guest experience.
While blogging for Silverwood, I have been blessed to build a relationship with one of these magicians and was sad to hear that she is beginning a new chapter and leaving our Silverwood family. I feel privileged to have worked with her and wish her the absolute best in her new endeavors. However, before she goes, the Silverwood community should get to know her too!
Meet Kailey Lieuallen, Silverwood's Public Relations Manager Extraordinaire!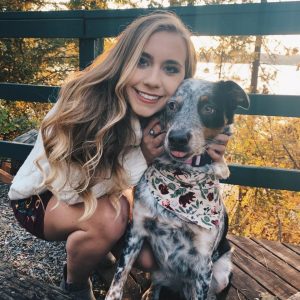 Kailey grew up in Ephrata and has a Bachelors degree in Public Relations. She has family in the area, grew up spending her summers in Sandpoint, and visited Silverwood often. She once told me that the field of PR can be tough, so she made a point to find a place in which she would be proud to represent and was blessed enough to find that at Silverwood.
As we reminisced about her time at Silverwood, I convinced her to share some of her favorite memories, and Silverwood favorites with me. She told me that although she scares easily and barely survived the attractions at Scarywood, working the ScareCam to try and find the best scared faces to post was an absolute blast. Her favorite ride at Silverwood is Tremors, her favorite food is the Margherita Chicken from Lindys and what she will miss the most about working at Silverwood is the people she worked with. She feels very blessed to have had the coworkers that she did and said that they are like family to her. However, my favorite part of our conversation was when she revealed to me that she can say the alphabet backwards and has travelled to almost 10 different countries!
As my time with Kailey ended, she asked that I share her sentiments with you all.
"As I embark on my next life adventure and a big move almost 8 hours away, I will forever be appreciative of the lifelong friendships that came about during my time at Silverwood. I would recommend anyone looking for employment to apply here and become a part of the family themselves. Silverwood will forever hold such a special place in my heart, this is not a goodbye but rather a "see you later" as I will always make a point to come back and visit." – Kailey Lieuallen
Kailey, thank you for the magic that you brought to our Silverwood community and the incredible work you did to help create a place where we can come together and remember the greater connectedness we all share. You will be missed!
About The Conductor
Allison is a small business owner who once struggled to keep her businesses social.
Her expertise comes from experience, trial by error, extensive research, and plenty of failures. Over the years, she has learned exactly what it is that business owners struggle with most. It is these life lessons that have inspired her to provide her fellow business owners with a service that will make a difference in their business the same way it has for her!
Her goal is to use her expertise to help others find the hidden revenue opportunities in Social Media so that they too can achieve the success they deserve without the stress that social media causes them!
As a result of the successful business that she has built, she is able to pursue other passions! Allison is active in the community, works with several non-profits and it is her mission to spend her free time uplifting other women through her Passion Project the BuildU Girl Gang. Her resume includes owning and operating three companies, teaching Social Media courses at several local colleges, consulting for large corporations and she has opened 13 businesses from the ground up. With a passion for business and marketing, Allison topped off her education earning a master's degree in Organizational Leadership from Gonzaga University. To summarize, this woman is a force to be reckoned with. A one-woman wrecking ball!