My name is Kate Austin Payne, and I am a shopaholic. 
I pull over for every yard sale sign, am known at my local discount stores by name, and constantly keep my family on their toes through enlisting their help in installing yet another shelf for my latest collectibles. I am the person window displays, targeted emails, and television ads were made for. I love buying gifts for my family and friends and picking out the perfect souvenir or t-shirt to commemorate any occasion. And, as a self-admitted shopaholic, there is no better place to let me loose than across Silverwood's TEN gift, souvenir, and retail shops. I feel confident sharing the ins and outs of Silverwood's top gift shops and souvenir stops with you today, as well as leaking an insider secret on avoiding having to haul your purchases around the park or stuff them into a locker. Without further adieu, here's a breakdown of some of the top things you can find at Silverwood's resident gift shops – you know, from an expert.
Souvenir Gear
The first and perhaps most universal gift shop staple is park-themed clothing and logo gear. With variety spread across nearly a dozen different shops, Silverwood is no stranger to offering some of the greatest theme park apparel in the country. Pick up a kit to tie-dye your own bright Silverwood tee at Sweet Treats, grab a Boulder Beach Patrol lifeguard-style hoodie in the Boulder Beach Gift Shop or pick up some post-ride apparel to prove you conquered our latest trip through the sky, Stunt Pilot. Personal favorites include the minimalist, college-style SILVERWOOD lettered hoodies with a simple "RIDE ON!" cleverly emblazoned across the hood and the Coaster Alley staple sweatshirts listing the park's giants down the back. Many of the shops offer different Silverwood-themed hoodies, tees, and ball caps across a variety of styles and sizes, with an entirely new crop brought in during the Scarywood event, so make sure to check in every time you enter Silverwood's gates!
Souvenirs, Knick Knacks, and Mementos
Decorative baseballs, glittery shot glasses, detailed pins and magnets, custom pressed coins. Monogrammed license plates, miniature cars, necklaces, and keychains are all perfectly personalized. Colorful rocks, minerals and shells. The vast majority of Americans have a collection of some kind, and among the most popular are adventure and vacation mementos. Silverwood's gift shops have something to appeal to the knick-knack collector in us all – many of which even come customized in an array of names for yourself or a loved one back home. So pick up a Silverwood coffee mug for your mom, matching hoodies for you and your friends, or a gold plated initial necklace for your sweetheart at Silverwood Coffee Roasting & Trading Co., right off Main Street. Silverwood is the perfect place to find special trip keepsakes whether you live 10 miles down the road or 10,000 miles away. 
Coaster Close-Ups
Whether you plan a fun group photo with your ride partners in line or just go with the flow for a hilariously candid airtime shot, there's something special about commemorating a ride through the air with a souvenir photo. Currently, in-ride photos are available inside the Tremors gift shop as well as the brand new, gravity-defying Stunt Pilot shop. This is where you can also pick up themed tanks, tees, magnets, and stuffed animals to commemorate your time in the sky!
Stuffed Animals
Won on the midway or purchased in a gift shop by kids, couples and kids-at-heart, stuffed animals are an integral part of any Silverwood experience. On my latest trip to the park we found an adorable Stunt Pilot brown bear, complete with aviator goggles, a bomber hat and an emblazoned pilot's scarf in the Stunt Pilot gift shop, as well as a cartoon billy goat plush affectionately named William "Billy" RAM-sey purchased at Tremors. Our home at this point is a veritable Silverwood Plush Zoo – my younger sister has a white tiger adopted from Huck's General Store over eight years ago sitting on her bed at this very moment, while a giant pink Toy Store plush snake hangs from a net in the den. Between technicolor hanging monkeys at Sweet Treats, moose mascots at Melvin's Mine, and plushies made in the likeness of fantasy animals and familiar Northern Idaho wildlife throughout the park, there's a friend for everyone to bring home.
Everyday Essentials
Silverwood guests can find not only the perfect souvenir for themselves or gift for loved ones, but they also can find everyday practical essentials like sunglasses, water bottles, snacks, and waterproof cell phone cases. If you experience some inclement Pacific Northwest weather, the shops also offer rain gear, umbrellas and warm clothing such as hoodies and sweatpants to avoid any interruption in your day. Forgot your goggles or flip flops at home? Need some extra SPF, swim diapers, a flotation device, or even a new bathing suit? Once again, the Boulder Beach Gift Shop has you covered. 
Souvenir Cups are a great way to accomplish two things at once: this season you can secure a Stunt Pilot souvenir cup as a memento for yourself and your family while also getting free unlimited refills the entire day of purchase. After that, they're only 99 cents on future visits!
Glow Gear
As the sun sinks below the horizon, sweatshirts are zipped, and the mesmerizing Country Carnival rides and midway light up, the Glimmer n' Glow shop opens its doors and transforms into a flashing, candescent center of wonder within the park, offering colorful bubble machines, technicolor glow wands, and brilliant LED swords. Glimmer n' Glow is a must-stop for after-dark gear and fun to make your last few hours in the park the most dazzling of them all. 
Odds and Ends
Beyond plush bears, logo hoodies, and knick-knacks for everyone from your favorite cousin to your next-door neighbor, Silverwood's gift shops offers a neat assortment of miscellaneous wonders, from mining helmets to hat pins, uncracked crystalline geodes to geometric coffee mugs. Fill a bag with phosphorescent stones at Melvin's Mine or handpick the seashells for your memento bottle at Boulder Beach. One of my favorite pastimes between thrill rides and funnel cake runs is stopping in and exploring all the new odds and ends in each shop. These miscellaneous wonders offer an opportunity to bring home something new and interesting on every trip to the park, making the souvenirs as unique as the experience itself. 
Bonus Insider's Secret: Package Express
As promised, here's the scoop on one of Silverwood's most unique and revolutionary offerings: The Silverwood Package Express. Through this convenient service, upon making any purchase in the park, you can arrange for the package to meet you at the exit at the end of your visit. This is an excellent way to avoid losing items, renting half the lockers in the park, or needing to reserve every car on Timber Terror just to keep track of all of your gift shop bounty and spoils from carnival success while you ride! The mechanics are simple:
Buy or win your gifts, souvenirs, and prizes.

Speak to a Cast Member in any of the park's gift shops and fill out a Package Express form with your name, phone number, and approximate departure time.

Keep your slip with you until the end of your visit, at which point you can bring it to a Cast Member at the Trading Co. on Main Street to pick up your goodies.

Load your car up with today's treasures and head home! 
It's that simple! Enjoy the park while only keeping track of yourself, your family, and your list of rides to conquer and still get to bring home all the treasures of the visit. After writing an article like this one, I'm sure I'll be headed back to utilize the Package Express myself very soon!
What is your collectible souvenir of choice? Are you more of a souvenir hoodie or logo ball cap person? Let us know below what from Silverwood speaks to your inner Gift-Shopaholic!
Meet The Conductor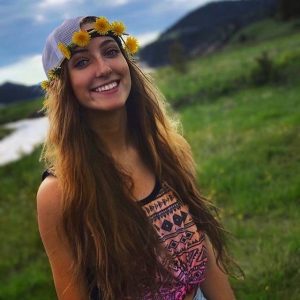 Hey there! I'm Kate Austin Payne. I was raised on a small farm in the Rockies alongside big dogs and good horses with flowers in my hair, a paintbrush in one hand and a fishing rod in the other. I am an archer, angler, storyteller and lifelong Silverwood adventurer passionate about opening doors for the next generation into a life spent outside enjoying all the adventure God's green earth has to offer. I am a college student majoring in public relations and love telling stories about all things entertainment, western lifestyle and outdoor experience. You can follow along through my Instagram, @wildkateaustin, and my outdoor blog!