Buckle up, buttercups, Rochelle here, and I have my top 10 reasons to visit the park in June! You'll want to hear them, and when you're done reading, go ahead and enter for your own chance to win tickets to Silverwood!
These reasons are in no way, shape, or form in order. Just as a mom does, I write them as they come while I do twelve things at once.
Maybe you're like me, and you are not a fan of being too close to anyone (hi sorry, I loved the 6 feet rule), but that brings me to my first reason.
1. 
ELBOW ROOM
The school sessions are not fully out yet, and I have noticed many people don't realize that after Memorial Day, the park is almost 100% open every day of the week.
2. 
STORES STOCK IS HIGH
Normally, I tend to A V O I D the shops because they never have my name on a keychain, but they had my daughter's name, and I felt like there were enough of them on the shelves. They seem to be better stocked because it's the beginning of the season vs. when I usually go the last weekend they're open.
3. NEW FOOD
Call me crazy, but I noticed a new pizza spot on the way to Rollercoaster Alley. There used to be a stand, and now there is a larger venue with more seating for you to enjoy a slice. Personally, a hit with two little ones has space for everything in tow. 
4. BRAND NEW SHOW
There is a new show this year in the High Moon Saloon! Visiting the park in June gets you in first. If you're anything like me, you're not going to want spoiler alerts. Come early, and you'll be the first of your friends to have seen the park's most remarkable new show!
5. BOULDER BEACH IS OPEN!
I think this one speaks for itself… The Lazy River, a nice adult beverage, and scooting around. I think I am done explaining myself on that!
6. GAMES HAD THE COOLEST PRIZES
When we went, I loved the game where you pop the balloons with a beanbag. It was so fun, and my favorite, or shall I say the kid's favorite, was being able to do their best and get a chance and still win. It was nostalgic at its finest, teaching the kids how to play.
7. SWEAT NO MORE
I can't help but love a crisp afternoon, walking through the park, ice cream and kettle corn in hand, not worrying about melting my life away; it's PERFECT. The weather in June, especially after weeks and weeks of gloom and wet days, I won't sweat while having a blast. I actually had to buy my son a hat to cover his sweet face and shirt (There was a lot in stock at Hucks General store) 
8. SWEETS
Before this trip, I never had the famous ice cream at the Ice Creamery. The shop is right there in the Country Carnival, and by golly, I've been missing out. Coming in June, I only waited like 5 mins in line. It was probably my fault because I wanted one scoop of everything! Even if you're not into a cone, they have hard scoop shakes … YUM.
9. LOCATION
 Perfect distance from Westside (I'm driving from Spokane, and it's a brisk 47 min ride). It's also a pleasant drive from the east. It is centrally located.
10. SHORTER LINES, ENDLESS FUN
 I think the whole park is less crowded in the beginning weeks, and then summer gets going after the beginning of July. I am so excited during this time because I can honestly say I get to enjoy the park and so do my kids. The lines overall are not wild; the staff really gives so much attention to those small details. We got to go on almost every ride two or more times.
We all have different ideas and thoughts, but these are the ones I wanted to share with you. Being able to do these things at an amusement park with my kids has been great, and it feels like being a kid again. My fiancé felt the Nostalgia during our trip as this is where he spent his childhood. The park in June is filled with an aroma of fun, and there is fun around every corner. You will love every minute of it.
Meet The Conductor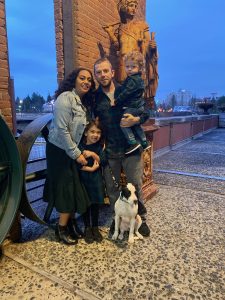 Rochelle Durruthy is a California transplant in the great Pacific Northwest, living and exploring in Spokane Washington, she is a content creator for her lifestyle blog, when she isn't busy creating content she's helping her fiancé and his renovation business and chasing their two children around. Always ready to conquer a new adventure Rochelle and her family are excited to share all the fun things to do at Silverwood what with you all.