You may be wondering how to keep your little ones safe while taking advantage of Boulder Beach, and I am to reassure you, here are the tips and tricks to keeping those littles safe while in the water! 
 Don't be discouraged if you have little ones at the water park with you; here, I'll tell you how to keep them safe and protected at the park. 
 So grab your shades and your refillable souvenir cup and take some notes  
What should I bring to Boulder Beach for my toddler?
You'll want to be prepared with your swimsuit, towel, sunscreen, and for the un potty trained… a swim diaper! Have no fear if you forget your stuff! The Boulder Beach Trading Co. is stocked for you! Don't forget that the floor is like lava on those hot days, and you want to protect those sweet feet. 
If your sweet babe has a special snack or treat they like to eat or if they need special dietary food, make sure you pack those and keep them in a soft-top cooler smaller than 12 Inches. Our baby is still a bottle drinker and only has almond milk, so I try to keep a bottle packed in our buggy. Other than that, Pablo's and Granite Grille are great options for lunch. This is where I hop in line to grab some food, and it is always a treat.  
What kind of water accessories should I bring?
Water shoes if your feet get blistered easily; note you can't ride some of the rides with them on, but it's good as the days get hotter to protect yours and the little's feet. The lifeguards will have you hold your shoes while you go down the slide.
Next on the list… A water protector for your phones. Let's face it. Mamas want to take pictures of everything, and it's okay to do so. But be wary. You are responsible for your phone if it's damaged. You can hit Boulder Beach Trade Store at the waterpark's front entrance if you forget. 
Can I bring a water float or lifejacket?
Water floaties are not permitted in the park. However, they have free inner tubes to coast the lazy river. You can also purchase a tube to rent for the day, and if you get a cabana, they come with 4 tubes for your stay.  
You can also bring a United States Coast Guard and Canadian Coast Guard-approved life jacket. Don't have one? Don't you worry! They have free life vests around the park, mainly by the wave pool and lazy river.  
My best advice from being a lifeguard for a long time is to keep littles dressed in water-safe colors. What does that mean? Well, it means you want to stick to bright colors for the bathing suits so the guard can see them underwater. Anything too light, especially on a busier day, is much harder to see. It is something I truly find helpful. Kiddos love those bright colors. 
 Make sure you lather up on the sunscreen continuously. Nothing is worse than forgetting and burning those sweet faces or shoulders. As soon as you're out of the water, grab the spray, and reapply. While you're out, make sure to stay hydrated and grab some water. 
Grab A Spot Early
Arrive early to get a spot in the shade. This is PRIME real estate. Be mindful of your neighbor's and people's things when you arrive. It's so tempting to try and grab a huge spot, but with the park getting busier, only take the space you need.  
Also, if you have littles, I find it easier to be closer to where they like to play. My littles love the splash pad area, so we tend to camp out there for the day. As I mentioned, it gets packed, and you want to keep your eyes on them at all times.
Make sure kiddos follow the rules and height restrictions. These rules are here to protect us; let's have fun and follow the rules. It's also essential that you are showering before entering the pools. We want to keep the place we play clean and reduce the bacteria that travels home with us. Take potty breaks at least every hour to make sure you are getting out and hitting the restrooms. Check swim diapers every 30-60 minutes. All of these tips are here to help prevent waterborne illness. 
All this is great information, but just remember, you are the best person to take care of your family. Lifeguards are just a layer of the protection at a waterpark, being attentive, and supervising your child around the water, is the key to water safety. 
Now you have the tips, facts, and information to have one of the best days at the park! Know your areas and splash and have fun with the kids!
Meet The Conductor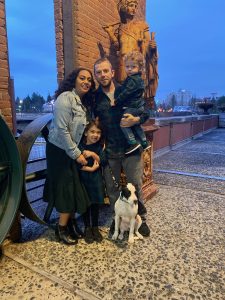 Rochelle Durruthy is a California transplant in the great Pacific Northwest, living and exploring in Spokane Washington, she is a content creator for her lifestyle blog, when she isn't busy creating content she's helping her fiancé and his renovation business and chasing their two children around. Always ready to conquer a new adventure Rochelle and her family are excited to share all the fun things to do at Silverwood what with you all.