Guess what!!!? We are planning on going to Silverwood soon! Going to Silverwood theme park has always been one of my favorite past times of my childhood and now I'm so excited to share that with children of my own! Taking a little kid, a toddler, and a new baby to Silverwood is definitely going to take some preparation and planning to insure we have a smooth, successful and enjoyable trip! I've prepped a list of my top essential items to pack for Silverwood and Boulder Beach if you're traveling with littles or a baby!
Stroller
Must have for carrying kids who don't want to walk any more. I know I'm not carrying them! We like to bring a double stroller so one can tote the baby and the other two kiddos can switch out. If they want to walk, the under carriage or a seat makes a great spot to carry a bag full of your other essentials!
Snacks
If you're a parent you've likely heard the phrase " I'm hungry" enough to know your kids will say it every time you pass Dip n Dots or the cotton candy stand. Bring some snacks to keep them happy while in line or between meals! Silverwood allows each guest bring in a 12x12x12 soft-sided cooler with small snacks or personal lunch into the park.
Fanny Pack
Don't laugh! You won't regret it! Perfect for when you have to leave your stroller to get on a ride you'll be glad you have a secure place to store some cash, cards and of course your phone! No one likes feeling uneasy leaving their essentials behind!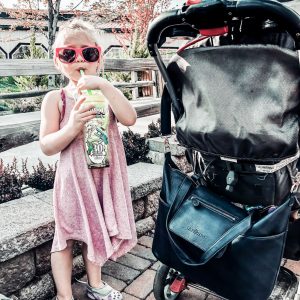 Going to Boulder Beach?
Puddle Jumpers
Other than swimsuits and sunscreen, we like to bring our puddle jumpers! Our kids are used to them! Just make sure they are US coast guard approved so you can bring them in! Boulder Beach does provide life jackets in all sizes at a first come first serve basis!
Swim Diapers
For those who aren't potty trained!
Waterproof Phone Pouch
For keeping phone safe and taking your IG worthy pics! Boulder Beach also sells these in the gift shop if you didn't have a chance to get one on amazon beforehand!
My must have items for a baby? Here are my lifesavers:
Portable Pump
If you're a pumping mom, doing things like going to Silverwood can seem daunting! Bring a hand pump or an electric double pump and pump wherever you are! I love my Freestyle Flex pump from Medela, it's super small and fits right in the bottle pocket of my diaper bag! I also bring a light muslin swaddle to use as a blanket and tie around my neck for a cover up for pumping or nursing if I want some privacy!
Bottle Warmer
Bottle feeding? I got you! I love my tiny bottle warmer from Baby's Brew! It also fits right in the baby bag! Charge it the night before and it should last you the whole day warming bottles so you don't have to keep asking for cups of hot water everywhere!
Formula Dispenser
Formula feeding? Try a formula dispenser! No one wants to slow their roll riding fun rides to stop measure scoop and probably spill formula powder everywhere! Baby's Brew also has a formula holder and dispenser! One push of the button is one scoop of formula! So easy!
If you're planning a trip to Silverwood with young ones or a baby these items are sure to make things a smoother trip for you!
Meet The Conductor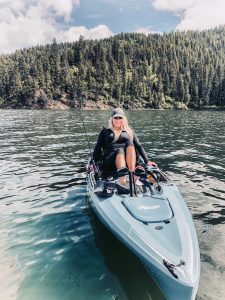 My name is Chelsea Halasz.
I own a lifestyle and travel IG feed called @TheBlondeSpaniard. I was born in Spain but grew up mostly in the Pacific Northwest! I introduced my husband to the PNW almost 10 years ago and he has fallen in love with it just as much as I have! We are raising our 3 children ( 6, 3, and a newborn) here and hoping to see them grow a passion for all the fun outdoor adventure the area offers!
I grew up going to Silverwood as a young girl and I'm so excited to bring those family traditions full circle and bring my own family! Check out my feed on Instagram where I share all our family fun, home decor inspo and travel adventures! Take a peak at my PNW highlights to see all our local adventures including our fun times at Silverwood!