Silverwood provides a wide variety of activities for the whole family. Whether you're a local or someone visiting from far away, you might be considering what options you have that can truly make your visit a once-in-a-lifetime experience. Here's how to have the ultimate VIP weekend at Silverwood Theme Park.
Start the weekend off right by booking a spot at Silverwood's RV Park, directly across from the park entrance. This will allow your family to enjoy the park throughout the day, while having access to a place to nap, refuel & avoid burnout.
Begin each morning at the Victorian Coffee House or the Silverwood Coffee Roasting & Trading Co to fuel your day with a coffee or tea.
Give yourself personal space within the park by booking a Cabana at Boulder Beach. Lounge seating, a table & chairs, inner tubes, towels, mini fridge & a locking cabinet await. And if you're looking for food & beverages, a waitress will come by to take your order throughout your stay. Give yourself peace of mind as you enjoy the full park by locking your items in the cabinet & carry the key on your wrist.
If you've built up an appetite running around the park, book an All-You-Can-Eat Picnic. Chuckwagon John's BBQ is exceptional & they have something for everyone to enjoy. If you have a group of 15 or more, you can save money by booking a group online. You can save even more if you decide to have it catered by Chuckwagon John's BBQ. Just make sure to give at least 48 hours notice to their sales team at 208-683-3400 EX 4300. Not sure about BBQ? Silverwood has a variety of options, & you can explore those here.
As you find yourself floating the lazy river, consider a small detour into The Cove for an adult beverage. This float up bar offers tasty blended drinks & draft beer so you can continue your float in style.
Commemorate your trip with a souvenir from one of the other several Silverwood gift shops, where you will not only find apparel specific to Silverwood &/or Boulder Beach, but all sorts of fun unique treasures to remind you of your VIP weekend.
If you have little ones, be sure to give them their VIP highlight at Garfield's Summer Camp, where they can find rides created specifically for kids their age.
Treat yourself to a 30-minute magic show by Nick Norton, and consider also ordering a pizza. Not only will this illusionist have you & your family consistently curious as to how he did it, you're also going to think wonders of the pizza.
Avoid running around with a debit or credit card by grabbing the free Silverwood VIP Card or Silverwood's new Cash Wrist Band. Both allow you to load & unload your money digitally so that you can enjoy your time without the fear of losing your personal items. You can do this on the website or at any register.
Be sure to ride Tremors to get a family photo as you drop 103 feet into the tunnel that goes beneath the Tremors gift shop. As you exit the ride, your photo will be available for purchase, along with several other souvenir options.
While all of Silverwood's visitors are VIPs, these small upgrade options are sure to add that extra little something to a weekend full of excitement, exhilaration & pure joy.
Meet The Conductor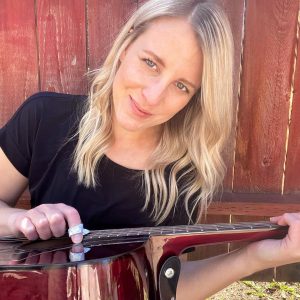 I'm Amy Riordan, optimist, bucket lister, podcaster & blogger. My passion is in social media strategy & product photography, so in 2019 I started a company to help small local business owners grow in online media. Growing up in the Inland Northwest meant frequent trips to Silverwood, hundreds of great family memories & now I share that tradition with my husband Tim. When we aren't working or at Silverwood, you'll find us out hiking with our dog Penny or working on our latest DIY project.