OH MY Word! Have you tried some of the best food at Silverwood Theme Park yet? If you're on your way we'll give you a list of places to stop by. If you've been there before, take a peek and see which spots you haven't hit yet so your mouth can drool like ours does every time we visit.
It is hard to narrow it down to just a few but we will focus on a few of our favorites in this list. Of course if you buy a pass to visit for multiple days you'll have more of a snacking opportunity too. Here are a few of our must taste spots:
We've been to this popular Northern Idaho amusement and water park a few times now. Every time we go I treat my girls (and myself) to something new. We each have different taste buds for sure but many of the items you will see here are plenty large enough to share! That is a huge plus because then you try them all as you travel around the park.
Let us start with the first visit and what my daughter chose, a funnel cake!! If you head toward the larger rides you'll find a shack where you can grab one for just 5 bucks before 5p.m.! She chose strawberry and whipped cream on top.
I couldn't get over how big it was!! The four of us couldn't even finish it and what a deal that was for everyone to get a treat in the afternoon. That is a MUST when you visit.
Ok so there is "regular food" you can enjoy before your treats. I mean I guess you might want some lunch or dinner while you're there too. 😉 Here are a few favorites that are scattered throughout the amusement and water park.
That means you don't have to leave one side to get anything, it's all right there when you want it. We personally like to enjoy one park each day so we can hit everything, and come back another day to have fun in the other.
1. Theater of Illusion Pizzeria
2. Chicken Shack
3. Chuckwagon John's
4. Country BBQ
5. Granite Grill
6. Largemouth Subs
Now on to more of the GOOD stuff I was talking about y'all!
Now the Sugar Shack kinda' has it all. This is the place I was talking about above with the HUGE funnel cakes. They have a lot more than that though.
From Huckleberry shakes to funnel cakes and elephant ears, it's definitely a spot to walk thru and try something unique. I will warn you, the funnel cakes topped with fruit and whipped cream are HUGE! I'm talking, you can split them between 3 people easily.
The Caramel Apple location by the Theatre of Illusion  has the best ones in town
Dessert Island offers ice cream while you're at Boulder Beach
Sweet Treats has a ton of different types of fudge. This is our favorite place!
When it comes to sweet drinks they have a bunch too. I will say I am a coffee snob and they're iced Mocha is great at Silverwood Coffee Roasting and Trading Co. For the girls they enjoyed an iced blended drink too so everyone can have what quenches their thirst.
If you're planning to spend the whole day together at Silverwood you won't be disappoint, and won't go hungry for sure! What have you tried that you loved most there??
Meet The Conductor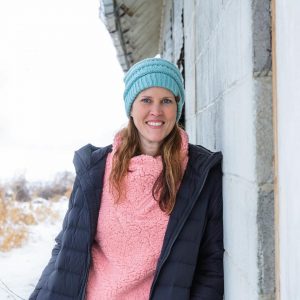 My name is Justine Howell. My husband, I, and 3 daughters moved to Northern Idaho 2 years ago and love it! In 2012 I started The Typical Mom blog sharing easy recipes and family friendly travel destinations. Silverwood has become a favorite place for us to visit together and make lots of memories.