If you're headed to Silverwood Theme Park in Northern Idaho, you'll have a blast! Staying for the week? Here are a few other places to visit in the area you'll enjoy to fill all of your days with fun.
Silverwood Theme Park is great to visit during the summertime and into the Fall too. From Boulder Beach water fun in the Summer, to a Father's Day event, and Halloween Afterparty in October, there is always something new going on.
You can make reservations at their RV park and visit every day during your stay if you want. There are also a few nearby cities that have fun attractions to enjoy as well while you're here.
Let's start with things to do in Coeur d' Alene
When it is warm outside, be sure to spend a day at the lake!! Bring your own foldable chairs, sand buckets, or you can even rent a paddle board on the dock at Lake Coeur d' Alene. Watch the boats and helicopters go by throughout the day and if you're searching for a bite to eat, you can try Dockside Restaurant. This is an amazing place with spectacular views outside. It will surely be a bite to remember.
You can also
There are many breathtaking sights in this region, and one of them is the Hiawatha Trail. If you love the outdoors, the views on this trail will blow you away! This trail opens for the season on Memorial Day, so you will need to plan accordingly. We took our 3 girls here on our first trip up to Northern Idaho. It was something we came across once we were at the lake so we hadn't brought our own bikes. No need to worry about that! You can rent what you need near the trail and take a bus back up at the bottom.
My youngest was about 8 at the time and didn't have any issues with the length or difficulty. It is all downhill so you really don't need to worry about that. The views are OUT OF THIS WORLD and like nothing you will ever see anywhere else. A memory we will never forget and suggest to everyone that they experience it too.
There is a lot more to do if you head north from there too! There are a few must-see stops on your way toward the amazing town of Sandpoint. Then let's head to the tip of Idaho and do some exploring there too. Start by crossing THE BRIDGE over Lake Pend Orielle. It is amazing! There you can rent a boat for the day, water ski, or just stay in a vacation rental and enjoy the beauty any time of year.
THEN head up to Schweitzer Mountain Resort for some more fun! In the summer you can head up the chair lift to the top and enjoy some lunch at the restaurant there. There is also a zip line, panning for "gold", horseback riding, a bungee jump, and tons of great mountain bike trails. During the winter time, you can ski, which is amazing, but don't count out those warmer months. There is tons to do there too and the views are breathtaking no matter where you stand.
If you're planning your next road trip, get ready – set – go to Silverwood and then try a few other places around there to make your long vacation extra memorable. 😉
Meet The Conductor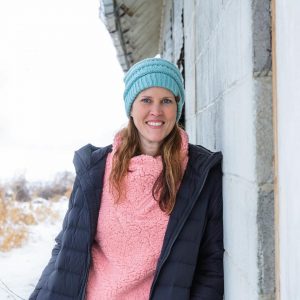 My name is Justine Howell. My husband, I, and 3 daughters moved to Northern Idaho 2 years ago and love it! In 2012 I started The Typical Mom blog sharing easy recipes and family friendly travel destinations. Silverwood has become a favorite place for us to visit together and make lots of memories.