It has been almost a decade since Marshal Jack became the local sheriff here in the backwoods of Silverwood. But with so much to see and do during your trip, you may not have taken the time to meet Marshal or get to know him a little better.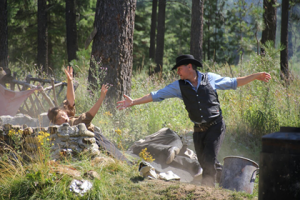 Marshal Jack is your quintessential Hero; larger than life, but lighthearted, quick with a joke (or smile) but very protective of his friends, including the passengers on the train. Here is a photo of the Marshall in action. Even after the bandit tries to cut him in half with an ax, the Marshal is still reaching out and trying to save her.
Marshal has made some lasting memories during his ten years of service at Silverwood, but he does have three specific aspects of his job that he is thankful for. The first being training and mentoring young kids.
"I've formed lifelong friendships with some of them, two performers got married, and some of them have gone on to pretty impressive stunt/acting careers," Marshal said. 
His second favorite part is the guests who ride the train. He said that he loves meeting new people and that the season pass holders have become his long lost family. "I can't tell you how many times I get recognized in town, or some family has to have their annual picture with Marshal Jack and show me how much their kids have grown over the past decade. I positively love it," He said.
Last but not least, he is grateful for the show development process. He said that as much as he loves performing as Marshal Jack, meeting the guests and working with the cast, he said that the show developing, writing, casting, set design, construction, training, stunt coordination, and directing new shows every year is easily his favorite part of the job. "Where else can you write a story and then guide millions of guests through it?" Marshal asked.
"I consider working for Silverwood over these last nine seasons a privilege. From mentoring the cast, meeting the guests, developing the show, and raising donations exponentially for the Children's village, all of it is an absolute privilege," Marshal said.
Marshal Jack brings so much personality to our park and we are honored to have him as a part of our cast this past decade. He has brought our train show to new heights and has made his mark in our guest's annual family traditions.
With his help, Silverwood has raised $970,000 over the years for the Children's Village through the train show robbery. It's because of generous guests like you that our local children have a warm place to sleep at night. The Children's Village is the only non-profit children's residential care facility in Kootenai County and houses the only Crisis Nursery in North Idaho.
It all started back in 2012, when the Entertainment Director and the General Manager here at Silverwood wanted to update the train ride. They heard of Marshal Jack's experience at Universal Studios and Walt Disney World, and then quickly asked him if he wouldn't mind taking a shot at the project.
Marshal said that he still remembers back when the only thing the train ride had was the bison, the two sets (deadwood and the silver mine), and a script whose best joke was, "If you look on the right, you'll see some trees. If you look on the left, more trees."
The first thing that Marshal added to the Silverwood Expedition was a comedic script and choreographed stunt show with stage combat, ax handle fights, and a shoot out. Most guests don't know this, but Marshal was never supposed to be in the new show. The day before our park opened for the season, the lead actor had to leave very unexpectedly, and we needed an immediate fill in. That night, General Manager, Paul Norton, asked him what they were going to do and Marshal said, "I know the script; I'll just fill in for the opening weekend until we can hire somebody better." Little did he know that at that very moment… his little in-between job just became his new career for the next ten years.
During his first two years at Silverwood, Marshal refurbished the sets that were already in place. There was the Deadwood set and the Silver Mine stunt show set, and then he added a 25' water tower. This added much-needed variety to the show. But in 2014, Marshal knew we had to change things up even further. Marshal felt like every train ride in America had western bandits who rob the train, and he wanted Silverwood to be different. So he added Sasquatch into the mix along with a quirky group of British explorers. Guests have complimented these explorers year after year, and they are a fantastic addition to our cast and crew. He then focused his attention on the train depot. He added props throughout so that we could set the scene for the guest's upcoming expedition.



Guests of all ages were enjoying Marshal's various improvements, but the littlest explorers admired the the Fairy Woods addition. This new addition allowed little ones the opportunity to "adopt" a fairy on the train and take one home. With pixies, stone walls, ogres, goblins, and spitting trolls, it is a lively ride through the forest for our guests, to say the least.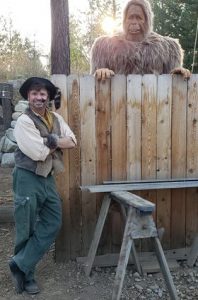 Thank you for a wonderful 2020 season, and we are looking forward to hosting you again at our park next year! Make sure to share your favorite memories from the train show in a comment below. As for what to expect in 2021, we've added a brand new character to the stunt show. Keep your eyes peeled for a ten-foot-tall Bigfoot named Samson!