I can't even begin to guess how many times we have gone to Silverwood Theme Park and Boulder Beach over the years… I know that we went 20+ times last summer! Regardless, I guarantee you that no matter how many times you go to Silverwood Theme Park or Boulder Beach Water Park, you are going to have FUN! It is an entirely different experience EVERY single time you go! There is something fun and exciting to do for every member of your family, no matter what their age!
Over the years, I have figured out some tips and tricks that help make our trips more comfortable and successful! With everyone on the hunt for something to look forward to this year, I'm going to share my top secrets for a successful day at the Northwest's best and largest theme park!
PURCHASE TICKETS ONLINE:
You will ALWAYS save money by purchasing your tickets online! There are one day, two day, and three day flexible reservation ticket options available. With the purchase of these tickets, you WILL be able to change the date of your visit, as long as there are tickets available. You can either print your tickets at home or send them to your phone.
Right now, you can still qualify for the early bird discount. If you plan to possibly go to the park this summer, purchase tickets while Silverwood offers discounts. Once the park is open for the season, there aren't many discounts available.
PARKING:
After you park, be sure to check the sign on the nearest light post (ex. Tremors B) so that you can easily find your vehicle after a fun-filled day in the park! The last thing you want to happen at the end of the day is not being able to find your vehicle!
TOP RIDES FIRST:
On your drive there, talk about what rides and attractions are on your must-do list for the day and the ones that are at the top of your list! Go on your "most wanted" rides first! The lines for the most popular rides, especially the roller coasters, get longer as the day goes on… the earlier in the day you get there – the less time you have to stand in line!
SOUVENIR CUPS:
For under $10, you can buy a fun, colorful, reusable souvenir sports bottle. On the day of purchase, you get FREE REFILLS all day long! How cool is that!! Anytime you visit the park after that, you can have them refilled with the fountain drink of your choice for just 99 cents! It's a great deal, no matter how you look at it. Plus, we LOVE our cups and use them all the time! One of the cups we have is 17 years old, and we bought it the summer our son was 1 1/2.
FOOD:
Many park guests may not know this, but you can bring in a small, soft-sided 12-inch cooler with small snacks. This is especially helpful if you have small children that need snacks every time you turn around! You can also bring in factory-sealed, non-alcoholic beverages or empty plastic water bottles.
Funnel Cakes are only $5 before 5 pm! You can save up to $2.50 depending on which kind you get! Oh my goodness… they are so delicious and they are big enough to share! My husband, 16 year-old daughter and I all shared one and we were all full by the time we finished!
Remember… if you are a season pass holder, you also receive a 10% discount at all food and retail locations (excludes alcohol)!
RIDE THE TRAIN:
The train leaves every hour on the hour and takes you on an adventure around the park and into the scenic back forest. I suggest arriving at the train depot to board 15-20 minutes prior to departure! The 30-minute journey aboard Engine #7 features comedy, stunts, guest interaction, and fun facts about Silverwood and the surrounding area. Be sure to have some spare change handy, just in case a team of pesky backwoods bandits boards the train. (Any "loot" collected is donated to a local children's charity.)
DON'T WORRY:
We all know how quick children can be. If you're worried that you and your kiddos might become separated, you can stop by the Information Center to get a wristband with your cell phone number to give your child. If your child becomes separated during your visit, the crew members can quickly call you and give you your child's location.
CHECK THE WEATHER:
Check the weather forecast and plan accordingly! We are in North Idaho after all, and we know how quickly the weather can change! It doesn't hurt to bring a light jacket or sweatshirt just to be on the safe side! Oh, be sure to wear comfortable shoes!!
HAVE FUN:
The most important secret… HAVE FUN and ENJOY your day! Your day at Silverwood is something your kids are going to talk about and remember for years to come!!
Meet The Conductor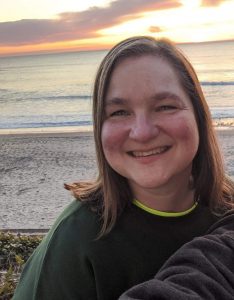 Hello! My name is Bridget Axtell. My husband and I were both born & raised in Idaho and wouldn't want to love anywhere else. We have two amazing children, (ages 16 and 19) and 3 mastiff's! We have been enjoying Silverwood as a family for 18 years, but my first experience at was the airshow back in the late 80's! The thing we love most about Silverwood is that there is something for EVERYONE to enjoy! Our family loves everything about visiting the park and am not sure what we would say is our favorite ride or attraction… but you absolutely MUST visit the Ice Creamery and have a waffle cone! I've always been a frugal Mom, so 10 years ago I started my blog Being Frugal and Making It Work, so I could share frugal deals, tips, tricks and even giveaways!