Have you seen the TV commercial where a young man is in a diner sharing stories of his stunt pilot days with his friend? Sitting there with a leather coat and aviator glasses, he brags to his friend about what it means to be a stunt pilot. It's a cute commercial, and he talks a big game, but I was there when he made his maiden voyage on Silverwood's newest roller coaster. Like others that day, he took one look at the ride and decided not to ride. But after some good-natured teasing ("But you're the Stunt Pilot! You have to ride it!"), he boarded his "plane" and came back a changed kid. He rode it again.
I also experienced Stunt Pilot that day, and I will say that while the first time was a bit scary but mostly exhilarating. The second time it was just fun. Not only is Stunt Pilot a great addition to the park (it's the first new roller coaster in 10 years), it is the park's missing piece. You see, in the park's early days, many guests of Silverwood would finish their day at the park watching one of the daily air stunt shows, which ran from 1988 to 1996. Gary Norton, the owner and founder of Silverwood, had a passion for flying and would even open the show by zooming past the airstrip at over 65 MPH on his P51 Mustang.
On your next "flight" on Stunt Pilot, you'll see a tribute to Norton and others when you walk through the Flight of Fame, a mini-museum that begins the ride's queue. Another pilot, Bob Heale, is memorialized there as well. Heale logged over 35,000 flight hours of flight, won many air races in Reno, Nevada, and loved and cared for large jungle cats that lived at the park. Silverwood hosted the Heale family on the ride's opening day and his family all agreed that Bob would have loved this new coaster, and while they were riding it, they were reminded of being in the passenger seat during Bob's fantastic stunt pilot maneuvers.
Once you exit the Flight of Fame, you'll immediately notice the real, restored stunt plane "flying" above you. From there, you'll wind around under the ride giving you a full preview as you wait your turn. Unlike most of Silverwood's other rides, you're given up close and personal views of others enjoying the coaster as they fly overhead. I suggest you put your phone away and take it all in. You don't want to miss the experience. You'll hear recordings and sound effects to enhance the experience.
Once inside the hangar, you'll board the single rail coaster. While you'll be tempted to wear your aviator glasses, you'll want to leave them behind. If you're lucky enough to sit in the front car, you'll get the sensation that you're riding the coaster all by yourself, but really, every seat is a good one, and surprisingly comfortable! One thing you'll notice right away is that, unlike most roller coasters, Stunt Pilot never comes to a complete stop. Instead, it slowly crawls while loading and unloading passengers in the hanger, promising to keep the line moving quickly even during the busiest days at the park. That's the theory anyway.
Stunt Pilot has got to be the smoothest roller coaster in the park. Even the creeping crawl to the top (at 105 feet), this ride is smooth. Then almost silently, the cars dip slightly, then turns, and then plunges you almost to the ground with a near-vertical drop. From there, you'll take a few hairpin turns, three inversions, then go through three yellow ring obstacles before storming through a barn (smile pretty as this is where the attraction's photo camera is set up.) At night, things are lit up with different colors creating a whole new experience.
Naturally, after de-boarding the plane, you'll exit through the gift shop, where you'll get an opportunity to purchase a photo of your wild adventure and perhaps pick up a souvenir to remind you of your achievement. Here you'll find Stunt Pilot-themed souvenirs, including fuzzy teddy bears and super cool retro-styled t-shirts.
Now, you too are a real stunt pilot. Go now and tell the tale.
Meet The Conductor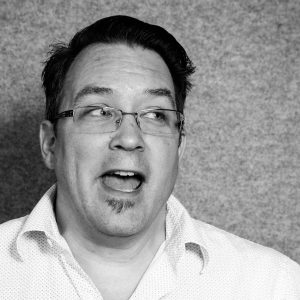 Jeffrey Totey  and his wife live in the greater Seattle area and is a freelance writer and owner of Writer of Pop Culture website which focuses on pop culture, movies, TV, theme parks and more.