When planning our first trip for my twins to Silverwood last summer, I was a little apprehensive about how my 5-year-old would navigate the hustle and bustle of a theme park, knowing that our decisions have been shaped for her entire life by Sensory Processing Disorder. (If you aren't familiar with SPD, Sensory processing disorder is a condition in which the brain has trouble receiving and responding to information that comes in through the senses.)
As we jumped feet first into Silverwood, I learned how to take my tools, paired with Silverwood's unique park, to experience a magical day without meltdowns and tears!! Trips to Silverwood quickly became a new family favorite adventure! 
Here are a few tips that worked for us:
1. BE PREPARE AND MAKE A PLAN 
 Being prepared is key, and the great thing about Silverwood is they make it so easy for families to do just that! In the days leading up to your trip, head to their website to find a detailed list of all the rides. This list includes the intensity level of each ride with images. Sensory kiddos need to know what will happen ahead of time, so these images and descriptions on the website are a great way to let sensory kiddos know what to expect before arrival! Together, we go over all the rides, look at the map, and plan for our trip, so there are no surprises. 
Be prepared by bringing in a small bag filled with noise-canceling headphones, snacks, a change of clothes, and any comfort item your child loves. It is so easy to become overstimulated in any situation, especially a theme park. Bringing headphones along is a helpful way for everyone to enjoy the day while supporting your sensory kiddo's needs. 
2. TAKE A SENSORY BREAK AND VISIT THE QUIET GARDENS
If things get too overwhelming and you need a break, Silverwood has a beautiful little escape that provides a calm environment without having to leave the park. The Quiet Gardens has some benches among gorgeous trees and flowers. This location is positioned perfectly near the kids' rides in Critter Camp. After enjoying a peaceful rest in the garden, you can hop back into line at the Tiny Toot Rollercoaster around the corner.
3. ENJOY THE TRAIN RIDE
When your sensory kiddo needs to escape the summer heat or noise, we love to hop over to the Train Ride, which runs every hour, on the hour. The Train Ride gives a chance to sit and enjoy a relaxing and entertaining ride as you take in the sights of Silverwood's backcountry. It's fun for the whole family! Make sure to sit near the back of the train for a quieter experience. The train does have a skit at the Silver mine about half way through the ride that can be loud and sprays water for guests sitting in the uncovered portion of the train.
4. CELEBRATE THE DAY AT THE ICE CREAMERY! 
A stop at the Ice Creamery is sure to create smiles and a boost of energy when everyone needs a recharge. Their famous 'one scoop' ice cream won't break the bank, and my girls' eyes light up when they see how large 'one scoop' is. Once you have your delicious ice cream, we love to find a quiet, shady spot, and Silverwood has plenty of beautiful open spaces to choose from where you can sit and enjoy your cold summer treat! We usually plan our ice cream stop towards the end of our adventure as a way to celebrate our magical day!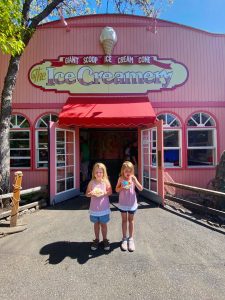 There you have it! Those are my top 4 tips of visiting the park this summer and what worked best for us. If you have some tips for other parent's navigating the park with children with sensory processing, comment some suggestions below.