When I first heard the news of a new roller coaster that was due to come to Silverwood this summer, I was beyond happy and I couldn't wait to see and hear all about it. Our family loves going to theme parks to spend the day  together as a family – a place to be silly and make adventures for us. Here is our story of the making of "Ace".
Back in late January, we got an audition notice from our Modeling and Acting company, MAM,  to submit a self tape playing a character of a young boy who believes he is a stunt pilot.  Charley created his self tape but as soon as I was going to turn the camera off, he decided to be silly and did a cheesy finger pointing moment. I have heard that moment was what the director liked and made my kiddo stand out. From that, "Ace" was born. When we got the news and final script, Charley soaked it all in and memorized all the lines. In fact, it was a script that the whole family knew from him saying it so often at home.
This was Charley's first time doing an acting job and he loved every part of the process – from wardrobe, makeup, and learning lines and direction. The film crew, North By Northwest, took Charley under their wings and showed him the way around the camera with a lot of grace and compliments.
Our filming location was at this adorable cafe in Spokane near the small airport, The Skyway Cafe. Inside the cafe you are swept away by all the airplane memorabilia and stories that are shared all over the walls. At the time, the cafe was not in service, but we will be going back for some of their yummy food they had on the menu. If you have a loved one at home that loves airplanes, you gotta go check it out!
Our first job when we arrived was getting into the wardrobe. Charley got to wear this amazing leather bomber jacket and sunglasses – which he really hasn't wanted to take off since filming. He looked like a miniature Maverick from the movie Top Gun. I know that I am his mom, and every mother thinks their child is cute, but he looked so handsome!! After wardrobe, he got his first experience with wearing makeup for tv and then walked over to his scene to walk through his lines in front of a camera and crew. The director was so kind to Charley as this was his first time being on a set. I tried to stand out of the way for Charley – giving him his space to be his own person and not have him look at me like I was an annoying "stage mom".  But I admit, being on set and watching things behind the scenes are totally the things I love to do. There is something magical about being on a set and watching things being created.
This role was so perfect for Charley and his creative attitude he gave the character. There were more than a few times where he had the film crew laughing with how well he could keep a straight face and be so stern. Charley, A.K.A , Ace, was to be this kid that loves planes – especially stunt pilot planes. He needed to act like nothing impresses him besides a stunt plane. Here are a few behind the scene moments I had captured with permission from the film crew and Silverwood.
There were 3 scenes that I personally loved – and from the giggles from the crew, I think these were their favorite too. "Ace" was sitting at the bar getting a refill on his orange juice. When the waitress came over to him and asked if he wanted a refill, he just says, "Yankee. Echo. Sierra." Which means, Yes, but it was the way he said it – so calmly and in all seriousness. I honestly do not know how that kid stayed in character so well. But he did such a great job!
My other favorite moment was when the waitress asked the name for his food ticket, Charley tilted down his sunglasses and said, "You can call me Ace". 
My last favorite moment is when we changed scenes and went to a hanger where another actor, Jeremy, was playing the airplane mechanic.  This scene is Charley's favorite scene as he was able to be Ace again with his pompous attitude.
After his day of filming, we were able to call it a wrap, but just as we were leaving, Charley was told that once the rollercoaster is finished, he will be filmed again as he rides the new Stunt Pilot. Charley kept saying that as long as Jordan, Silverwood Marketing Director, goes first, then he would ride it. 
But it wouldn't take long before his acting day brought out the diva in him. As soon as we got home he was telling everyone that he is now a celebrity and was asking all of us to do his nails, bring him food and telling us he is currently not taking any photos. Hahahaha. He was already making plans for an  "Ace" fan club. He kept asking me if I could make a photo for him that he could sign and give it out to people while he stood out in front of the Stunt Pilot entrance and handed out signed photos of himself. I told ya, he really enjoyed the whole process of it all!  But don't worry – we didn't let him live in that big head of his for too long. 
Our big day finally arrived to ride Stunt Pilot during a media day at Silverwood. This was a big day as the news channels were invited out as well as the local newspapers. This was Charley's first time being interviewed so he wasn't exactly sure what to do, but he loved it and wanted more. 
Now was the moment we were waiting for. The Ride!!!  Charley was all nerves, but put on a brave face as he got buckled into the ride in the first seat. For fun and support, I jumped in the car behind him. I couldn't wait to try this new ride, but I am glad they hooked up the GoPro to watch Charley and not me!  After the ride came back to unload everyone….. Charley was told that he needed it to ride again and again…. And again to get a few more shots. He never minded needing to stay on, as he loved the ride. Charley loved every moment of the rollercoaster – the drops, dips, turns and loops were a rush! Ace had completed his mission!
Charley/ Ace says: "Some of my favorite moments from the filming day were seeing all the equipment and cameras, getting into the wardrobe, and learning different parts of the camera movement, staging and even repeating lines. It was a challenge to not make any mistakes and nail each take and try to not laugh. Tomas, the director, was really nice and helped me when needed. My favorite scene I did was the last scene in the hanger with Jeremy being the mechanic. I liked being able to move in and out of a scene and keep playing the character. When we were all done filming, I was shocked to learn that we were there for 8 hours. Time went very fast out there. And I can't wait for another chance to do a commercial or movie (wink wink). Now who wants my autograph!?"
From my POV – I loved the ride. It was really smooth and kept you on your toes at every turn, loop, and drop. The ride wasn't too long or too short – just long enough to make you want to go back again and again. Charley and I both learned that riding in the front of the coaster feels like a whole different ride than the back. The back of the coaster was faster and all of the loops, turns, and dips felt longer and bigger. I love a good ride, but I will be sticking to the front of the ride for a while!
I love how Silverwood was able to create a ride that is the root of the park – the airshows. If you have not had a chance to check out the making of Stunt Pilot, check out this video from Silverwood. 
If your summer plans include a visit to Silverwood this year, make some time to ride Stunt Pilot. It really is worth the visit. If you are a new thrill seeker – ride in the front.. If you are a wild and crazy -thriller seeker pro – go for the back!! 
Have you had the chance to ride Stunt Pilot yet? Plan your visit, get in line and enjoy the rush. Make sure to purchase your photo from the kiosk and one of the adorable teddy bears or T-Shirt. I can't wait to get my hands on one of the Stunt Pilot tees.
Meet The Conductor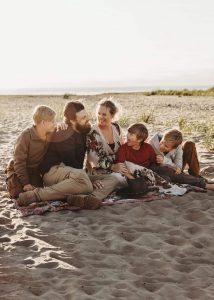 Hello! My name is Jackie. I am married to a handsome handyman, and I'm the proud momma of 5 kids. About 12 years ago, I started my photography business, Jax Creations Photography. Last year, I started a family website called Wanderful Memories. I use this site to share ways other families can document moments in life through travel and lifestyle. A fun fact about me is that I love to cook/bake for others, and I throw a great dance party in the kitchen (when no one is around to watch my awesome dance moves, of course)! There are many parts of Silverwood that I enjoy, but if I had to narrow it down, it would be riding the Tilt-a-Whirl with my boys. I love to hear them belly laugh! My family enjoys visit Silverwood multiple times during the summer with season passes — it is the perfect way to split up the summer days by visiting the water park or getting their adrenaline going on a roller coaster.