Fitness and Health are probably the last thing you think about when visiting a theme park, but as it turns out, theme parks, can offer many benefits in that regard. Here are 7 of my favorites.
Walk Miles Without Even Realizing it
According to an article in the Daily Mail, walking around a theme park can help you burn up to 1558 calories – more than many people would burn on a 10k run! True, Silverwood is not as large as some of the other theme parks, but there's still an opportunity to burn quite a few calories. When I visited a few days ago and spent only a couple of hours there, I logged more than 5000 steps!
Tone Your Muscles
The Lazy River is also a refreshing way to add some steps and tone some muscles. It's not mandatory that you float, so if daily fitness is one of your goals, walking in the water can help strengthen and tone many of your muscle groups, while burning calories and being gentle on your bones and joints. If you want to up your intensity, you can even do a bit of jogging (although you might get some perplexed looks by other park guests).
And while you can't actually swim laps easily, you could get some actual swimming done in either of the two wave pools at Boulder Beach Bay.
Some people say that even riding the rides will give you some sort of physical health benefit. It's not going to be from the adrenaline rush you get from the coasters, but it's possible that you might be working on your core while stabilizing yourself on some of the rides, especially the water rides like Avalanche Mountain or Ricochet Rapids.
There are even exercises you can do while waiting in line. Here's a good one for midlifers who want to work on their balance, as well. This exercise is perfect if you are trying to be nonchalant and don't want anyone to realize that you are exercising while waiting*.
Cross your left foot behind your right ankle and balance yourself on the ball of your right foot.

Slowly go up on your right toe as high as you can. Pause, then lower your heel down.

Do 3 reps of 12 on each leg.
* Remember to always check with your physician before beginning any new exercise regime.|
Relieve Stress
A day at Silverwood can do wonders for relieving stress. Just getting out in the fresh North Idaho air is one benefit but walking through the beautiful grounds, dipping your feet into the water, riding the train and gazing at the scenery, hearing the happy laughter of the children playing in the water can all decrease your stress level and improve your mood.
Get some Vitamin D
Many people have vitamin D deficiencies and don't even know it. Vitamin D deficiencies can develop for a number of reasons: sunscreen use, dairy allergies, a vegan diet or living in the northern latitudes. We need vitamin D for many reasons, so it's good to get out in the sun from time to time.
Bonding Time with Friends and Family
You'll have lots of time for conversation while lying on one of the lounge chairs at Boulder Beach Bay, floating on the lazy river at Elkhorn Creek, playing chess on the lawn-sized chessboard, or even standing in line. These are the times you slow down and get to know your friends and family even better and create treasured memories to look back on.
Overcome Your Fears
It's always good to step out of your comfort zone from time to time so if you're looking to check something off your bucket list, there are several roller coasters and water rides such as Velocity Peak that might just help to check that item off your list! Accomplishing a goal and overcoming a fear is a great way to boost self-confidence.
Socialize
Silverwood is a great place to socialize! You can meet new people on rides such as the Old Number 7 Steam Engine, waiting in line, lying on lounge chairs, or floating the river. It's a great place to strike up a conversation or even make new friends from all over the world. We once spent an afternoon floating the lazy river with one of the Seattle Seahawks and his family. 
So the next time you're looking for an excuse to get away from your daily chores, or workday, remember the health benefits you're getting from visiting Silverwood, and don't feel guilty! Self-care isn't selfish!
Meet The Conductor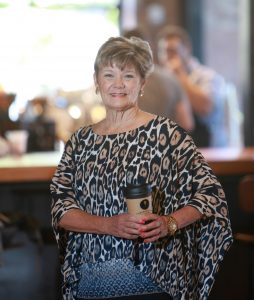 Shelley is a retired R.N. who took up blogging in 2008 while she was caring for her father. She is Mom to 2 amazing grown-ups, Nana to 4 grandsons and the owner of The Social Web, a social media management agency and 3-day conference host. At her blog, Intentional Living, she is dedicated to helping women over 50 make the rest of their life the best of their life. Shelley is a brand ambassador for Oprah Daily, Oprah's new digital magazine and a member of Coeur d'Alene's own Blazen Divaz.