Carnival games play a part in everyone's childhood memories. Whether it was a birthday party, state or county fair, or amusement park… everyone has their very own personal favorite carnival game! You might even have more than one favorite! Bean bag toss, ring toss, and balloon pop are among the most common and are always a huge hit!
If you are ready to Take A Chance and play to WIN a super cool prize, you need to be sure to check out the Country Carnival! You and your family can test your skills or even compete against one another. The games are super fun, and the prizes are even better! I am always checking out the super cute prizes and hope to win a few this summer!
If you love basketball, the 3-Point Shootout is going to test your shooting skills to the max. You will have 40 seconds to take as many 3-point shots as possible and make it rain! Score 3-6 points and you will win a prize. The higher your points, the bigger your prize!
Midway Games lets you Clown Around, pop balloons, participate in the Great Race, and go fishing at Bob's! Can you land a ring on a soda bottle? Get a Bushel in a Basket? What about rounding up some cute little rubber ducks in the Ducky Derby? Or maybe taking a chance with gravity is more your style.
Do you consider yourself a sharpshooter? Want to settle the debate on who is the best shot is in your family? Why not put your shooting skills to the test in this fun, interactive western shooting gallery. You can enjoy taking shots for as little as $1!
Maybe you are more "old school," and arcade games are more up your alley… then you are going to love the arcade! There you can play all of your favorite classic and new arcade games. Just like the arcade when you were a kid, win tickets and exchange them for your favorite prize.
Test your skills and try to win prizes, both big and small. I love that the variety of carnival games available provides options for everyone in the family, young and old. Your only dilemma is going to be deciding which game(s) to play first! 
If you think winning those fun carnival prizes will be a hassle and you do not want to carry them around all day… DON'T WORRY!! You can take full advantage of an excellent free service, PACKAGE EXPRESS! Win (or buy) your prizes, gifts, or souvenirs, fill out a quick form, and your goodies will be waiting for you at the General Stuff Mercantile at the exit of Silverwood for pickup when you are ready to go home!
Surprise your friends, family, or even total strangers and get them wet! That's right! For just a quarter, you can use the Log Flume Geysers, Bumper Boat Squirt Cannons or the Thunder Canyon and soak em' with water! I've even heard people yell… "You better not get me wet or else" or "If you get me wet, you are going to be sorry!"
Frugal Tip: Play chess for free! In the yard outside the quiet and quaint Victorian Coffee House, there is a larger-than-life chessboard and chess pieces that are a couple feet tall. You can sip on your coffee and play a fun game of chess with your family! It's the perfect way to relax, enjoy some "downtime," and plan what you will do next.
Meet The Conductor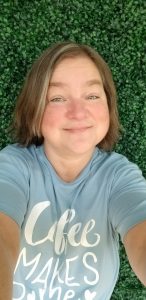 Hello! My name is Bridget Axtell. My husband and I were both born & raised in Idaho and wouldn't want to live anywhere else. We have two amazing children, (ages 17 and 20) and 3 mastiffs! We have been enjoying Silverwood as a family for 19 years, but my first experience was at the airshow back in the mid-80's! The thing we love most about Silverwood is that there is something for EVERYONE to enjoy! Our family loves everything about visiting the park and am not sure what we would say is our favorite ride or attraction… but you absolutely MUST visit the Ice Creamery and have a waffle cone! I've always been a frugal Mom, so 11 years ago I started my blog Being Frugal and Making It Work, so I could share frugal deals, tips, tricks and even giveaways! I'm also a coffee "addict" and have my very own Happy Coffee side gig! It doesn't get much better…