When I did the Silverwood Foodie Guide last year, I knew I would have to make this an annual thing because of the amount of delicious foods that are available in the park. Sure, you can find amazing roller coasters at Silverwood, a Vegas-style magic show, a train ride through the beautiful property, wave pools, and waterslides at the park, but one of the best attractions that is sometimes overlooked is the FOOD! For our family, the food is one of our favorite parts of a Silverwood vacation, so let's see what we enjoyed during our trip this year!

Fruitfetti Funnel Cake
Just look at that beast. Silverwood's funnel cakes are amazing, easily shareable, and nicely priced (you can't beat that $5 before 5 o'clock price tag). This beauty was covered in whipped cream and included a scoop of blue ice cream chock full of popping candy and layered with a dusting of fruity cereal. It was fantastic, and we proudly sported our blue tongues for the rest of the afternoon.
Shredded Beef Quesadilla
Silverwood's quesadillas have a special place in my heart. Their beef in particular is my favorite because it is clearly freshly shredded and seasoned just right. They also don't skimp at all on the meat. It's packed and loaded and ready to be dipped in freshly made guacamole and a dollop of sour cream. You can find these beauties in Boulder Beach.
Silverwood Refillable Cup
These are not only awesome souvenirs to bring back home (my kids fight over them to use for their water bottles), but they're a great bargain. For about ten bucks, you can have unlimited refills of soda for the entire day you're in the park. You can refill them at most food locations across both Boulder Beach and the theme park. It's convenient, refreshing, and a great way to keep everyone happy.
Soft Serve Cone
Okay, so another repeat from last year, but how could you NOT get this? Just look at that picture! The best part of this is the fact that it's only a few bucks. Don't make the same mistake that we make every single trip and forget how large they are; you'll likely need to share this dessert if you're going to finish it before the sun turns it into a puddle (or a delicious milkshake).
Silverwood Panhandle Huckleberry Lemonade
This quickly became the best thing I tasted on our trip. My kids agreed, so that's why I only got a few sips in before I had to get back in line and purchase another! They start with lemonade, then they add a cup of real huckleberries, and then they close the lid and shake it all up with ice. It's tart, fresh, refreshing, and completely addictive. You also get to keep this super cool cup as a souvenir. I highly recommend getting this if you're there on a hot day (like many days in Silverwood) because it will definitely be a hit for you and your entire family. My mouth is watering just writing this!
Fresh Pretzel with Cheese
While waiting for Nick Norton's incredible Phantasm magic show, you're able to purchase lots of delicious foods, and we opted to split this enormous pretzel. This wasn't your typical frozen pretzel you can find in your mall, it was just the right amount of salt, a little firm but fluffy on the inside, and so big that everyone could have a bite. With a little bit of cheese sauce, you're well on your way to heaven.
Spaghetti with Meatballs 
If Lindy's isn't usually a part of your Silverwood trip, you need to rethink your priorities! This is Silverwood's only full-service restaurant and it's consistently satisfying. They give you generous portions and the ambience is old school and cozy. One of their signature dishes is the spaghetti with meatballs, and it's everything you'd ever want from this simple comfort dish. The sauce is a perfect mix between sweet and salty, and the meatballs are hearty, filling, and satisfying.
Cold Cut Turkey Sandwich
The High Moon Saloon is a real hidden gem. You can grab some delicious sandwiches and sides while enjoying a fun, quirky, and oddball magic show from Mad Mike during select hours. This sandwich was quickly devoured by my children who claimed it was delicious.
Turkey Pesto Panini
Also at the High Moon Saloon, you'll find one of the crispiest, crunchiest, yummiest paninis around. My wife and I shared this and liked the fresh ingredients mixed with the turkey and pesto.
Caesar Salad
With all these yummy sugary snacks, it was time to get a salad to make myself feel better. Thankfully, the caesar salad at the High Moon Saloon is just what the doctor ordered. It was cold, crunchy, and exactly what I needed before I continued on my foodie journey in Silverwood.
Draft Root Beer
Rounding out our time at the High Moon Saloon, we got ourselves a real draft root beer straight from the tap and topped with whipped cream. If you're a fan of root beer and are looking for something cold, refreshing, and unique, make sure you stop by and get yourself a cool sarsaparilla that will take you back in time.
Beef Nachos
Located in Boulder Beach, these beef nachos are insanely loaded and make for a delicious snack or meal that can be shared with several people. One thing that I love about Silverwood's food is that it always tastes so fresh and delicious, and this was no exception.
Chuck Wagon
This gem located at the theme park side of Silverwood near the rollercoasters is an all-you-can-eat barbecue buffet restaurant that is full of delicious meats, savory sides, and sweet desserts. You can either purchase the option to get an all day pass which allows you to return as many times as you want throughout the day or you can get a single use pass which allows you to go through the line as many times as you like while still dining at the restaurant. We loved the pulled pork and BBQ chicken! We also loved the serene, garden-like setting of this end of the park. It's a great place for kids to run around in the grassy area, cool off in the shade, and enjoy a good meal as a family. This quickly became one of our favorite spots in the park, and I'm so happy we tried it. We will be back next year for sure.
Mac and Cheese 
The mac and cheese at Lindy's is creamy, cheesy, warm, and delicious. We can't go to Silverwood without getting a serving.
Mozzarella Sticks
This bomb appetizer has the perfect coating on it while still being ooey, gooey, and cheesy on the inside. This is a family favorite.
Blueberry Muffin
Near the entrance of the park, you'll see a gift shop to your left that smells like heaven. Make sure you stop by to get yourself a delicious cup of coffee and be sure to pair it with some of Silverwood's freshly baked treats. We went for the massive blueberry muffin and it was absolutely incredible. The blueberries were tart, the topping was crunchy and the muffin was fluffy. This is now a must-do when entering the park in the morning.
So that's our list for 2021! Make sure you bring your appetites when you come to Silverwood because there is just SO much to choose from, and it's all so delicious! I hope you enjoyed this year's foodie guide!
Meet The Conductor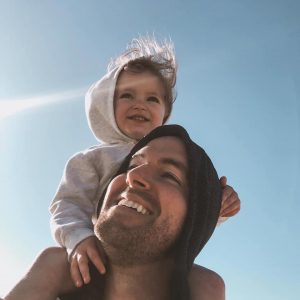 My name is Shaun Fisher and I absolutely love going to theme parks with my family. I'm an online Language Arts teacher and a father of 3 beautiful children. I started the website Park Padres so I could share my love of theme parks with others and give tips and advice when traveling with children. For me, a theme park is one of the best ways to have fun as a family!