In the summertime, Silverwood is the perfect family destination. From water rides to water slides to ice cream, roller coasters, shows, and a train excursion, there's something for all ages. In October, however, the park takes on a new identity known as Scarywood. In Scarywood, everything is different, and no one is safe from being spooked. You've been warned!
When the sun sets on the park, things really come alive. You quickly realize that this once warm, welcoming park is now a spooky, foggy, and terrifying place with scares and thrills around every corner. It was amazing to see how well the Silverwood team transformed the park we all know and love into something so spectacularly and genuinely Halloween. Each corner of the park feels like it is part of the whole experience, and not a single detail has been overlooked.
Simply walking from one end of the park to the other shows you just how much things have changed. Disorienting fog and fantastic lighting surround you while countless ghouls and goblins roam the parks in search of a faint heart. You'll find yourself walking through a spiderweb tunnel, a dark forest filled with terror, a hay maze crawling with monsters, and many other paths that add to the environment's ambiance. You might even pass through Clown Town, a twisted take on the once-charming carnival area. Make no mistake- this version of Silverwood is probably one that the older kids will appreciate more than the younger ones. In fact, there were very few small children in the park. That's wise because it's downright thrilling!
On top of spooky trails, the haunted attractions at Scarywood are simply amazing, to say the least. You might think to yourself, "Can a Halloween event at a theme park in Northern Idaho really be THAT good?" You might be shocked to find out that it's likely to blow your expectations out of the water. I am someone that loves theme parks, and I have visited some of the nation's top Halloween events at major theme parks; and I can honestly say that Silverwood's attention to detail, charm, thrills, and production values are some of the best I've ever seen. If you're hesitant to take a trip and see it for yourself, don't be. You won't regret it.
Blood Bayou is a haunted attraction that proves all of that and more. As you move through this massive haunted house, you'll pass through the bayous of a viscous swamp and meander through a home of, well, HUNGRY folks that don't mind getting a little, um, human remains on their clothes. These cannibals don't mind getting their hands a little dirty, as long as the food is good. I was thoroughly impressed with this attraction, and our group placed it near the top of our favorites for the night. You won't want to miss this one.
Pharaoh's Curse takes you deep into the world of ancient Egypt, but of course, all is not right, and everything goes terribly wrong. Ancient beasts pop out from every corner as you make your way through this huge attraction. The special effects are outstanding in this one, and the theming is just jaw-dropping. If monsters weren't jumping out in my face every time I turned around, I would've slowed down and enjoyed the scenery a bit more!
Planet Zombie throws you right in the middle of a terrifying zombie apocalypse. You'll hear guns popping and zombies growling as you walk through this decaying, peeling, and derelict structure. Just make sure you don't get bitten as you walk through, or you might end up staying all season in Scarywood.
Total Darkness, with its 2 mazes, is just like it sounds. There's no light; it's tight at points and incredibly disorienting. Go ahead and feel your way around on the walls, but don't be surprised if the texture of the wood changes occasionally to throw you off. You might awkwardly bump into a stranger that is just as confused as you are, but no worries- it's all fun and games. We laughed our way through this one because we kept bumping into each other and going the wrong way. We tried both sides and enjoyed them much more than we thought we would.
Dr. Delirium's 3D Rockhouse was unlike any other haunt that night. You get 3D glasses as you enter, and it makes all the neon paint within really pop and disorients you. Just wait until you go through the 2 spinning rooms; you might want to hold onto that handrail! Mix all that color with some heavy metal and the occasional monster popping out to scare you, and you've got one of the coolest looking haunts I've ever seen.
Haunts and scares of the Halloween variety are not the only thing that Scarywood has to offer. They also have their iconic coasters and thrill rides running all night! We rode Tremors in the dark, and I can honestly say that it's 100% scarier when you can't see where you're going. They even have Timber Terror running backwards, and it's one of the craziest rides you'll ever try. We also tested out our flying skills on Stunt Pilot, which is a real trip when you're flying through the chilly 42 degree air of northern Idaho in the fall! We loved riding our favorite rides in between enjoying the scary haunted attractions throughout the park. It was a great way to fill our evening with nonstop fun.
But, we're not done yet! A trip to Silverwood wouldn't be complete without a visit to see Nick and Amanda Norton and their amazing magic show. However, their magic show has undergone a few changes, and instead of their usual Phantasm production, they perform a new show that is exclusive to Scarywood: Dillusion: An Eternal Encore. This amazing show has new sequences, lighting effects, illusions, and a twisted, funny, and over-the-top storyline that pulls The Devil himself right into the mix. It was a great way to warm up, grab some delicious pizza from the restaurant inside the theater, and watch a show that can't be topped. We all loved it!
Throughout the park, Silverwood's many dining locations have also transformed into new Scarywood locations. Menus have changed as well. We were so impressed to see that even the signs had been swapped out to keep up with the Scarywood theme. We tried the hot dogs, chili, bacon mac and cheese, pumpkin spice funnel cake, caramel apples, and other delicious treats. It was so fun trying all the new, seasonal foods as we spent our cold night at our favorite park.
One thing that we loved about Scarywood was that the theming was consistent throughout the whole park. Not a single corner felt thrown together. The fog, lighting, creepy music, wandering monsters, sound effects, and overall atmosphere really got us in the Halloween spirit. It was just perfect.
If you're in the Pacific Northwest, I highly recommend visiting Scarywood this year. Leave the little kids at home with a babysitter, and go have a fun night out that you won't forget. Be sure to get there early so you can see and do it all! We arrived early and still struggled to fit it all in a single night because there was just so much to do. Judging by the looks on people's faces, I think it's safe to say that everyone in attendance was having a magically spooky evening. I can't wait to go again next year.
Meet The Conductor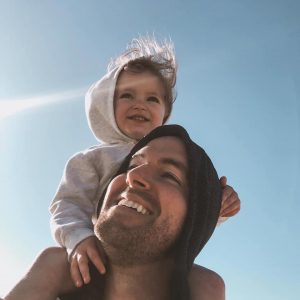 My name is Shaun Fisher and I absolutely love going to theme parks with my family. I'm an online Language Arts teacher and a father of 3 beautiful children. I started the website Park Padres so I could share my love of theme parks with others and give tips and advice when traveling with children. For me, a theme park is one of the best ways to have fun as a family!