Every single time we go to Silverwood Theme Park or Boulder Beach Water Park, we start the drive off with two simple but important questions…
1. What ride do we want to go on first?
2. Where and what are we going to eat?
As a family, we all have our favorite places to eat while enjoying the park, and we also have our favorite local restaurants to enjoy after a long day before going home. Let's face it, who wants to cook after having so much fun all day long!?
Here are the local establishments (in no particular order) that my family and I enjoy the most here in North Idaho.
Nosworthy's Hall of Fame
Nosworthy's Hall of Fame, formerly known as the Ground Round, is located in Coeur d'Alene right across from the Kootenai County Fairgrounds. Nosworthy is their family name, and they incorporated the "hall of fame" to recognize local high school athletes.
Eating at Nosworthy's is always a treat because everything is homemade and prepared to order. I clearly remember the first time I ate there, nearly 25 years ago. My husband and I had actually just started dating and he took me there for breakfast. He raved about their famous "Kitchen Sink" omelet and said that I had to try it! Trust me when I say that he was not wrong. A few of our absolute favorite menu items are the nachos, Makin' Bacon burger & fries, quesadilla, and crab salad. 
O'Malley's Sports Pub & Grill
O'Malley's Sports Pub & Grill is located in Rathdrum and always has a fun and small-town feel when you walk in. Their menu uses four-leaf clovers to point out "O'Malley's Favorites." I think it is "funny" that four of those are also our family favorites! I also love that two of their most popular burgers are named "The Hawk" and "The Timberlake," after our two local high schools.  
We have enjoyed many birthday dinners, celebrations and family dinners at O'Malley's over the years. The food, the staff, the atmosphere and the games make for a super enjoyable experience. Table shuffleboard and the race car arcade are my kid's favorites. 
Olive's Pastry at the Pie Barn
Olive's Pastry at the Pie Barn may just be North Idaho's best-kept secret, but I have been spreading the word every chance I get! The Pie Barn is located next to Curley's in Hauser Junction. Trust me when I say that they have the BEST PIES for miles around! When you think of "pies," you may just be thinking dessert, but they make dinner/supper pies too!
Their crust recipe (Olive's Pastry) was created by Olive, their beloved Nana, and now her granddaughter Jennifer carries on the "Olive's Pastry" secret recipe and makes all of their delicious pies and treats.
At The Pie Barn, you can choose from a variety of delicious, homemade fruit, cream and supper pies. They also have sweet bread, banana bread, tarts and cheesecake. I also love that their pies come in two different sizes: full size (family) and mini size (personal).
"The pie crust and pies are AMAZING!! Supper pies, chocolate cream pie, and the banana bread are must-haves. The owners are great people. Give them a chance you will be glad you did." ~ RJ. Axtell
I think I can honestly say that we have tried EVERY item on their menu. Every time we walk in we are greeted with a friendly smile and the warmest welcome. They are truly incredible, and their food is outstanding! It is true what they say… "The Secret Is In Our Crust!" 
Westwood Brewing Company
Westwood Brewing Company is located on Main Street in Rathdrum. For those of you that don't know how the Westwood got its name, the city of Rathdrum was established in 1861, making it one of the oldest towns in North Idaho. In the late 1860s, the pony express relay station was established and this developing town was given the name of Westwood.
The burgers, tacos, and salads are mouthwatering. This may sound a little crazy, but one of my absolute favorite menu items is the sesame ginger dressing! Fun fact: they make their five different salad dressings FRESH every single day.
This restaurant, bar, and brewery have something for everyone and every occasion. Whether you are going out for a family dinner, drinks with a friend, or a date night, you are going to have a pleasant experience. I highly encourage you to support local. Try something new or show one of your family's favorite restaurants some love on your next trip out to Silverwood.
If you are a local, comment down below some of your favorite places to eat in Rathdrum, Hayden, Post Falls, and Spokane
Meet The Conductor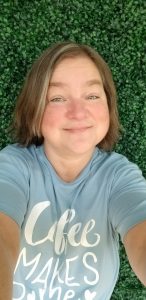 Hello! My name is Bridget Axtell. My husband and I were both born & raised in Idaho and wouldn't want to live anywhere else. We have two amazing children, (ages 17 and 20) and 3 mastiffs! We have been enjoying Silverwood as a family for 19 years, but my first experience was at the airshow back in the mid-80's! The thing we love most about Silverwood is that there is something for EVERYONE to enjoy! Our family loves everything about visiting the park and am not sure what we would say is our favorite ride or attraction… but you absolutely MUST visit the Ice Creamery and have a waffle cone! I've always been a frugal Mom, so 11 years ago I started my blog Being Frugal and Making It Work, so I could share frugal deals, tips, tricks and even giveaways! I'm also a coffee "addict" and have my very own Happy Coffee side gig! It doesn't get much better…