When I first moved to Idaho, I chose to purchase small acreage in the very small town of Athol, with a population of 750. My goal was to get away from the big city, and I definitely accomplished that. In fact, I had no idea how small that town was until I moved into my house. I also didn't know that Silverwood, the northwest's largest theme park was about a mile away as the crow flies! (In my defense, I only had 2 days to search and purchase a home in an area I wasn't familiar with, and we had been all over the place looking for one.)
The first time I heard the whistle of historic Engine #7, I was amused and grateful to hear such a cute whistle… but then I heard the gunshots! I thought, " People are out shooting in the middle of the day? Hmmm, maybe this place is too wild for me!" As it turns out, it was the infamous train robbery that we heard! During the summer, we would listen to both the train whistle and the gunshots several times each day. The Silverwood train robbery is a little different in that the "robbers" do take money but only from willing citizens, and all the money goes to charity. Even though Silverwood did not have the train robbery last year, they were still able to donate $100,000 to the local Children's Village. This meant that they have donated over $1 million cumulatively over the years thanks to guests like you. I also heard, that they will be adding a whole new train show this summer!
So what's it like living so close to the theme park? It's great! As I mentioned, we loved being able to hear the whistle from the 1915 Porter steam engine and in fact, each May we would eagerly anticipate the first whistle because that meant the beginning of summer!
That first summer I lived there, I got to see an airshow! I was working in the yard when all of a sudden bi-planes and other vintage airplanes were performing death-defying feats of aerial acrobatics right above my head! It was amazing! My brother-in-law was National Aerobatics champion (in the 80s, I believe) so this gave me all the feels! I wish the airshow was still a part of Silverwood's entertainment, but the area has developed so much now that it would be impossible. And that's why they have Stunt Pilot, the new single rail roller coaster where we can ALL be aerobatics champions!
Because we lived so close, and because there's so much to do at Silverwood, we bought season tickets. On hot summer days, after working in the garden, we'd pop over and float on the Elkhorn Creek lazy river for hours! Of course, we'd take a little detour up to the float-up bar for a beverage or two. If we had planned ahead, we would rent one of the cabanas at Boulder Beach. They're so convenient and a great place to relax and watch the fun!
I'm not that much of a roller coaster fan, but I loved grabbing a huckleberry funnel cake and walking around the park to look at all the beautiful flowers and trees. The park is always beautifully decorated. Over 10,000 plants are planted each year! I love this water feature! We had even thought about recreating it for our yard!
There aren't many restaurants in Athol, so it was really convenient to stop in for dinner at Lindy's. They have a great chocolate mousse too! No matter the time of day, there are a lot of food choices: barbecue at the Country BBQ or Chuckwagon's, (or even Granite Grill if you want to walk over to Boulder Beach), Mexican food at Pablo's, or a deli sandwich (and craft beer) at The High Moon Saloon. If we felt like being entertained while eating, we could grab a pizza and a magic show at the Theatre of Illusion Pizzeria!
There's really so much to do and see at Silverwood! I'm glad I was able to live close by for so many years!
Meet The Conductor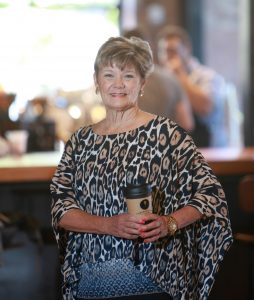 Shelley is a retired R.N. who took up blogging in 2008 while she was caring for her father. She is Mom to 2 amazing grown-ups, Nana to 4 grandsons and the owner of The Social Web, a social media management agency and 3-day conference host. At her blog, Intentional Living, she is dedicated to helping women over 50 make the rest of their life the best of their life. Shelley is a brand ambassador for Oprah Daily, Oprah's new digital magazine and a member of Coeur d'Alene's own Blazen Divaz.