If you're visiting Silverwood and can only come one time each year, you want to be able to pack as much fun into one day as possible. If you're a thrill-seeker like our family, that means trying to hit every ride in the park in ONE day!
We challenged ourselves to this same task to see if it could be done, and here are the results!
Full transparency, our goal was not to hit every physical attraction at Silverwood; that's practically impossible due to the sheer size of the park. That's one thing our family LOVES about the park, each time you go; there's a new combination of fun to find! If your goal is to hit every single attraction in the park, let me recommend at least two or three days throughout the summer to fit it all in!
Before your first visit, be sure to read this blog post on what your teen wants to know about Silverwood as well as how to use Package Express so you don't have to cart all your souvenirs around the park all day while trying to tick those coasters off your list!
First Things First – Grab a Map
To give yourself the best shot at riding every major roller coaster in one day, you have to have a game plan. And that starts with knowing the layout of the park! So grab your crew a map and figure out where you're going to head first.
You can also print out this awesome PDF to bring along and punch the rides you complete, pass them out to everyone in your group and see who can punch the most rides. You can up the ante by making a fun wager, such as whoever rides all the rides gets treated to a scoop at the Ice Creamery at the end of the day! (Full disclosure, the following image is ONE scoop!)
The Rides
Here is the list of rides we set out to ride in one day… the list includes all the major roller coasters as well as some of the smaller rides, but for the sake of the challenge, we left off the rides in Critter Corner and some of the rides at the Country Carnival as well. 
Krazy Kars

Paratrooper

Ferris Wheel

Bumper Boats

Roaring Creek Log Flume

Aftershock

Timber Terror

SpinCycle

Panic Plunge

Stunt Pilot

Tilt-A-Whirl

Corkscrew

Scrambler

Super Roundup

Thunder Canyon

Tremors
This may not seem like many rides to hit in one day, but depending on the day of the week and when you get to the park, you want to try and average about two rides per hour. We were there on a weekday, so we fared pretty well on the lines, especially early in the day!
First Up, Coaster Alley
My recommendation is to head straight to Coaster Alley first and try to hit at least three of the major attractions right off the bat. Early in the day, you can often times get up to four or more rides in an hour! This will allow time for a much-needed lunch break!
For us, we were able to cross off Aftershock, Timber Terror, Tremors, and SpinCycle. We always need a break after SpinCycle because that ride can really make your head… well… SPIN!
Don't Skip Lunch!
If you don't want to waste too much time walking to grab your grub, we love getting a taco bowl and filling up our souvenir bottles with soda at Kool Cactus right in Coaster Alley!
By 12:30, we were fueled up and ready to keep crossing off the coasters! We decided to head toward the water attractions but still had Panic Plunge and Stunt Pilot to hit in Coaster Alley, so we knocked those off the list on the way toward Country Carnival. 
During the Heat of the Day…
Next up were the Bumper Boats and Roaring Creek Log Flume, then we noticed the line for the Ferris Wheel was pretty short so we hopped on and crossed it off the list. 
PRO TIP: Even though the Ferris Wheel line never looks very long, it can take a while to load and unload each car, so hop in line whenever you notice fewer than 10 people are waiting!
Since we were already pretty wet from the Bumper Boats and Log ride, we dashed over to Thunder Canyon and got thoroughly soaked from the waist down!
Dry Off & Finish Up
To give our clothes a chance to dry off, we hopped on Super Roundup right after getting off Thunder Canyon. From there, we got on Corkscrew, then decided it was time for a short breather and hit up the Krazy Kars. 
Once our equilibrium was regulated, we scrambled it up again on the Tilt-A-Whirl and Scrambler, then headed back to cross off the very last ride on the list, which was the Paratrooper! 
Grab More Grub
We did it! By dinnertime and with time to spare, we had hit all the major attractions on the Theme Park side of Silverwood! Truthfully we'd never really clocked how long everything took us because we don't usually hit the park with a "plan," but this was a fun challenge. We definitely rewarded ourselves with a nice long sit-down dinner at Chuckwagon All You Can Eat BBQ.
After adequately resting our feet, and since we were already in Coaster Alley, we hit up all our favorite rides for a second (and third) time and enjoyed the park after dark!
Meet The Conductor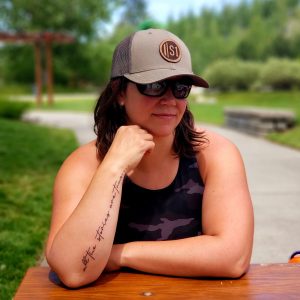 Kelsey Steffen is a wife, mom, and entrepreneur living in beautiful North Idaho. She has five rambunctious, loveable kiddos who bring excitement and joy to her every day. She and her husband, Jason, own Smalltown Design, LLC, a web management company, and they are blessed to be able to work from home and homeschool their kiddos. They also have a blog called Full of Days where they share (mostly) healthy recipes that fuel you to live a long life, "full of days". It's up for debate, but she's pretty sure the Lazy River at Boulder Beach is one of the best places on earth!"