For our family, summer has always been about having fun, spending time outdoors, and creating family memories that will last a lifetime. One of our family's favorite summer activities is going to Silverwood Theme Park and Boulder Beach Water Park, located in beautiful North Idaho! Our kids are now 20 and 17, and we have been making memories at Silverwood as a family since our oldest was just 4 months old! Our adventures have changed a little bit as the years have passed, but our love for going has not!
I am super excited about being chosen as a Silverwood Conductor again this summer! I love sharing the adventures and experiences my family encounters each summer while spending time at Silverwood Theme Park and Boulder Beach Water Park!
Let's talk about all the fun that can be found in the water park! 
I think our family favorite might just be the lazy river… After all, what is more relaxing than floating the river? I grew up floating the Clearwater River, but that one did not have a float up slushie bar! Grab a tube, kick back and enjoy the float. We have often said that we could just sit and float the lazy river all day long and be perfectly content and happy.  
Be sure to take advantage of 'The Cove' float-up bar (I tried it for the first time last summer and can not believe I waited so many years). If you have not tried it, you are missing out! Their 'Jamaica Me Crazy' slush is mouth-wateringly delicious! There are both alcoholic and non-alcoholic versions available. My daughter loves the Pina Colada slush. 
You are sure to enjoy refreshing drinks, great music, and people watching all while soaking up the sun! In fact, it is so relaxing, and you may just lose track of time!
Frugal Tip:
 Non-alcoholic slush refills are only 99 cents!! Just be sure to save your cup.
After a relaxing float, you might decide to ride something a little faster… more tube rides, but with waves and rapids! We love Avalanche Mountain and Ricochet Rapids because we can all ride in the same raft! After you walk up a hiking trail, you will climb aboard your raft and speed down the river canyon! Be sure to hold on tight!!
Up for a bit of a fun, friendly competition? Riptide Racer is a fast paced mat racing water slide that features six side-by-side racing lanes! You will race face-first down 400 feet of slide, where you can reach speeds of up to 30 mph… hopefully, your swimsuit or swim trunks fit snuggly! LOL!
Polliwog Park was always a favorite when the kids were younger. Now we enjoy that area with our niece and nephew. Slides, water guns, fountains, geysers, and the BIG bucket! It is the perfect place for younger kids and those that are still young at heart.
Our favorites is not all that Boulder Beach has to offer. There are two wave pools and several other water slides to enjoy. From low to high intensity, there is something that is everyone's "speed!"
There are several food options available as well: Chicken Shack, Cabana Cooler, Dessert Island, Granite Grill and Pablo's! Whatever it is that you are hungry for, they have it!
Plus, when you enter and leave Boulder Beach Water Park, you walk right through one of the most fun gift shops around! The Boulder Beach Trading Co. offers some of the coolest summer merchandise and souvenirs from the Northwest's finest water park. Swimwear, beach towels, water shoes, flip-flops, hats, sunglasses, sunscreen, and everything else you need for a perfect day at the beach.
Meet The Conductor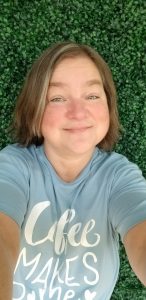 Hello! My name is Bridget Axtell. My husband and I were both born & raised in Idaho and wouldn't want to live anywhere else. We have two amazing children, (ages 17 and 20) and 3 mastiffs! We have been enjoying Silverwood as a family for 19 years, but my first experience was at the airshow back in the mid-80's! The thing we love most about Silverwood is that there is something for EVERYONE to enjoy! Our family loves everything about visiting the park and am not sure what we would say is our favorite ride or attraction… but you absolutely MUST visit the Ice Creamery and have a waffle cone! I've always been a frugal Mom, so 11 years ago I started my blog Being Frugal and Making It Work, so I could share frugal deals, tips, tricks and even giveaways! I'm also a coffee "addict" and have my very own Happy Coffee side gig! It doesn't get much better…