A trip to Silverwood is incomplete without a few souvenirs to commemorate the journey and bring the magic back home with you. There are options at all price points to fit any and every personality! If there is something you like, be sure to grab it quickly because items do sell out before the end of each season. You can even utilize the complimentary Silverwood Package Express, which allows you to send any purchased item or prize from a carnival game to the General Merchandise Store to be picked up at the end of the day. That way, you're not stuck trying to manage your loot while enjoying the park! Here are some of our favorites…
Apparel 
Many of the rides and attractions have tee shirts themed to them. Since Stunt Pilot is the newest and shiniest toy in the park, it has a large assortment of tees to show it off at the Stunt Pilot gift shop. Tee shirts start at $19.99
The General Stuff Mercantile has a terrific assortment of tees and sweatshirts ranging in theme from General Silverwood fandom to specifically showing off some elements of the newly upgraded train show.
Sweet Treats on Main Street has funky, tie-dyed sweatshirts and tee-shirts in various colors. They even sell a kit to make your own Silverwood tie-dyed tee ($17.99)!
The Ride-On sweatshirts have been a Silverwood staple for a few years now, but new colors are coming out all the time! Navy is the current hot new color. Black, pink, and red are also currently available. ($32.99-$38.99). It can be purchased at Tremor's gift shop.
Hucks' General Store has a super fun assortment of silly hats. They range in price from $9.99 to $18.99 and are definitely certain to incite giggles while in the park and at home. We loved seeing people with tacos, squids, and plungers proudly on their heads as they enjoyed Silverwood.
Boulder Beach 
The Boulder Beach Trading Company has a plethora of fun beachy goods and items to keep you ready for playing in the water. I loved these seashell candles ($11.99) that came in an assortment of colored sand with seashells. These lizards are made on coconut shells out of seashells and are as cute as can be!
 Carry your pool toys in this awesome beach towel/blanket bag. It tucks into itself for easy carrying and unfolds for easy usage ($24.99).
Snacks 
Some of the best souvenirs are the ones that you can eat! Silverwood's famous fudge is found at multiple locations, is made at the park, and comes in flavors such as huckleberry, maple nut, raspberry cheesecake, and hazelnut coffee. Each container is $8.00-buy two, get one free!
In the Curtiss Candy Factory, grab something for the sweet tooth on your list. We loved the Silverwood ride-themed candy bars! Each chocolate bar is themed for a ride and has a unique flavor ($2.99 each). Silverwood and huckleberries go together like peanut butter and jelly!
The Silverwood Coffee Roasting and Trading Company has a dedicated section of huckleberry treats to take home and share. These range from pancake mix to honey, even a huckleberry bbq sauce! This is also the spot where the magic of Silverwood's coffee is roasted. You can bring home a 1-pound bag of the special bean blend to brew at home for $9.99!
Head to the General Stuff Mercantile for novelty treats like Silverwood Theme Park Animal Cookies in original and chocolate flavors ($2.99) and milk chocolate-covered malt balls packaged as Bigfoot Poop ($8.99).
Drinkware 
Silverwood has an excellent assortment of mugs, shot glasses, and tumblers to fill up with whatever sounds right back at home to reminisce about the fun times shared in the park. We loved these mini mason jars! ($12.99) and found them at the General Stuff Mercantile as well as the Silverwood Coffee Roasting and Trading Company. These colorful ride-themed shot glasses come in two styles and perfectly show off the rides of the park with gorgeous colors. These can-shaped cups were available in several designs, but this sparkly blue holographic pattern was my favorite ($11.99) found at Tremor's Gift Shop. At the General Stuff Mercantile, we found these adorable 1-ounce shot flask keychains with the Silverwood logo proudly on display ($9.99). Miscellaneous Pick a pearl out of an oyster and set it in a necklace at Huck's General Store ($6.99). The color of the pearl is a mystery and could be white, cream, lavender, peach, or gold. The designs of the necklaces range from unicorns to dinosaurs to pineapples and more.
Bubble wands are excellent for little ones! They keep them entertained while waiting in lines, and they can be reused at home for hours of fun. Some even light up! They range in price from $20-$29.99 and can be purchased at Glimmer 'N Glow and the Toy Store.
We wanted to snuggle up with these stuffed Big Foot plushies. They were $23.99 each at the General Stuff Mercantile. A top seller this year at the Curtiss Candy Factory has been these darling plush alpacas! ($12.99).
Outfit your home with the Multicolored LED Lanterns found at the General Stuff Mercantile. They come in a few different designs and can be hung or set on a flat surface. ($12.99).
Show your love for Silverwood off and customize anything you want with fun Silverwood stickers. There are so many fun options, perfect for water bottles, laptops, helmets, and more. They are UV, water, and scratch-resistant. They are $2.99-$4.99 each and can be found at the Silverwood Coffee Roasting and Trading Company.
Finally, for all of those collectors, there are pressed penny machines are found at four different locations in the park, each with unique design options. Get a forever keepsake for $0.51.
What are you looking forward to buying most this season? Comment down below and let us know!
Meet The Conductor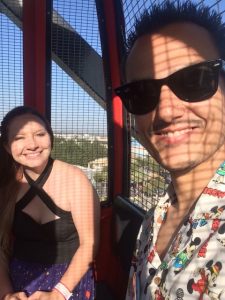 We are Nathan & Logan, the married team behind, Pop Culture Northwest. We are pop culture collection curators and show off pop culture destinations in the Pacific Northwest and beyond. Being kids at heart, it is important to us to keep nostalgia alive and to help pass it on to the next generation. We have three kids (6, 12, & 14) that we homeschool, so we find ways to enrich their lives through our experiences. We appreciate family time & thrills. Silverwood means a lot to us as it is the perfect mix of gorgeous scenery, yummy treats, and thrills for every level of excitement. We can't wait to show you how we make memories in the park so you can do the same!!