Summer of 2022 may be coming to an end, but as soon as you walk through the train station, it will feel like you are stepping back in time to the backwoods of the wild west of Northern Idaho in 1915. Take your time in the loading station before stepping onto steam engine train Number 7.
The all-new train show has new scripts, actors, entertainment, animals, sets, and more ways you can even participate!
As you are chugging along the way, you will pass a big billboard of Uncle Dave's Wild West Show – a skills competition. But watch out for your guides as they like to show off their skills from inside the train while it's moving along. Speaking of "watching out,"… keep your eye out for some new wild animals that hang out near the track. But watch your eyes. You might even be sprayed by a random skunk that climbed the tree! But the biggest animal to watch out for is North Idaho's biggest creature – BIG FOOT, and he is on the loose, but be careful- he blends in carefully with the trees!
And have no fear, my friends, the train bandit is back! Through the years, many families have visited Silverwood Theme Park, with kids of many ages. As enjoyable as the train ride is, it can be a little scary for the little ones that go on this adventure. This year, Silverwood Theme Park has developed 2 options for your family and riding experience. You can catch a ride and learn about the characters, and the other will include the robbery in action!
All money collected from the train robbery will be once again donated to The Children's Village. A commemorative wooden donation coin that works as "kid currency" is available to give to kids on the train to keep as a physical token to donate or to have as a keepsake. There is even a fun little spot where kids are challenged to throw their coin into a wild west skill spot.
As we chug away from the successful capture of the bandits, you get to sit back and enjoy some of the beautiful scenery of Northern Idaho and the back of Silverwood Theme Park and get a full view of Aftershock!
Before my kiddo and I jumped aboard the new train ride, we got to sit down and chat with Luke Yellin – who has helped reshape Silverwood's wild west adventure with his wife, Wendy. I had a great time talking with Luke about all of his past adventures and new ideas. He was very kind and easy to chat with and even made sure that my little guy felt like he was part of the conversation.
Luke and Wendy have been in the entertainment business, singing, dancing and acting all over the world and on many stages, including theme parks, cruise ships, TV, and theater. They are new residents of Idaho from Nashville, TN, and we are so excited to have them be a part of the Silverwood family. I personally can not wait to see what else they help create.
Meet The Conductor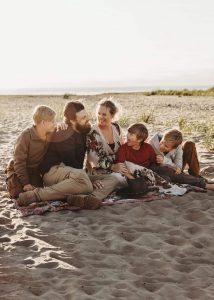 Hello! My name is Jackie. I am married to a handsome handyman, and I'm the proud momma of 5 kids. About 13 years ago, I started my photography business, Jax Creations Photography. A couple of years ago, I started a family website called Wanderful Memories. I use this site to share ways other families can document moments in life through travel and lifestyle. A fun fact about me is that I love to cook/bake for others, and I throw a great dance party in the kitchen (when no one is around to watch my awesome dance moves, of course)! There are many parts of Silverwood that I enjoy, but if I had to narrow it down, it would be riding the Tilt-a-Whirl with my boys. I love to hear them belly laugh! My family enjoys visit Silverwood multiple times during the summer with season passes — it is the perfect way to split up the summer days by visiting the water park or getting their adrenaline going on a roller coaster.