Don't worry about getting your steps in when visiting Silverwood- you will walk a lot while you're here! All of that walking is expected for adults, but for small kids, it can be really hard. With our 3 young children, we always bring a stroller and pack it with plenty of essentials to keep them happy and us sane! Here are a few things that we bring with us every time we go to Silverwood:
Healthy snacks are a must. We love Silverwood's GIANT scoops of ice cream, leaning towers of soft serve, salty pretzels with cheese, funnel cakes and countless other sweets, but it's nice to have some familiar healthy snacks in our stroller as well. Pre-sliced apples, bananas, dried fruit, jerky, water bottles, and other easy-to-grab items will do fine in the heat, and our kids enjoy them in between meals throughout the day. I've learned some hard lessons as a father, and one of them is this: always have a snack nearby to smooth over a fussy child!
Like I said above, make sure you bring plenty of water! Sure, you can get free ice water from the vendors at Silverwood, but it's easier to have your water within arm's reach. We like to bring each child's personal water bottle and fill it with ice water before we leave in the morning. We have to constantly remind them to drink, especially if they're at the water park. Sometimes we think that we're not getting dehydrated because we're in the water all day, but it can happen quickly when you're actively moving in the Idaho sun hotel. Avoid headaches (literally and figuratively) by keeping everyone hydrated!
Bring a blanket! Believe it or not, a summer morning or evening in Northern Idaho can be chilly! We just got back from a day at Silverwood in August and spent most of the morning shivering at Boulder Beach because it was cloudy and windy. Our kids wanted to play, but we decided to warm them up and head over to the theme park side instead until the sun came out. Having a small blanket was a nice way for them to get comfortable while we headed to the rides.
Bring pennies and quarters! This may sound silly, but our family loves pressed pennies. They have machines around the park with unique designs that the kids love to collect. I'm pretty sure we have them all now! It's a cheap souvenir, and the kids love pressing them by cranking the level around and around. You can always ask for change if you don't have any coins, but I like having it on hand to avoid that hassle.
Bring a spray fan (and batteries)! We got a couple of these on Amazon a few years ago, and they've been big hits on hot days (and not just for the kids). They were only about $15 each, and the batteries last forever. We fill them up with ice water at the beginning of the day and fill them up as needed throughout the day with a cup of ice water. Some of those lines can be long and hot, so it's handy to not just have them in the stroller but to bring them along. For the coasters and many other rides, you can set your items aside while riding and pick them up upon your return. This is an excellent way of cooling off.
Bring some wet wipes! If you're anything like me, you're not a fan of sticky fingers. It's not always easy to get kids into the nearest bathroom to clean them up. Regardless of potty training status, it's nice to have some baby wipes or wet wipes handy to clean up sticky messes. Believe me, no matter how hard you try, if you give your child cotton candy, it will turn into a blue and pink sticky mess. And that huge ice cream cone you just gave them? Yeah- that will be in their lap in about 2 minutes. Be prepared!
Don't forget the sunscreen! Silverwood days can be long, and they can be hot! Even a cloudy day can bring some intense rays that will burn your skin. Being from Portland, we rarely see the sun, so we have to cover up early in the day to avoid getting burned. Nobody likes getting slathered in that stuff, but it's better than dealing with a sunburn that could potentially throw a wrench in your Silverwood plans.
When you come to Silverwood, you want to do your best to make it magical for you and your family. Being prepared is one of the best ways to do that. You know your child, so pack their stroller with things that make them happy. What are some things that you bring along when you visit Silverwood?
Meet The Conductor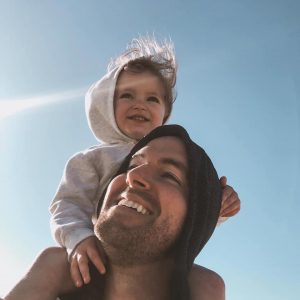 My name is Shaun Fisher and I absolutely love going to theme parks with my family. I'm an online Language Arts teacher and a father of 3 beautiful children. I started the website Park Padres so I could share my love of theme parks with others and give tips and advice when traveling with children. For me, a theme park is one of the best ways to have fun as a family!