When I decided to suggest doing a blog on attending Scarywood in a wheelchair, I wasn't sure what I was getting myself into and submitted the possible idea as more of a joke. I introduced the concept knowing only a few things: One, ever since I was a teenager, I have avoided "haunted attractions" like the plague because, two, I scream, jump, cuss (and used to run prior to earning my wheelchair), very, very, easily when startled. There's never even been a need for people dressed up in scary costumes to make all that happen. Three, my husband thought going to a haunted theme park with his all-too-easily-scared-wife was a great idea—an obvious indication any smart wife should stay far, far away. However, as is usual, the thrill of adventure, curiosity, and seeing my husband's childish excitement got the best of me, and I reluctantly agreed to attend Scarywood for a night, not really sure what this wheelchair user of only four years was getting herself into.
Luckily, being an intelligent person, or at least someone who doesn't appreciate being the only tortured soul for a night, I decided to even the playing field by inviting our good friends. As altruistic as I could pretend I was, I knew that the husband is terrified of roller coasters, so they seemed to be a good fit to tag along with us. Why be the only chicken that is laughed at when you can have two entertaining scaredy-cats, right? I figured, if nothing else, we would have a few really good stories.
Funnily enough, prior to attending Scarywood, rather than wondering about the ADA accessibility of some of the haunts, my main question revolved around whether or not I should add some sort of a seatbelt to my wheelchair, knowing how easily I jump when startled. The one thing that could possibly ruin a fun evening would definitely be getting hurt by falling out of my wheelchair after an actor scared me. Never having been to a "haunted attraction" since earning my wheels meant I was no longer sure how "jumpy" I am anymore since muscle movements tend to change after spinal cord injuries. All in all, I am happy to report there were no falls. That said, if you happen to be a wheelchair user who tends to need the extra support, I would highly recommend using a seatbelt to help ensure a good time.
When we got to the park, I was very much relieved to find that the actors, even though very good at startling you with noises, don't reach out to grab you. Luckily, it was only my husband I had to deal with making me scream by grabbing me. Something he's done ever since we were teenagers, so I completely expected that it came with the territory of attending a haunted event with him. I will get him back at some point.
After getting through multiple scary areas in Clown Town, we finally reached our first ride: Timber Terror, running backwards! As a roller coaster junkie, I was thrilled. Our coaster-fearing friend, on the other hand, not so much. He had to leave the courtesy pass line to quickly find the bathrooms in order to have a nervous bathroom break before he could ride (aided by the fact he just "had to have" ice cream earlier that day, even though he is lactose intolerant). Although he denied it, he did seem slightly dismayed to find out that we had graciously waited for him to get back so he could ride the coaster with us and not be left out of the action. Nevertheless, he bravely rode the backwards roller coaster, sitting next to his wife (although we did witness the color drain from his face).
One of the most entertaining parts about Scarywood, apart from the fact I was screaming every other second, making my husband die of laughter, was that the actors never broke character, even when someone nervous to get on a roller coaster needed to find the closest bathroom ASAP, or when a wheelchair user needed to be pointed to the closest ADA accessible ramp to continue going through Blood Bayou. Through groans, grunts, growls, and scary voices the actors pointed out the direction you needed to go, keeping the mood, while also being strangely helpful. Although there is something to be said for the fact that any sane person will undoubtedly at some point question whether you should really trust someone dressed up and acting the way they are. Even my husband wasn't certain we should follow the "nice" lady pointing out the ADA entrance with the severed, bloody, foot she was holding so we could continue on to the next part of the Blood Bayou.
Something that never ceases to amaze me about Silverwood (or Scarywood, in this case) is that they constantly ensure that the inclusion of people with disabilities is of utmost importance. When I used to visit haunted attractions, before being in a wheelchair, they were never ADA accessible, even fun houses at a fair are generally not ADA accessible, so I automatically had written off doing anything of that nature when I became a wheelchair user. Much to my surprise, both major haunted attractions we went through, Chuckles 3D Sideshow, and Blood Bayou were very wheelchair friendly. So wheelchair-friendly that the actors were even good at cracking jokes at the wheelchair user's expense, which the entire crowd (and myself included) found hilarious. At Chuckles 3D Sideshow, the actor joked: "Do you know why you're my favorite type of victim? Because you can't run away." And at Blood Bayou, all of the actors started yelling "meals on wheels" near the butcher's area.
To wrap it up, our group had an amazing time, a lot of screams and a lot of laughs all around. We left rehashing stories of our funniest moments, and all agreed Scarywood was amazingly worth it. Even as a wheelchair-using-chicken who screams, jumps, and cusses all too easily when scared (sorry, mom), I'd love to go back. And just as expected, I completely lost my voice—a small price to pay for a lot of good memories.
Meet The Conductor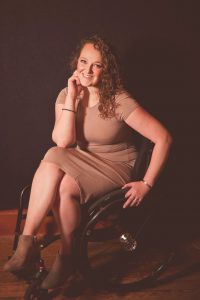 My name is Danielle Rice, and I am Ms. Wheelchair USA 2020-2021 (Ms. America for wheelchair users). I grew up in central Washington, and just like everyone else from central Washington, summer trips to Silverwood quickly became an iconic staple of my childhood. I am now 34 years old, a caregiver of 15 years, on the executive board of my union for caregivers, am happily married to my husband, Sam, and have a handsome six-year-old son, August. We currently live in the mountains above Asotin, WA, and I hold a Bachelor's degree from Central Washington University. The topics I cover are diverse, but include: self care, disability lifestyle, mental health, representation of people with disabilities in the media, being a wheelchair mom and wife, accessible travel, outdoor adventuring and thrill-seeking. Long before my SCI, my life was all about the outdoors, thrill seeking, adventuring, extreme sports and camping, and I know more than most that we've only got one life to live, so, for me, it is meant to be lived loud!