The arcade at Silverwood is one of our favorite spots in the park. There is a great mix of nostalgic, classic, and modern, new games. Nothing beats skipping from machine to machine with a handful of quarters in your pocket, jingling. We at Pop Culture Northwest want to give you a rundown on maximizing your time and having the greatest experience at the Silverwood arcade. We have visited a plethora of arcades across the country and own a few machines ourselves, and it takes a special recipe to make one great. Don't worry! Silverwood's arcade has you covered. The arcade is centrally located in the Country Carnival. It is indoors, so you can escape the rain or beat the heat while playing your heart out.
1.Make sure not to miss out on the classics!
Take a trip down memory lane with games from the 1980s and more. Whether you like competitive games like Street Fighter and NBA Jam, co-op games such as Konami Teenage Mutant Ninja Turtles, or true classics like Ms. Pac-Man, Donkey Kong, and Nintendo's Duck Hunt, there truly is something for everybody to feel like a kid again. A little-known fun fact is that the Nintendo factory that first created these machines in the United States was located in the neighboring state of Washington. 
2.Do not sleep on the pinball machines.
They have a wide range of classic and new machines, including Pin Bot, Whirlwind, Twilight Zone, Theater of Magic, and more. These games maximize space, providing fun that never ends. The selection of machines is all fast playing and well kept. This is surely a section for even the pickiest of pinball connoisseurs. 
3.Get those tickets!
Silverwood has a large selection of redemption games that make playing them both competitive and rewarding at the same time! All redemption games pay out physical tickets that can be redeemed at the coveted prize counter. It is fully stocked with fun and enticing treasures. Be careful! Making a prize selection can be hard work, especially with so many fun options. You cannot go wrong. 
4.Chat up the staff!
Like any other Silverwood employee, they are super friendly and keep the arcade in tip-top shape!! They are happy to answer questions and help with machines that may not be working properly. We like to play a bit, and when we earn an abundance of tickets, we let whoever is working at the prize counter pick our goods, so we end up with fun surprises. 
5.Last but certainly not least, do not forget the quarters!
All of these machines operate like true classics, with their original coin mechanisms. Some of the machines do have the capability to accept scan cards, but the arcade is definitely more fun with coins. If you do forget the quarters or prefer to travel cashless, Silverwood provides an exchange machine that will allow you to use your debit card to get quarters on site. If you do not end up using them all for games, you can use them at one of the penny-smashing machines around the park, too! 
We wish you nothing but jackpots and high scores on your next trip to Silverwood! Whether you are there for a round of Duck Hunt or you have the goal of earning tickets for a top-tier prize, Silverwood's arcade will help you accomplish that dream. And YES! They do have awesomely fun arcade carpet. Let us know your favorite game!
Meet The Conductors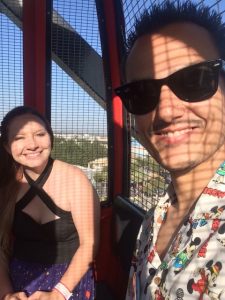 We are Nathan & Logan, the married team behind, Pop Culture Northwest. We are pop culture collection curators and show off pop culture destinations in the Pacific Northwest and beyond. Being kids at heart, it is important to us to keep nostalgia alive and to help pass it on to the next generation. We have three kids (6, 12, & 14) that we homeschool, so we find ways to enrich their lives through our experiences. We appreciate family time & thrills. Silverwood means a lot to us as it is the perfect mix of gorgeous scenery, yummy treats, and thrills for every level of excitement. We can't wait to show you how we make memories in the park so you can do the same!!