Can it truly be? Going to Silverwood and having something FUNN-er to do? I can't imagine being in an amusement park and getting more than a thrill.
There is so much more to Silverwood than meets the eye, but did you know you can have DINNER and a show? Stay tuned to find out how to say classy at the Amusement park. I can't help but think of first class when I want to be wined and dined, and here at SILVERWOOD, you can have just that. There are a few cool spots to make it a truly snazzy day.
Lindy's For Dinner, Then Off To The Train!
Let's start with just dinner; if you haven't tried Lindys near the park entrance, you are truly doing yourself a disservice. The food there is yummy and truly transports you to fine dining; while Naomi and I sat there for our food, I forgot where we were for a few minutes, and then the train woke me out of my daydream. We ordered some garlic fries to snack on, and they also made delicious cocktails. While we drank our drinks, the menu was plentiful and hard to choose from. The servers suggested the pasta and said that it is filling. Since I wanted to stay awake for the day, I went with the burger. They have various options, and it's hard just to pick one.
Grab Dessert at Sugar Shack and catch Marvin The Moose
Dessert wasn't an option as I could barely sit with my eyes open. Plus, I know I'm not the only one here for the funfetti funnel cake. Then we made our way to the moose show (you can grab grub in there, but I was in the mood for Lindys on this particular afternoon.) You can check for the showtimes on the marquee when you get to the park.
Everyone loves being in the High Moon Saloon. It is a good time, and they also serve some delicious food. Anything Caprese is my weakness, and the sandwich here doesn't disappoint. Make sure to get in
early as there isn't a lot of space once it starts filling up.
Perfect Family Meal And Entertainment
If you're in the mood for something different and exciting, walk to the Theater of Illusion, grab some pizza and enjoy some true magic. I feel like if I say anything else, I'll give away all the suspenseful fun.
Another favorite place of ours to go, and a great way to beat the heat, is the Main Street Theatre next to the Main Street Theatre. They play the Three Stooges movies. I love grabbing popcorn and ice cream to cool off while giggling up a storm. You might not think of it as a show, but grabbing food at Lindy's and going for a nice ride on the train fills your experience with so much fun for anyone in the family. It's a classic to me. Wind in my hair and a tummy filled with delicious food is my favorite way to end a day. Hop off and walk back into the country fair and get a funnel cake or elephant ear and that's a perfect dinner and a show day.
Enjoy it all, and have so much fun exploring Silverwood.
Meet The Conductor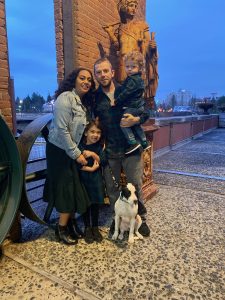 Rochelle Durruthy is a California transplant in the great Pacific Northwest, living and exploring in Spokane Washington, she is a content creator for her lifestyle blog, when she isn't busy creating content she's helping her fiancé and his renovation business and chasing their two children around. Always ready to conquer a new adventure Rochelle and her family are excited to share all the fun things to do at Silverwood what with you all.