Oh, to be a kid again. I love to see the look of pure joy in my kids' eyes, and in those moments, it seems like there isn't much we wouldn't endure to make those moments last and to help our little ones revel in their childhood imagination where all things are possible.
You know what I am talking about…that moment their eyes twinkle with amazement and awe at the world around them. As we get older it seems we develop an unfortunate reflex (almost like a muscle) where we instinctively default to "I'd rather not." Walking through large crowds of people…I'd rather not. Standing in lines…I'd rather not. Leaving the comforts of my air conditioning on a hot summer day…I'd rather not. Well, I can tell you there is one place for sure where the twinkle in their eye and the joy in their smiles, is enough to conquer our case of the "rather nots" and help our little ones (and our not-so-little ones) embrace the warmth of summer and the joys of youthful imagination…Silverwood.
Let's start with Boulder Beach, the water park within Silverwood. The best way to confront the heat of the day is to let them spend a few hours bouncing between Polliwog Park (a watery jungle gym), the Wave Pools (yes, there is more than one), the Lazy River (a parent's retreat), and the various slides offering both individual thrills as well as family and group rides down the Ricochet Rapids and Avalanche Mountain. Truly something for everyone in this beat the heat haven tucked inside of Silverwood.
Once you have let them cool off and sample all the watery adventures, it isn't too hard to get them excited about the next adventures. You may find it necessary to refuel those little bodies at some point and the kids have so many great food options throughout the park. I still don't think we have managed to hit them all, but we have enjoyed everything, including a number of sweet treat stations certain to invoke those twinkly-eyed smiles. The Sugar Shack and their assortment of Funnel Cakes or the Creamery shops serving up their delicious Ice Cream treats will be a worthwhile investment producing rich returns of sugary elation.
When you finally reach the rides & games section of the theme park, (refueled and riding that sugar high) your little ones have an incredible array of options to choose from.
Our youngest boys run enthusiastically between rides in the Critter Camp. They laugh together and they beam with anticipation. You have everything from flying puppies, planes, and helicopters to train rides, krazy coasters, and bumper boats. Even the short wait in lines brings out the best smiles. It is a thrilling concoction of nerves, wonderment, and a sense of accomplishment after summoning the courage to tackle these new adventures.
There isn't a better time to be present and to listen to their excitement or pose together for those pics you will cherish later when their youthful innocence fades into adulthood.
When those toddlers turn to teenagers, no worries; Silverwood's Coaster Alley has you covered. We absolutely love taking the older kids on all the coasters. There are a variety of medium and high-intensity coasters and rides, but if you have a few adrenaline junkies, make sure you get them over to Aftershock, Stunt Pilot, Panic Plunge, Spin Cycle, and both wooden coasters (Timber Terror &; Tremors).
If your teenagers or preteens don't feel quite ready for that level of intensity, have no fear, you can find 20+ attractions games, and stores in the Country Carnival section of the park.
In the end, you might leave the park looking a little sun-kissed, tired from all the adventuring, and lighter in the wallet, but your heart will be full. Seeing your kids smile all day and seeing the world through their eyes for a day is about the best definition of time (or a dollar) well spent.
Meet The Conductor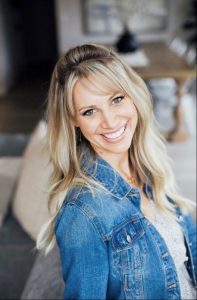 I'm a Mom to 6 amazing kids and have been married to my husband Todd for almost 19 years! We live in Coeur d' Alene Idaho. I enjoy spending time creating beautiful spaces in my home and others! I share all the details on my Instagram account @myhouseof8. We enjoy our adventures at Silverwood and am so excited to be teamed up with them.