Inevitably, every parent, at some point, will look at their child's energy with envy as they trail behind them, feeling the subtle sluggishness that adulthood can bring. At some point, each parent will say something to the effect of, "wow, if I could only borrow a little of your energy…" Never does this fact ring truer than for a wheelchair-using parent like myself.
In fact, there's almost nothing scarier for a parent with mobility issues, especially one that can hardly keep up to the average adult, than the thought of having to keep up with your overly enthusiastic six-year-old as you take them to a large, crowded theme park. A million thoughts cross one's mind when undertaking such a task. Will I be able to keep up? How much whining am I about to deal with from my little man when he starts to feel I'm taking too long to get from ride to ride? How sore will I be from this adventure tomorrow? Will my strength hold out long enough to even be able to do the whole day with my boy? And most profoundly, am I crazy?
The answer to whether or not you are crazy to even attempt such a feat as trying to keep up with a six-year-old at a theme park when you have a mobility issue greatly depends upon which theme park you are planning on going to. Luckily, Silverwood is the theme park closest to us, and I have been able to spend the summer realizing that not only does Silverwood ensure that individuals with mobility issues can navigate the theme park easily, but there are also several perks they provide along the way to make the day not only easier, but achievable, and successful.
First off, as expected of any theme park, by ADA standards, Silverwood is completely accessible with rolling paths to all of the attractions, so there isn't a worry of not being able to reach wherever your little one wants to go. However, Silverwood goes above and beyond just meeting ADA standards by offering scooters and wheelchairs on a first-come, first-served basis at the information center daily. As someone with a spinal cord injury and arthritis that is aggravated when I walk, I have learned to look at my wheelchair as something that brings me (and my family) more freedom, more adventures, and more fun that otherwise would be limited due to my pain level. I encourage you to do the same. Especially when hanging out with an overly-excited kiddo, not having pain damper the mood is a game changer, so don't feel embarrassed or guilty for opting to use a wheelchair. Remember, you're there to make fun memories with your kiddo!
Another great perk that Silverwood offers to those with mobility issues that need additional assistance can't wait in line, or cannot access the ride from the main entrance due to their wheelchair is the Courtesy Pass program. If you have a courtesy pass, you are able to get on the ride through its accessible entrance (generally the exit), which negates a lot of the hassle of trying to navigate lines with a mobility device and needing to wait in the hot sun the entire time.
Even with all of the assistance, Silverwood offers to those with mobility issues, as a mom who uses a wheelchair, and someone who hasn't ever attended a theme park with my boy without my superhero husband, spending a day at a theme park with my wild child still frightened me. Knowing how quickly he liked to zip from ride to ride made me feel like I was inadequate to provide the level of non-stop fun he desired to achieve. And what's more, I'd never been at Silverwood with nice enough weather to attempt Boulder Beach, so I didn't exactly know what I was in store for.
Thankfully, my worries about changing into a swimsuit for Boulder Beach were put asunder when I realized that the family bathrooms were more than adequate to get both him and me ready. As a hint, I recommend wearing your swimsuit under your regular clothes so all that you have to do is one full clothing change to get out of your wet swimsuit afterward if you so desire, thus, saving both time and energy. Additionally, if you don't mind being in wet clothes after swimming, many people at Silverwood simply stay in their wet swimsuits, which definitely helps with cooling down on a hot day and can save even more energy if you're comfortable enough to go for it.
Knowing that most waterslides are inaccessible to me due to the number of stairs that I would have to climb also worried me. I spent most of the day crossing my fingers that Boulder Beach would have enough activities to entertain my boy without me having to disappoint him with the fact he would need an adult to escort him onto the waterslides, and mommy couldn't do it. Much to my surprise, he didn't even ask me once to go on the larger waterslides because we had so much fun in the lazy river and the wave pools that he was too worn out to even think of the waterslides! Mom's energy topped his for once, and I even got to enjoy my time and relax along the way.
I suppose the final thing that anyone with a mobility issue needs when taking the kiddos to Silverwood is the confidence within themselves that they can really do it, something that, if you're like me, might only come from deciding to bite the bullet and try out the adventure for a day. Which reminds me, isn't a lot of life like that?
Sometimes, the hardest thing to do is decide to go ahead and try. To choose to take the first step and see what comes. Either way, if you decide to try out Silverwood for a day, whether you're a parent, grandparent, or anyone else with a mobility issue, I can guarantee your adventures and memories are what await. Everything simply depends on you taking that first step and scheduling the fun.
Meet The Conductor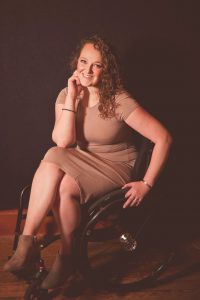 My name is Danielle Rice, and I am Ms. Wheelchair USA 2020-2021 (Ms. America for wheelchair users). I grew up in central Washington, and just like everyone else from central Washington, summer trips to Silverwood quickly became an iconic staple of my childhood. I am now 34 years old, a caregiver of 15 years, on the executive board of my union for caregivers, am happily married to my husband, Sam, and have a handsome six-year-old son, August. We currently live in the mountains above Asotin, WA, and I hold a Bachelor's degree from Central Washington University. The topics I cover are diverse, but include: self care, disability lifestyle, mental health, representation of people with disabilities in the media, being a wheelchair mom and wife, accessible travel, outdoor adventuring and thrill-seeking. Long before my SCI, my life was all about the outdoors, thrill seeking, adventuring, extreme sports and camping, and I know more than most that we've only got one life to live, so, for me, it is meant to be lived loud!