As a wheelchair user who enjoys camping and the great outdoors, I am accustomed to the many perils that are usually present for my wheels at campsites. From gravel to grass to sand and mud, wheelchairs tend not to fair well when camping. That being said, I was pleasantly surprised with the accessibility when I rolled up to the Silverwood RV park.
My family and I enjoy tent camping in the great outdoors every chance we can get. In fact, camping is how my husband and my relationship blossomed. In 2006, twelve years before I earned my wheels, I began working as a camp counselor for various summer camps, and my love of camping and the wilderness was born. Later, when my husband and my relationship began, I somehow convinced him to go on my crazy adventures with me, and he began working at summer camps across the U.S. Ironically, my husband and I both worked for summer camps for people with disabilities, so when I finally earned my wheels, we were both accustomed to the needs of wheelchair users.
As luck would have it, we ended up arriving at Silverwood RV Park in the rain, but as I always said to my staff while working at summer camps, "a little water never killed anyone—only a lot did." My husband knows in these situations; it's best to just keep pushing and not annoy his wife with complaints. We set up our tent and inventive rain shelter as quickly as possible (impressing a nearby tent site, I might add).
When we made our reservations for Silverwood RV, the first thing we were warned of was that all of the disabled-accessible sites had been reserved. This generally isn't something that deters me from camping, especially when there's a full day of theme park adventures ahead. While at the site, I was pleasantly surprised to find out that the main difference between our "average" tent site and the "disabled" site was simply that there was slightly easier access for wheelchair users to get onto the gravel camping area of their site, as a wood barrier marking the edge of your was removed at the entrance of the accessible sites for easier entry. For myself, being an ambulatory wheelchair user (meaning I can stand/walk some), the short wood border being present didn't hinder my access to the campsite because I could simply use my forearm crutches to step over it, or I could "hop the curb" as I do in parking lots. However, for someone in a power chair, someone who can't hop a curb, or someone who is non-ambulatory, ensuring you reserve an accessible site will make your visit easier.
Luckily for me, our tent site was still very close to the bathrooms, and the path to the bathrooms was even paved to get there. That evening I also noticed that the paved path to the bathrooms was also lit, something important for wheelchair users not looking to not get stuck in the grass by accidentally going off the path. As I was traveling along the path to the bathrooms, another feature of the RV park struck me: a playground!
As a Mom, with a six-year-old who has a short attention span, a playground is a nice way for a kid to kill time while Mom and Dad set up camp. While the playground wasn't wheelchair accessible, I was able to park my wheelchair along the side to watch my little man play. Later, I used my forearm crutches to do a little playing on it of my own. Across from the playground, there was also a beach volleyball court. My little man thought it was epic for building various sand sculptures before dinner.
There were two sets of restrooms, one at the front of the park, along the side of the store, which is slightly further away from the accessible campsites. The other is in the middle of the campground, close to the volleyball court and playground. Both sets of restrooms were spacious, accessible, and surprisingly clean, considering how many people use them. There was a shower house in each restroom, but since the showers in the middle of the campground aren't accessible, there is a sign directing wheelchair users to utilize the showers located by the store.
At the time that I visited, while the shower stalls were large enough to be accessible, and there was a bench in the changing vestibule of each stall, there wasn't a bench within the actual water area for a non-ambulatory wheelchair user to transfer to in order to utilize the shower; however, this is easily remedied similar to how many hotels ensure their rooms are accessible by providing guests a portable, stand-alone, shower bench in the office area (or store) that can be brought into the shower stall when requested by a campground guest. I have no doubt that this simple addition will be available soon. Knowing how much the park cares for their guests with mobility issues, is the main reason we are proud that they are our local theme park.
Many RV parks don't think of is having a reasonably priced general camping store for incidentals, but Silverwood RV has even thought of that. In fact, my husband and I tend to steer clear from these small stores because their prices on camping gear and supplies can be astronomical; however, that simply wasn't the case at Silverwood RV. In fact, when talking to the caretaker, I was pleasantly surprised to find that it is important to Silverwood RV that they aren't just taking advantage of their guests. We even bought my son some color-changing powder to put into our fire that night after s'mores.
Finally, and likely most importantly, the best part about Silverwood RV is that it is right next to the theme park! Enjoying a full day at Silverwood is easier when your "home base" is literally just down the sidewalk. This can especially make it easier if you have a mobility issue, which means resting during the day is important. Overall, Silverwood RV is by far the best way to enjoy Silverwood if you are traveling from any distance!
Meet The Conductor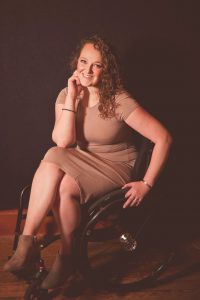 My name is Danielle Rice, and I am Ms. Wheelchair USA 2020-2021 (Ms. America for wheelchair users). I grew up in central Washington, and just like everyone else from central Washington, summer trips to Silverwood quickly became an iconic staple of my childhood. I am now 34 years old, a caregiver of 15 years, on the executive board of my union for caregivers, am happily married to my husband, Sam, and have a handsome six-year-old son, August. We currently live in the mountains above Asotin, WA, and I hold a Bachelor's degree from Central Washington University. The topics I cover are diverse, but include: self care, disability lifestyle, mental health, representation of people with disabilities in the media, being a wheelchair mom and wife, accessible travel, outdoor adventuring and thrill-seeking. Long before my SCI, my life was all about the outdoors, thrill seeking, adventuring, extreme sports and camping, and I know more than most that we've only got one life to live, so, for me, it is meant to be lived loud!