It has been stated before and will be stated again but Silverwood truly offers something for everyone. The food choices are abundant! There are options to fulfill just about any craving and keep you fueled for riding the rides and watching the shows. Whether you are in the mood for something sweet, savory, toasty, or chilly, you can find the perfect bite at one of Silverwood's many establishments. There are plenty of options for giant shareable plates and pecking on tiny choices. You can easily make a full day of meals with just the snack options to get to try the widest variety of the finest offerings! Let us know your favorites and any snacking traditions for your family at Silverwood and Boulder Beach
Funnel Cake
This is a true carnival classic! It is a sharable delicacy that currently comes in four varieties- Fruitfetti, Huckleberry, Strawberry, and Powdered Sugar. It is a warm, doughy treat that can be found at The Sugar Shack in the Country Carnival. They are only $5 before 5 pm, so snag one early for a delectable discount.
Sno-Cones & Snow Drifts
Seismic Sno-Cones in Roller Coaster Alley is your go-to spot for snow cones and the Silverwood trademark, Snow Drift, which is a snow-cone mixed with soft serve ice cream for a delight that is the best of both worlds.
Personal Pan Pizzas
When you need a hearty and savory snack, the individual pizzas at Caselli's Pizzeria or the Theater of Illusion Pizzeria are an excellent choice. They also have cheesy bread sticks and soft pretzels, sure to satisfy a craving.
Coffee and Pastries
The Silverwood Coffee Roasting and Trading Company is the best choice for a caffeine pick-me-up and sweet treat. The coffee for each hand-crafted drink is roasted on-site and is a custom blend of beans from Columbia, India, and Brazil. The pastries are epic! The case is filled with gorgeous cookies, muffin tops, croissants, cinnamon rolls, and more.
Ice Cream & Shakes
Silverwood takes ice cream seriously! There is soft serve, hand-scooped, and Dippin' Dots, so you are never more than a few steps away from a chilly treat. The flavors are plentiful, so there is one for everyone. *A single Silverwood Signature scoop is equivalent to FIVE regular ice cream scoops.
Fudge
The fudge at Silverwood is made fresh, on-site, and there is a flavor to satiate every craving. Take your pick from huckleberry, chocolate, vanilla, maple nut, vanilla praline, chocolate peanut butter, hazelnut coffee, cookie dough, mint chocolate, snickers, pistachio nut, rocky road, cotton candy, raspberry cheesecake, and birthday cake! Each tub is $8, but you can score an extra with their wonderful buy 2, get 1 free deal! You can purchase fudge at the Curtiss Candy Factory and Sweet Treats.
Candied Nuts
These little treats are an excellent protein-packed pick-me-up! They are freshly roasted and come in a convenient cone for snacking and sharing as you wander around the park. You can choose between candied cashews, almonds, or pecans. They are served warm and toasty. These are available at the Curtiss Candy Factory and Sweet Treats. One cone is $5, or score three cones for $12!
Meet The Conductor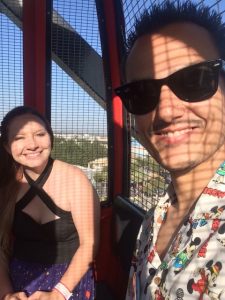 We are Nathan & Logan, the married team behind, Pop Culture Northwest. We are pop culture collection curators and show off pop culture destinations in the Pacific Northwest and beyond. Being kids at heart, it is important to us to keep nostalgia alive and to help pass it on to the next generation. We have three kids (6, 12, & 14) that we homeschool, so we find ways to enrich their lives through our experiences. We appreciate family time & thrills. Silverwood means a lot to us as it is the perfect mix of gorgeous scenery, yummy treats, and thrills for every level of excitement. We can't wait to show you how we make memories in the park so you can do the same!!