We love going to Silverwood as a family. It has so much to offer for every age group. The park is beautifully designed with lovely gardens and flowers in bloom everywhere. The park is kept in great shape, always looking clean and pristine. I love how the rides and attractions are located conveniently for age groups and thrill levels. My older kids are thrill seekers and love to pair off to enjoy the roller coasters, while my younger kids prefer the slower paced rides. My husband and I will trade off spending a lot of time in the kids' section with our younger children. I personally can appreciate the slower paced rides over some of those rides geared more for those thrill seekers, so I don't mind taking on the duty of hanging in the kid's section! Thankfully at Silverwood, there are so many fun rides and things to do and see so no one is left without something to satisfy their needs! There is a never a dull moment for our family!
Today I want to share why we love the playground for the littles!
As a mom of many kids, I understand how important it is for young children to explore and get out some energy. There is so much to do, see and ride at Silverwood, but sometimes those little kiddos need to run, climb, crawl and explore! The playground at Silverwood gives the kids a place to get out some wiggles use their imagination as well as interact with other children too.
Conveniently across from the playground, there is a covered bench which is a great place to sit as a parent to relax and get a little shade while your young one plays.  I know I can always appreciate a minute to sit and relax myself!
The playground is located next to all the fun children rides. It is easily accessible if you want to pop over to take a little break before you jump back into the fun of the other rides and attractions.
The playground looks like a giant tree house surrounded by a sandy floor which is so fun for those littles' imaginations and exploration! It has fun spaces to crawl through and climb up to engage those curious minds! My boys love to race up to the top to look around from the top. They enjoy seeing the magic of the park at a higher level.
My 6-year-old's favorite ride is located directly behind the treehouse. He loves to run around interacting with the other children at the playground and then race back into line to catch his favorite train ride.
The playground is a fantastic option to let your little tikes run and explore freely, or if you just need a break to relax it is a great option to keep them entertained while you catch your breath for more fun to come!
The next time you visit Silverwood Theme Park, be sure to skip on over and let your kiddos experience the fun and wonder at the playground!
Meet The Conductor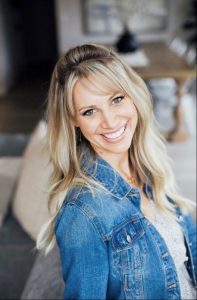 I'm a Mom to 6 amazing kids and have been married to my husband Todd for almost 19 years! We live in Coeur d' Alene Idaho. I enjoy spending time creating beautiful spaces in my home and others! I share all the details on my Instagram account @myhouseof8. We enjoy our adventures at Silverwood and am so excited to be teamed up with them.