Our family loves to head to north Idaho as there are such a wealth of activities for families in the area. We always plan on several days at Silverwood to enjoy the rides & relaxing at the water park. But it's nice to break up our time at Silverwood with some fun outdoor adventures in the beautiful sunny weather. 
We love that north Idaho offers everything from aerial adventure courses to relaxing by the lake to visiting local farms. The mountains, lakes & rural scenery are so beautiful, and you're sure to find the perfect adventures the whole family will love! 
Adventure Activities
Tree to Tree Adventure Park
Just a short 20-minute drive from Silverwood is the Tree to Tree Adventure Park in Farragut State Park. This popular, 4000-acre state park on the shores of Lake Pend Oreille is host to this excellent aerial adventure course. Safety is paramount here as they use magnetized belays so you are never unhooked when on the course or platforms high up in the trees. Activities include zip lines, wobbly bridges, Tarzan swings, tight ropes, balance beams, & more to keep you on your toes!
Route of the Hiawatha Trail & Bike Ride
One of the most unique experiences in north Idaho is the Route of the Hiawatha mountain bike & hiking trail, a 15-mile long trail with 10 train tunnels & 7 sky-high trestles. It is one of the only 15 "Rail to Trail" trails in the country.
One of the first tunnels is a 1.6-mile tunnel, which will definitely be thrilling for kids & adults alike. The best part is that this trail is a gentle, downhill trail and when you get to the end, you'll have a shuttle ride back to your car, so you don't have to worry about making your way back up to the top of the trail. 
Bring your own bicycle or rent a bike & supplies. This trail is only open from end of May thru mid-September, so this is a summer activity only. Definitely a bucket list activity for Idaho with the gorgeous views you'll see along the bike ride! See a full review of the Route of the Hiawatha bike ride, too!
Farm Tours
Seven Stars Alpaca Ranch
Animal visits are always very high on my family's list of favorite activities any time of year. One of our absolute favorite farm visits we've ever done was at the Seven Stars Alpaca Ranch in the Couer d'Alene area (about 40 minutes from Silverwood). While this is primarily an alpaca farm, they actually have quite the variety of animals you can visit on self-guided tours. We spent time petting the alpacas, but visiting the donkeys, goats, horses & more was quite the highlight! Plus, their tours offer quite a bit of interesting educational info about the alpacas, presented in a fun & easy to understand manner, so we felt quite knowledgeable about alpacas by the end of our group tour.
Cedar Mountain Farm
The 440-acre Cedar Mountain farm is just 2 miles from Silverwood, and they offer farm visits where you can spend as much time as you want to explore their farm. You'll be able to pet & visit with their goats, bunnies, chickens, sheep, mini ponies & much more. Depending on the timing, you might even have an opportunity to feed a baby goat, a highlight for my girls!
Go at your own pace & enjoy spending time with the animals as long as you want! Plus, you can explore the farm's many acres with hiking trails in the fields, forests, & up the mountain. Make sure to check out their delicious baked goods, too, which you can purchase to take home with you – the scones are melt-in-your-mouth delicious.
Lake Time
Lake Couer d'Alene
When heading to north Idaho, lake time is a must when planning your outdoor adventures. In the warm summer months, head to the City Beach for some play time, plus they have all sorts of water sports here, such as SUP, kayaking, canoeing & more.
If the weather is cooler, try a Lake Couer d'Alene boat cruise. They offer sightseeing cruises with narration on the history of the lake or you can try a brunch or sunset dinner cruise for gorgeous views as you enjoy your food.
Lake Pend Oreille
Want to avoid the bigger crowds, Lake Pend Oreille is another gorgeous lake in north Idaho but with quieter spots to enjoy the lake. Head to Beaver Bay at Farragut State Park to be surrounded by beautiful scenic views of the lake as you swim. You can also hike along some of the lakeside trails & find some quieter swimming holes. 
To be closer to town, the Sandpoint City Beach boasts gorgeous views of the lake, plus you'll find beach volleyball courts, tennis & basketball courts, playground and more. It's easy walking distance to downtown Sandpoint when you need a break for lunch or ice cream at Panhandle Cone & Coffee. 
Playgrounds
McEuen Park
The 22.5 acre McEuen Park is located right in the heart of downtown Couer d'Alene next to the Couer d'Alene resort and the lake. This is the city's largest playground and includes an awesome splash pad to beat the heat. Teens will love the basketball court & tennis/pickleball court. Bring your pup along as there is an off-leash dog park to burn off some energy.
Fort Sherman Playground
The Fort Sherman playground in Couer d'Alene is part of the City Beach park, located just west of the downtown area. It's the perfect location as your kids can play hard on this fort-themed playground & then walk over to the beach to cool off in the lake when hot & sweaty. The park has huge trees to provide shade for those warm summer days. The wooden fort playground has everything from slides, swings, tire swing, and climbing areas. The best part for parents – this playground is totally fenced in with one entrance – parents can relax & sit on one of the many benches while kids have a blast playing!
What outdoor adventure is on your list to try in north Idaho?
Meet The Conductor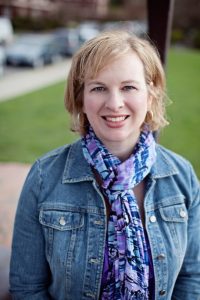 Jen Dotson is the co-owner of Thrifty Northwest Mom with her business partner, Sia Hills, where she's been blogging for over 12 years. She lives in the south Puget Sound area of Washington with her husband and 12 & 15-year-old daughters. She was a military kid who grew up living all over the US, but her favorite destination has always been the  Northwest. She & her family love to travel & explore around the PNW & they love outdoor adventures such as hiking, kayaking, snowshoeing, & more. She loves to share ways for families to make memories together exploring the beautiful PNW & all it has to offer!