I scream, you scream! We all scream for Silverwood's ice cream!
Did you know National Ice Cream Day is coming up soon? Did you know that there was such a thing as National Ice Cream Day? This year the holiday falls on July 19th. There are over 1,500 national and nonsense holidays. National Ice Cream Day has to be one of the best nonsense holidays there is. I mean, who doesn't love ice cream? Why shouldn't we have a day dedicated to the yummy treat?
Fun Random Facts About Ice Cream
President Ronald Reagan proclaimed July as National Ice Cream Month and established National Ice Cream Day as the third Sunday in July in 1984.
No one knows who came up with the idea of ice cream. In fact no one even knows how long ice cream has been around. One thing we know is that some form of ice cream goes as far back as Emperor Nero, in Ancient Rome. We know that he enjoyed mixing snow with fruit and honey and would send servants up into the mountains to retrieve it. There are other legends that claim that ice cream originated in the Mongolian empire, spreading to China with its expansion.
The United States is one of the top 3 countries in the world with the highest ice cream consumption. We come in second, right behind New Zealand, and followed closely by Australia
California is the country's top ice cream producer.
The most popular ice cream flavor happens to be vanilla. Chocolate is second and cookies n cream flavor comes in third.
Historically, Ice cream used to be seen as a luxurious dessert that only the higher class could enjoy until the late 1800s. This was because the rich upper-class were the only ones who could afford ice cream and what it required in order to keep it cold.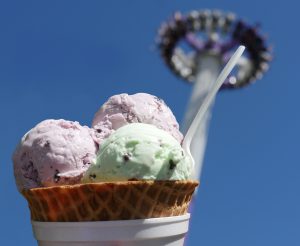 Silverwood Theme Park has no shortage of ice cream for you to enjoy during your visit. They have many locations with ice cream treats at both their amusement and water park!
In Country Carnival you can find Dippin Dots, Down Rush Slush for some novelty ice cream, Kettle Corn for your soft serve and don't for get the Ice Creamery! But if you have kids, I highly recommend getting the small kiddie scoop because their giant scoop is huge, you don't want tears as the ice cream melts making sticky kids on an extra hot sunny day.
Roller Coaster Alley has South Creamery with your hard scoop ice cream and milkshakes. They also have Dippin Dots and Seismic Sno-cones, where you can find sno cones and soft serve ice cream.
If you are in Boulder beach make sure to stop by Dippin Dots or Dessert Island! Dessert Island also sells giant scoop ice cream and the best part is, if your kids ice cream melts and drips, they can easily shower off before getting back in the water! This is probably what we will do next time we go!
Enjoy National Ice Cream Day at Silverwood this year and make sure to give them a shout out on social media!
Extra tip: if you happen to get a brain freeze from eating ice cream make sure to press your tongue or your thumb against the roof of your mouth. This helps remedy a brain freeze!
Meet The Conductor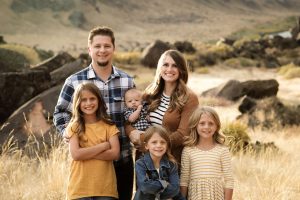 My name is Jenifer Koyle. I am a wife and a mother to 3 little girls and one baby boy. I run a blog called Momma Koyle where I share all our family fun, favorites, and must haves. We LOVE creating memories together at Silverwood.