Looking to visit Silverwood in style? How about renting your own private Cabana inside Boulder Beach water park!?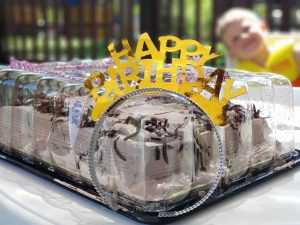 Living a short one-hour north of Silverwood, you could say we're frequent-flyers to the water park. If it's a hot day, we're jumping in the car for a few hours of reprieve from the heat. But the Cabanas at Boulder Beach were something we'd never taken advantage of. This year, we decided it was finally time to remedy this.
We happen to have a birthday cluster at the end of June-early July, so celebrating with a combined birthday party at Silverwood only seemed natural. This year, a cabana was reserved, friends were invited, and plans made!
"BEST BIRTHDAY EVER!!!" was a frequent phrase heard throughout the day, and for good reason! If you've never checked out the cabanas on Cabana Island, you're definitely missing out on a hidden gem.
In the past, we've been fortunate enough to get one of the many public cabanas (which are first-come, first-serve, so grab one early!), so I really didn't expect much more from "Cabana Island". I've always seen the sign nestled perfectly between the two wave pools at Boulder Beach, but never peeked inside to see just how lovely they are!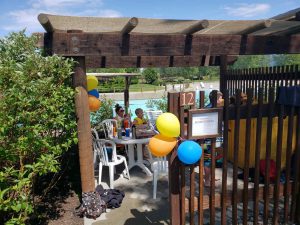 Check out all the grass and shade! Definitely nice on a hot summer day.
Within Cabana Island, there are 19 private cabanas all rentable by the day. Be sure to reserve them well in advance, as they sell out almost daily!
I had no clue about all the awesome perks that come with a cabana rental! First of all, these cabanas are much more private than the public cabanas spread throughout Boulder Beach. There are excellent grassy areas for laying out your towel and drying off in the sun (or shade).
Some of the other perks include:
Beautiful views and landscaping!
Your own table, four regular chairs, two lounge chairs, two rental tubes, two rental towels, PLUS a storage cupboard with lock, AND a mini-fridge to keep anything you want cold while you party at the park!
You get your own personal staff member who will take your order from a list of food (anywhere in Boulder Beach!). They'll bring it right to your cabana so you can keep on relaxing – or playing! (And be sure to start a tab so you don't have to worry about paying for each individual purchase, just take care of it all at once at the end of the day.)
If you're having a birthday party they'll decorate the cabana with balloons and a happy birthday sign, PLUS Silverwood will throw in a delicious cake, too! Just choose your flavor (chocolate or vanilla) and let them know when to deliver it! They'll bring your cake, plates, and napkins whenever you're ready.
As a mom of five, ages 14 down to 6 months, I appreciated having a cozy "home base" where everyone could meet up throughout the day. Not everyone wants to play at Polywog Park all day, but the littles can't ride the big waterslides either.
The cabanas are the perfect place to meet up, regroup, rest when needed then keep on splashing!
It's definitely going to be tough to top this birthday celebration… there's already talk of making this a new tradition!
For more of the nitty-gritty details about cabana rentals, or if you're ready to reserve your own private cabana, visit the Silverwood website here.
About The Conductor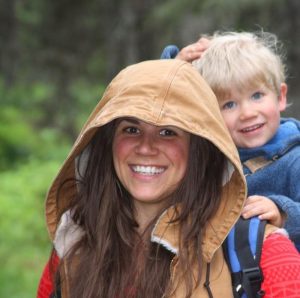 Kelsey Steffen is a wife, mom, and entrepreneur living in beautiful North Idaho. She has five rambunctious, loveable kiddos who bring excitement and joy to her every day. She and her husband, Jason, own Smalltown Design, LLC, a web management company, and they are blessed to be able to work from home and homeschool their kiddos. They also have a blog called Full of Days where they share (mostly) healthy recipes that fuel you to live a long life, "full of days". It's up for debate, but she's pretty sure the Lazy River at Boulder Beach is one of the best places on earth!