Summer has begun, and it is time to start planning some FUN summer activities. Each year, our family creates a bucket list filled with things to do as a family during the summer months. One of our favorite items on the list is a weekend at Silverwood Theme Park in Athol, Idaho.
Even though we are blessed to live super close to Silverwood, we do enjoy heading out for a camping adventure in our RV which makes for a perfect weekend getaway just a hop and a skip over to Silverwood Theme Park and Boulder Beach.
I personally love to start the weekend at the dry park- the land of where the roller coasters and carnival rides live. When you first walk into the park, you are greeted with an abundance of blooming flowers everywhere. There is something so special about being surrounded by flowers that just make your heart happy and your feet dance. In this lovely area, you will also find the carousel which every kid of all ages love. It doesn't matter if you are just watching your grandkids going round and round or you, yourself, are enjoying the freeing moment of a childhood classic.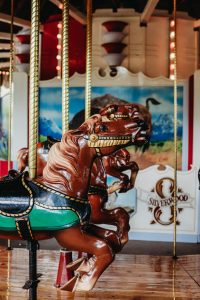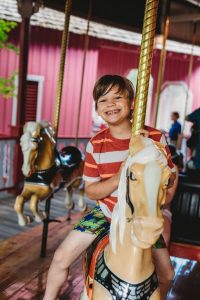 After enjoying that classic childhood moment, you can find your kiddos asking to enjoy the historic engine No.7 train ride! Don't forget to step inside the train depot and check out the artifacts. I love having the kids walk through and tell me the story of "Bigfoot" and what they think they will see on the popular Silverwood Western Train Ride. It is a great choreographed "ride" filled with characters and a western robbery. The train runs on the hour so you can perfectly time it to your day – making it the start of your adventure, a perfect break time to get out of the sun and settle your tummy from all the yummy food or make it the perfect stop at the end of your day. Either way – it is always a family favorite!
Speaking of food, you can find a place at Silverwood Theme Park for all your food craving needs. Whether it is for an allergy-sensitive belly or a picky eater, you can find something for everyone. I make sure to leave room in my own belly for my sweet tooth of funnel cakes and my kids love to compare their mile-high ice cream cone from the creamery.
Every summer we get our belly laughs going on the 2 water rides that are over on the dry park side of Silverwood; The Roaring Creek Log Flume and Thunder Canyon. We love to take bets on who will be the driest to walk away, but somehow, that bet is never in my favor.
When you are ready to take on the roller coasters, you can find 5 amazing rides to test out your screaming vocal chords. My husband loves the feel of a wooden roller coaster-like Timber Terror or Tremors, but I myself love the speed of Aftershock. This 191-foot beast takes you through a cobra roll, an inverted loop, and backward through it all again. But if you have a teen that loves a good spin and thrill, check out the belly flipping SpinCycle! This 104-foot tall thrill ride rotates 360 degrees and swings like a giant pendulum… but make sure you secure the items in your pockets and put your sandals in the designated cubbies because this ride lets your tootsies dangle.
When you are ready for some air-conditioned fun with some very delicious pizza, take a break inside the auditorium for an award-winning magic show with Nick Norton. The kids will be entertained just as much as the adults in this 30-minute show of illusions and sleight of hand tricks. We have been known to see the show a few times during our visit just to try to figure out how Nick does his awe-inspiring tricks.
If you do a little shopping during your visit to Silverwood Theme Park, the stores have pick up option so you can continue having fun and not have to carry around your bag of goodies. You can shop as much as you like and pick up your items at the end of the day.
You can extend your weekend by planning your visit to Silverwood Theme Park during the many events they have scheduled and you can make your summer epic by purchasing passes for the family.
Now… let's learn some fun ways to cool off that summer heat with a visit to Boulder Beach!
Waves, Water, and Memories – Boulder Beach
The sun is shining, the birds are singing, the flowers have bloomed and the kids are all up. They are all dressed in their swimming gear and waiting for mom to finish her cup of coffee so we can venture out to enjoy a full day at Boulder Beach. By the time we reached the front gate of Silverwood, the kids have already planned out the day on which water rides they will do first. We first get ourselves set up with one of the lockers available and find us the perfect spot. We have a nice range of ages in our kids but I like to settle into a spot near the Polliwog Park – a nice place for the parents to relax and play with their kiddos for some water play fun.
To start the thrill, the boys love to race each other down Riptide Racer to see who was able to get the fastest time. Having 3 boys, there is always an ongoing competition and this is a great thrill ride to earn some bragging points. To break up the competition and add more laughter, this is my time to have them join me in one of my favorite rides – Ricochet Rapids. We gathered on a raft big enough for a family and started sliding down a 40-foot mountain and into a 20-foot mega tube! This is the perfect ride to snap on your Go Pro Camera and capture some epic family moments and laughter! After we go a few more times, we partner up and make our way down another tube ride, Rumble Falls.
Between all the sun and fun at this moment, we are ready to fill up our bellies with some yummy food that Boulder Beach has. The hardest part is deciding where to eat. Thankfully between our picky eaters, there truly is something available for everyone. And then while we are settling our bellies, we grab some tubes and float around Elkhorn Creek for some relaxing moments. I probably find it more "relaxing" than the kids. They love to push each other into the waterfalls and try to walk against the current. For a day when my husband is able to enjoy a family day at Boulder Beach, we will make a little detour over to the floating bar for yummy treat. They have drinks for just for us adults to enjoy or you can make it virgin. Enjoy the frosty treat that's perfect for summertime, a Pina Colada!
After the kiddos finished getting their thrill on the other water rides, we love to enjoy the last hour of Boulder Beach by watching the sun get lower as we ride the waves in Boulder Beach Bay. This is also my favorite time to grab some fun photos and videos with our Go Pro. Having these special days and moments with my family is the most important thing to me. It is so wonderful to be able to look back at the photos and videos we were able to capture during our time at Silverwood and Boulder Beach.
Silverwood Theme Park is our favorite family place during the summer. A place where we can celebrate birthdays, have a special date night, create a camping weekend, and enjoy the best place for memories. Whether it is a single day, a TWO- DAY pass, or a family pass, you can create a memorable day at Silverwood Theme Park and Boulder Beach!
Meet The Conductor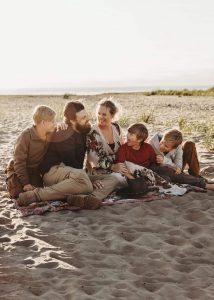 Hello! My name is Jackie. I am married to a handsome handyman, and I'm the proud momma of 5 kids. About 12 years ago, I started my photography business, Jax Creations Photography. Last year, I started a family website called Wanderful Memories. I use this site to share ways other families can document moments in life through travel and lifestyle. A fun fact about me is that I love to cook/bake for others, and I throw a great dance party in the kitchen (when no one is around to watch my awesome dance moves, of course)! There are many parts of Silverwood that I enjoy, but if I had to narrow it down, it would be riding the Tilt-a-Whirl with my boys. I love to hear them belly laugh! My family enjoys visit Silverwood multiple times during the summer with season passes — it is the perfect way to split up the summer days by visiting the water park or getting their adrenaline going on a roller coaster.