Recently, I shared my experience with taking my boys to Silverwood. Since then, I've had several of my mom friends ask me at what age I started taking my kids to theme parks and wondering if they should wait until their kids are older before they give it a shot. We started taking both my boys around 2 years old and I'm glad we didn't wait.
You might be wondering, "what's there to do for a 2 year old?" My answer? PLENTY!
My youngest is 4 now but, I'm going to use him as an example of the things he loved when he was 2 (and still loves now).
I'll start with what we love at Boulder Beach. One of Malachi's favorites is Polliwog Park. This water area for younger kids is great even for the littlest of theme park goers. The water is shallow so you can sit with your little and let them splash around. When they get brave enough, there are some small slides you can venture down with them as well.
One of our other favorite spots is Toddler Springs. You can take your littles here for some splash pad fun! There are so many fountains and geysers for the kiddos to splash through. My kids always love stomping the water and going through the spraying arches.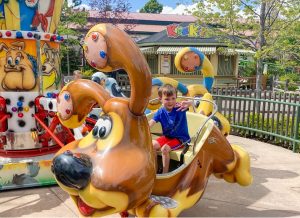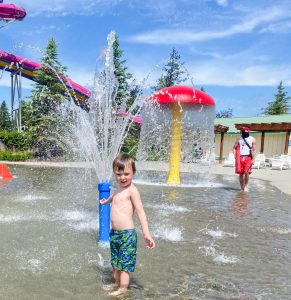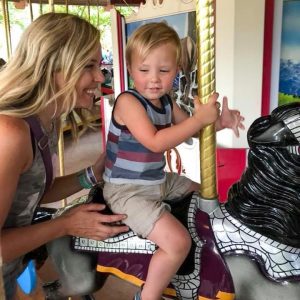 Elkhorn Creek or as Malachi calls it "the laziest river". It's so much fun grabbing a tube and floating down the river. My boys always love the waterfalls and seeing if we can make it under them without getting wet. The park provides life jackets so, no worries if your little isn't a swimmer yet. Put them in a life jacket and ride on a tube with them!
When it comes to rides, Garfield's Summer Camp is a theme park inside a theme park! It has so many fun things for little kids. Most every ride little kids can ride themselves or, if not quite tall enough, can ride with a parent. Seeing my husband squeeze onto these rides with my tiny boys is a memory I'll always cherish. Some of my kid's favorites are the Frog Hopper, the Butterflyer, the Tiny Tree House, and of course the Puppy-Go-Round! These rides are some of my favorites too since I get to hear my boy's squeals and laughter as we ride together.
We could spend all day at Garfield's Summer Camp and some days we do but, we also like to venture out and ride the Steam Engine Train. It's perfect for little ones! On a hot day, you can get in a covered car and enjoy the shade while checking out the Bison and looking for Big Foot!
There really are so many wonderful options for little kids and toddlers at Silverwood. It's been a blast watching my boys grow each year and seeing which new rides they'll venture onto each summer! My advice is not to wait and make it a fun tradition for you and your kiddos!
Meet The Conductor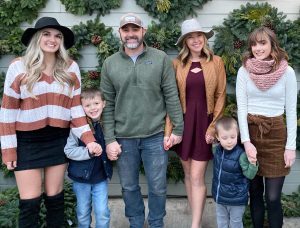 My name is Noelle and I live in Spokane, WA but moving to Hayden, ID this summer! I've been married to my husband 9 years and we have 4 kids (2 girls 21 & 19) and two boys (7 & 4). My husband and I both are from north Idaho and we love all things outdoors. We enjoy being active and exploring in our RV. Every summer, Silverwood is a must on our bucket list and we love getting to enjoy all areas of the park since our kids are different ages. I document all our adventures over on my IG @NoelleNorthwest and our blog