Although we're well into summer here in the Northwest, I thought I'd share some budget friendly tips to help get through the last few days of the summer with your kiddos. Fall doesn't officially start until September 22nd, so get the most out of those couple of days.
Look For Rivers Or Lakes To Spend The Day
Most all lakes are rivers have free access or fair inexpensive access fees. Swimming is always a great way to wear out your kids, too!
Go Berry Picking!
Many farms have strawberry festivals during the summer. Do a quick search online to find a farm near you. There's nothing like fresh local berries. If you're a local to the Northwest, you can even go huckleberry picking for free! You just have to find the secret spots!
Have A Backyard Camp Out
My kids absolutely love to sleep in a tent. If you don't have a fire pit, you can still roast marshmallows on your BBQ or stove top and then enjoy them outside. If you have a trampoline, set your tent up on it for a new way to camp that your kids will think is really fun.
Have a Water Day At Home
Turn on the sprinklers, have a water gun battle, throw water balloons or make your own slip n' slide! The forecast is predicting warm weather next week! Make the most of it!
Go On A Nature Scavenger Hunt
There are a ton of free printable scavenger hunt sheets online that you can print off at home. Grab a couple sheets and a clipboard and head out to the woods and see how many items you can find.
Create Your Own Ice Cream Bar
Grab a couple different flavors of ice cream and some toppings and invite some friends to hang out in the backyard for an ice cream social! Staying cool and getting to enjoy a tasty treat is a win/win in my book!
Go To Silverwood Theme Park
This might not seem super budget friendly but, here's how you can make it work for less:
• Buy tickets online. You have to select your date before your visit. However, you will have the flexibility, and peace of mind, of being able to change your date, as long as there are tickets available, up to 4 pm on the date of your reservation date. You will also have the added security of receiving a refund up to 4 pm on the date of your reservation if your ticket is unused.
• $35 Tickets are available to purchase now on Silverwood's website. With the water park being closed, you are able to get in and enjoy the theme park at a really great price. It's $35 for general admission and only $21 for youth/seniors. That's a savings of up to $5 off the gate price!
• Follow Silverwood's social media channels. There are contests and giveaways posted and you could win free tickets!
• Get all your other parent friends together and plan a Silverwood day and take advantage of the group rate. Groups start at just 15 people!
• Pack your own food and drinks. You can bring your own food and beverages into the park just make sure to not pack anything in glass.
Silverwood just announced their alternative event for this Fall! October 3 thru 24, 2020 (Saturday Only)  They are calling it the Silverwood Afterparty! During the month of October, they will be open Saturdays from 11am to 11pm (not open on Halloween). Starting at 6pm, the atmosphere at Silverwood will change to a party vibe with dance music, rides in the dark, and the opening of Dr. Delirium's Rockhouse. Tickets and operating rides will be available soon on Silverwood's website. So if you need something to do this Fall, this might be a fun place to go too!
We recently enjoyed a trip with almost the whole family (one of our girls had to work). We used the tips above and didn't have to blow our budget! I hope these tips help and your family enjoy these last days of summer!
Meet The Conductor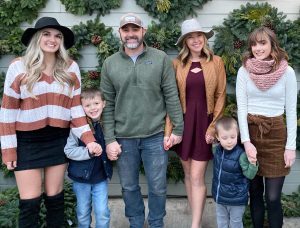 My name is Noelle and I live in Spokane, WA but moving to Hayden, ID this summer! I've been married to my husband 9 years and we have 4 kids (2 girls 21 & 19) and two boys (7 & 4). My husband and I both are from north Idaho and we love all things outdoors. We enjoy being active and exploring in our RV. Every summer, Silverwood is a must on our bucket list and we love getting to enjoy all areas of the park since our kids are different ages. I document all our adventures over on my IG @NoelleNorthwest and our blog