Our family really enjoys all the treats and food that Silverwood offers. The kids and I are huge suckers for the sweet treats and I am an even bigger sucker for anything bread/cake like – muffins and rolls, breads and gooey treats! So we were on a sugar high when we were invited to get a closer peek into Silverwood's bakery.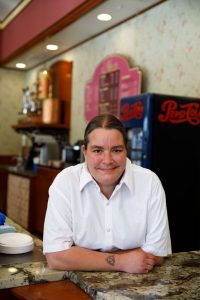 Most visitors don't know that Silverwood has an actual bakery on the property where each day they bake fresh rolls, desserts, sandwiches and cookies. Meet Nikki, she is one of the bakery chefs at Silverwood. She arrives early in the morning when the air is still crisp. She warms up the ovens, rolls out the dough and gets the day started with the most delicious homemade treats that Silverwood offers.
On our special visit, the boys got to lend a helping hand with a few things but most of all, they got to learn and see what happens before the crowd rushes in for a day of adventure.
Each day, the bakers make fresh dough for cinnamon rolls and croissants – which all takes time but the end product is so tasty!
The boys were all shocked to see how much flour, sugar and butter were kept in the bakery. Then I believed their eyes popped out of their head when they saw the big tub of frosting.
Nikki was great as she walked us through and showed the boys the process of making those delicious – melt in your mouth, cinnamon rolls. From prepping the cups, rolling out the dough, making the cinnamon goodness and rolling it up, cutting and baking it. But my favorite part was the delicious smell of that cinnamon baking and the cream cheese frosting that makes it perfect.
The one treat I have seemed to miss over the years during our visits are the homemade blueberry muffins. It was an item that always seemed to be sold out by the time we made it back around to the bakery and store and watching Nikki create them… my tummy was very angry. These are not your average muffins – these are like saucer size muffins with powdered sugar sprinkled over the top. Each muffin is carefully measured to bring you the perfect amount of berries and to fill up those face sized cups. These muffins could feed the whole family!
The boys, though, were thrilled when Nikki showed them how she makes the Silverwood cookies. They are HUGE and they are delicious- just like everything else.
We had such a fun time that morning, learning and seeing how the bakery creates all those delicious treats.
The next time you visit Silverwood, make sure to stop in at the main gift shop and bakery for coffee, a muffin or cinnamon roll, and any gift items. On the way out, you can stop again for that later afternoon or evening pick me up with a drive home treat!
Meet The Conductor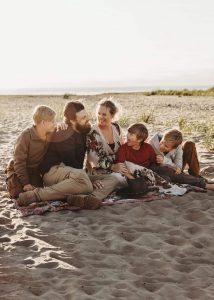 Hello! My name is Jackie. I am married to a handsome handyman, and I'm the proud momma of 5 kids. About 12 years ago, I started my photography business, Jax Creations Photography. Last year, I started a family website called Wanderful Memories. I use this site to share ways other families can document moments in life through travel and lifestyle. A fun fact about me is that I love to cook/bake for others, and I throw a great dance party in the kitchen (when no one is around to watch my awesome dance moves, of course)! There are many parts of Silverwood that I enjoy, but if I had to narrow it down, it would be riding the Tilt-a-Whirl with my boys. I love to hear them belly laugh! My family enjoys visit Silverwood multiple times during the summer with season passes — it is the perfect way to split up the summer days by visiting the water park or getting their adrenaline going on a roller coaster.