Going to Silverwood with young children is more fun than I EVER thought it would be! I have a confession; the idea of bringing toddlers to a theme park all day did not used to sound like my idea of fun.
Boy was I wrong! We have a BLAST taking the kids and usually stay open to close. Yes, with Toddlers! Granted, they are passing out in their car seats on the way home… but I call it a win-win!
One of my favorite parts of going to Silverwood is honestly just watching the joy on my kids faces as they try out new rides!
Silverwood is PERFECT for toddlers and young kids. I love that they have the park situated with most of the tiny kids rides in one central location; "Garfield's Summer Camp". This means less walking and more riding! There's even close by bathrooms and a fun jungle gym that look like trees!
The kids section is hardly ever crowded so you don't have to worry about your young kiddos becoming too impatient in long lines! A lot of the time they are literally walking right on the rides!
Here are some of our kiddo's favorites:
1. Red Barron (Airplanes)
Location: Garfield's Summer Camp
The perfect first ride! Low thrill, perfect for littles to ride together or separately and they can control when they want to go up or down! Who wouldn't want to try their hand at being a pilot? This is the perfect mini version of their NEW roller coaster coming in Summer 2021.
2. Tiny Toot Coaster
Location: Garfield's Summer Camp
If you need a way to introduce a thriller, look no further than Tiny Toot! It's the perfect mini coaster that will get your little kids comfortable with some faster turns! Plus, you can ride with them! This has a medium thrill level! Not too crazy, but just enough to make them want to try again! If your kids love trains as much as mine do, this one is a must!
3. Roaring Creek Log Flume
Location: Country Carnival
Perfect family ride for the whole family and is fun for all ages! (48 inches tall and smaller must ride with an adult). The Log Flume is a great break from kid only rides so mom and dad can have some fun riding too! Roaring creek is medium thrill and the perfect transition from mini coaster to water coaster! A great way too cool off and, YES, you will get wet! If it's your little's first time, sometimes sitting in the back seat can keep you a little drier! No guarantees though!
4. Frog Hopper
Location: Garfield's Summer Camp
For some reason my youngest could ride this all day and his older sister is always happy to oblige! This mini rise and drop ride is low thrill, making it a great option for toddlers and young kids wanting something a little more gentle! One adult can also ride this one if your child doesn't feel comfortable riding without a grown up!
5. Krazy Koaster
Location: Garfield's Summer Camp
Looking for a spin? Krazy Koaster is my littles favorite spinning ride! A Mini-coaster with spinning carts, it's even a thrill for us adults riding with them! For this medium thrill ride, you must be 36 inches to ride with an adult or 48 inches to ride alone! A couple times on this is sure to make you a little dizzy!
Meet The Conductor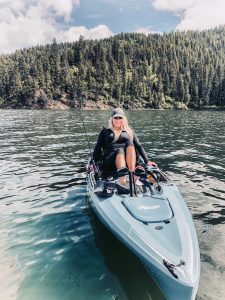 My name is Chelsea Halasz.
I own a lifestyle and travel IG feed called @TheBlondeSpaniard. I was born in Spain but grew up mostly in the Pacific Northwest! I introduced my husband to the PNW almost 10 years ago and he has fallen in love with it just as much as I have! We are raising our 3 children ( 6, 3, and a newborn) here and hoping to see them grow a passion for all the fun outdoor adventure the area offers! I grew up going to Silverwood as a young girl and I'm so excited to bring those family traditions full circle and bring my own family! Check out my feed on Instagram where I share all our family fun, home decor inspo and travel adventures! Take a peak at my PNW highlights to see all our local adventures including our fun times at Silverwood!