If you're not having a S'mores Competition every time you go camping, then you're really missing out!
This year while camping at Silverwood RV Park, our family created a new family tradition that will live on with each subsequent camping trip we take.
It goes a little like this…
Gather all the creative S' more supplies you can think of. Obviously, you'll need the basics: Grahams, Marshmallows, and Chocolate.
Let your kiddos hit up the candy aisle at the grocery store, choosing two or three items they think will make the BEST S' mores ever (Reeces Peanut Butter Cups, Rolos, even Sour Patch Kids!).
Then, the first night of camping, you have a S'mores cook-off!
Channeling the Food Network TV show "Chopped", the adults are the judges and the kids are the contestants. Each kid prepares their BEST S'more then presents it to the adults.
Whoever has the best, most creative, and most delicious S'more is rewarded a special prize!
The prize isn't as important as the fun you and your kiddos will have, it's memories they'll be talking about for months… all the while, the adults are getting their S'mores cooked and served to them without lifting a finger. It's BRILLIANT!)
* Funny note, the S'more creation topped with Sour Patch Kids was actually the winner!!! No joke!
One of the things many people don't realize about the Silverwood RV Park is that you don't actually have to have an RV to camp there! In fact, if you're hoping to enjoy the park for two or more consecutive days, the RV park is the perfect place to set up camp.
Want to spend an ideal day at Silverwood? How about TWO ideal days with a fun camping trip in between?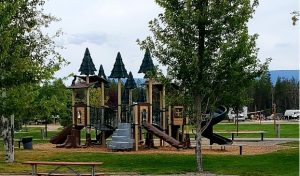 The Silverwood RV park is perfect because it's within walking distance of the park, boasts beautiful lush green lawns, has a great playground for the kiddos, super clean showers and bathrooms, and a great General Store for any of those "forgotten" items. (Be sure to check out these must-pack items for hitting the park with littles.)
What we love most about staying at the RV park is it's the perfect "home base" to come back to mid-day. It's a great spot to allow littles to nap, grab a snack, and recoup in the middle of a full day at the park.
Roasting hot dogs over the fire for dinner, then cooking up a few quick S' mores is the fuel needed before heading back to enjoy the nightlife of Silverwood (it truly is a different place all lit up at night!). This October, they are even having an alternative evening event. After 6 PM on Saturdays, the park will transform into a fun, party like atmosphere with lights and music.
Or, if you're an exhausted parent of teens, you can head back to the campsite and kick your feet up for the evening while the big kids play the day away!
If you're thinking that a stay at the RV park is out of the cards for this year, don't count it out yet! I was just on their reservation website and there are still PLENTY of spots available for as little as $35/night!
For our family, that's as much as the drive to and from the park would cost in gas, so it's well worth the money to stay the night, even if we're only planning a single day of fun at the park.
Also, be sure to check out these other budget-friendly tips for your Silverwood trip.
Have you stayed at the Silverwood RV Park yet? What's your favorite experience?
Meet The Conductor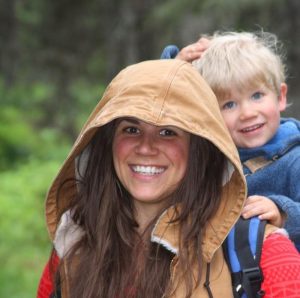 Kelsey Steffen is a wife, mom, and entrepreneur living in beautiful North Idaho. She has five rambunctious, loveable kiddos who bring excitement and joy to her every day. She and her husband, Jason, own Smalltown Design, LLC, a web management company, and they are blessed to be able to work from home and homeschool their kiddos. They also have a blog called Full of Days where they share (mostly) healthy recipes that fuel you to live a long life, "full of days". It's up for debate, but she's pretty sure the Lazy River at Boulder Beach is one of the best places on earth!