Whenever I think of amusement parks and carnivals, rides and SWEETS are two of the first things that come to mind. Honestly, I don't think you can go to an amusement park without enjoying something sweet. You can't do one without the other, right!?
I Scream, You Scream
The Ice Creamery has always been my kid's favorite place to grab a special treat. Their famous 'single' scoop ice cream cone is by far the most satisfying ice cream cone around! Don't be surprised if you can't eat it all… you may even think about sharing one with someone!
Best $5 Treat?
If you're frugal like me, you're going to love the fact that funnel cakes are only $5 before 5 pm at the Sugar Shack! (you can save up to $2.50 depending on which kind you get!) Oh my goodness… they are so delicious and they are big enough to share! My husband, 16-year-old daughter, and I all shared one last summer, and we were all full by the time we finished! This year they are offering powdered sugar, huckleberry, strawberry, and the NEW fruitfetti flavor! Don't forget to check out the funnel cake eating contest that was hosted at the park this year. Oh… they also have elephant ears! 
Sweet Treats on Main Street
If caramel apples are one of your favorites, you're going to love the variety of hand-dipped specialty flavors. There's just something about a messy, sticky caramel apple that reminds me of being a kid at the county fair!
Candy Store
Did you know that there is also a candy store? Each time I walk into the candy store, I feel like a kid again! So many varieties of candy… as far as you can see! Some of the candy in there I hadn't seen since I was a kid! Even if you don't buy anything while you're in there – it's always fun to walk around! The candy store is located at the end of the path on Main Street. Head towards the water park, and you should see the candy store sign along the way.
Tasty Tidbits
Ice cream, funnel cakes, and caramel apples aren't your only options. Dippin' Dots, snow cones, slushies, frozen lemonade, iced coffee, pastries, cotton candy, kettle corn and so much more are also available to satisfy your sweet tooth or bring back childhood memories!
 No matter where you are in the park, I promise you that there is something sweet right around the corner! You're only "issue" is going to be making up your mind on which sweet treat to enjoy!
Frugal Tip:
 If you are a season pass holder, you also receive a 10% discount at all food and retail locations (excludes alcohol)!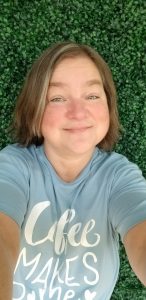 Hello! My name is Bridget Axtell. My husband and I were both born & raised in Idaho and wouldn't want to live anywhere else. We have two amazing children, (ages 17 and 20) and 3 mastiffs! We have been enjoying Silverwood as a family for 19 years, but my first experience was at the airshow back in the mid-80's! The thing we love most about Silverwood is that there is something for EVERYONE to enjoy! Our family loves everything about visiting the park and am not sure what we would say is our favorite ride or attraction… but you absolutely MUST visit the Ice Creamery and have a waffle cone! I've always been a frugal Mom, so 11 years ago I started my blog Being Frugal and Making It Work, so I could share frugal deals, tips, tricks and even giveaways! I'm also a coffee "addict" and have my very own Happy Coffee side gig! It doesn't get much better…