One of the best shows there is at Silverwood Theme Park is the Magic Show. No matter how many times we have been, it is still just as amazing as the first time. Check out a recent video from The Silverwood Show, as Stephanie takes us into a sneak peek into some magic and learns a magic trick from Nick.
I recently had an opportunity to go behind the curtains to meet the fabulous Nick and Amanda Norton, to get a peek into their magical costumes.
Nick and Amanda are the couple behind the magic at the Silverwood theme park magic show. They are married and perform over 300 times a year! If you are in need of some entertainment, a moment to rest your feet and dine on some DELICIOUS pizza, then you need to make a stop at the magic show. 
Ever since I was young, I have loved learning about the magic that happens behind the scenes that create a show and movie. Even to this day, after I watch anything on a screen, stage, or on the ice, I will dive deep into everything I can to see how it all comes together. My weakness – COSTUMES! I have a dream of having a warehouse just filled with costumes. I was in HEAVEN when I was able to do my Scarywood Behind The Scenes! Back when I was in high school, my goal was to be a costume designer. I even was able to go to Disney my senior year and follow around the designers and seamstresses to watch the magic come to life. There is just something so cool about having an idea/vision and then creating it as a physical item. I am blessed to have the career that I have, but if I could add another profession or hobby, it would be for sure, costumes and makeup!
I don't know much about magic, and honestly, I am just in awe of how "Magic" happens. I enjoy the secret and the puzzle. My boys are always inspired after the Silverwood show, and you can find them for DAYS playing with a deck of cards, trying to recreate what Nick does on stage. 
But, as we learned, costumes for performance are different from a costume for a MAGICAL performance. When you are in a performance, your costume does need to have movement in certain places, so you can have the freedom to stretch, curl, jump, etc. But with magic, those costumes not only have to look good and move… they have to provide the secret places a magician needs. And that requires a seamstress that thoroughly understands the ins and outs of a performer. 
I was able to sit and have a chat with a former costume seamstress, Theresa, as she shared with me the making of a Silverwood Costume. 
It all starts with a collaboration between the performers and staff. That is when everyone will share ideas on the upcoming shows and themes. Although the magic show theme doesn't change too much from the Steampunk style, there will be little things such as a color change, accessories designs. For example, costume design and character will change for Scarywood.
After the collaboration meeting, then it is time for some visual fun as a storyboard or vision board is created. Pinterest is a great example if you like to do things online, but I am an old-school soul, and I seem to think louder when I can have something tangible I can put side by side. A vision board is a great starting place to gather colors, ideas, fabrics, and any inspiration from songs, decor, movies, or anything that catches your eye. Vision boards are also great when you are working with a group of people so that you can share your vision with others or the performers for their input. 
After you have your vision board, the designing and sketching begin. Keeping in mind the overall style and theme, such as Steampunk, what kind of profile the performer wants, do they need a quick change of costume, what kind of pockets, zippers, closure do they need for their performance, what type of fabric would be appealing as well as comfortable – does it need to flow or keep a certain structure or texture…and how often is this costume going to be worn. There are so many things that go into a costume, especially for long-term use.
After the design sketch, the fun part of finding and purchasing the fabric. With so many choices available as well as designs – this process can be overwhelming. Not only are there hundreds of options for fabrics…. So is there for all the embellishments, stones, sequins and more. Not only does a costume have to look good close up, but it also needs to be amazing from far away in the audience. 
I recently had to design and create a costume for myself, and I thought a few crystal stones would be plenty until I saw the costume in a photo and from far away. What was 50 crystal stones, turned into 500! You want to make sure everyone that sees the performer can get the same amazement, no matter your distance from the stage. 
During my conversation with Theresa, I asked her what the trickiest (no pun intended) part of the costume process was. She said because the numerous times the costumes are worn and performed in, wear and tear happen, so it is important to make sure you are able to not only fix and repair the issue, but it happens seamlessly with that costume. A lot of times, a costume has been used for a couple of years, and that fabric is no longer made, so creativity is needed to not only repair the spot but also enhance it. For example, if a jacket is getting thin around the elbows, finding a patch that can be used and compliments the costume is needed. That is also a good way to change up the costume in a small way and give it more character.
I have made costumes for myself, and my kids, but never have I made a costume for a guy. So I asked Theresa if the process was harder between Nick and Amanda. She said that Nick's costumes were easier but more fun to create than Amanda's because of all the pretty details her dresses have. And when I was able to peek into their costume closest- I totally agreed!
Amanda has so many FUN dresses and skirts. The little girl inside of me wanted to play dress up so bad! But the boys did get a chance to try on one of Nick's jackets from the Scarywood show. We were all amazed by how heavy, thick and sturdy his jacket is. And speaking of heavy…. Amanda is a superwoman! She is tiny and stunning, and her dresses and skirts are just as heavy. It is incredible to be able to feel these costumes up close to realize how magical everything is! I don't know how she gets across the stage so gracefully!
There are so many costumes from the show that are impressive, but I think the most impressive of them all are the quick change dresses. That in itself is magical! It is amazing, to me, to see a costume/dress, and in a split second or a snap of the finger, the costume is completely different. 
After my fun conversation with Theresa about everything costume-related, I asked her how someone could get into the career of being a costume designer. I was impressed to learn that when Theresa was younger, she got involved with the local 4-H club with her passion for sewing. As she grew older, she became part of her local theater in high school and children's theater, and when in college, she was part of the costume construction process for theater.  
If you are interested in following the love of costuming, take some pattern-making and sewing classes. Dig into books and videos on the history of costumes, and never be afraid to try!
Meet The Conductor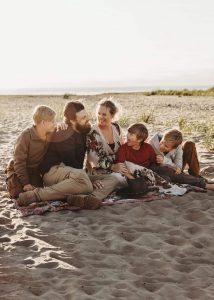 Hello! My name is Jackie. I am married to a handsome handyman, and I'm the proud momma of 5 kids. About 12 years ago, I started my photography business, Jax Creations Photography. Last year, I started a family website called Wanderful Memories. I use this site to share ways other families can document moments in life through travel and lifestyle. A fun fact about me is that I love to cook/bake for others, and I throw a great dance party in the kitchen (when no one is around to watch my awesome dance moves, of course)! There are many parts of Silverwood that I enjoy, but if I had to narrow it down, it would be riding the Tilt-a-Whirl with my boys. I love to hear them belly laugh! My family enjoys visit Silverwood multiple times during the summer with season passes — it is the perfect way to split up the summer days by visiting the water park or getting their adrenaline going on a roller coaster.