Silverwood is a family business in every sense of the word. Mike Norton, Gary Norton's second-oldest son, was just a teen when his father transformed the former airport strip into Silverwood Theme Park. Mike helped with a lot of the park's construction during the early days. Then he began cooking at Lindy's restaurant and later became a bartender there before heading off to culinary school. Today, he runs Chuck Wagon John's All-You-Can-Eat Barbecue Buffet located at Thunder Creek Picnic Grove Pavilions.
So, the obvious question, of course, is, if his name is Mike, why was this operation once called "Chuck Wagon John's?" I asked him that question on a recent visit to the park. The answer is simply, John was the guy who ran the operation before him. Since he left, Chuck Wagon John's has been simplified to just Chuck Wagon All-You-Can-Eat BBQ.
If you've eaten here, the chances are good that you didn't leave disappointed, but that wasn't always the case for early park visitors. Mike tells me that long before John came to the park, the pavilions were just a space where the Norton's would feed large groups and private parties. In his own words, he says that "the food was basically medium grade." Nothing was made from scratch or pride, for that matter. That all changed when John came to the park. He had some experience cooking for large crowds learning from his days at Six Flags. "He came with a real bulletproof menu," says Mike.
"We've gone through several evolutions of trying to get things to work. Some things didn't, and some things did. We've had the same menu for about three years now and we're happy with it." So is everyone else. The chicken is sort of the centerpiece of the buffet, says Mike. That's because you won't find fire-grilled chicken at most theme parks.
"We are probably one of the only, if not the only, catering or restaurant in the country that's doing buffet-style wood-fired chicken," says Norton. "Cooking chicken can be very challenging. It's got to be cooked at a specific temperature, so that's hard to control that over a fire. It takes a lot of time to get that mastered."
Mike is a master. He explains that after the chicken is wood-fired, it goes into a large oven to thoroughly cook it without burning the outside or drying out the inside. Outside of the kitchen sits the Santa Maria, a standard wood fire pit. "We load this up with a case and a half of chicken per rack, and we usually cook three racks at a time during a busy day," says Mike.
He's got this thing down to a science. If the park is bustling, he can char the chicken real good and then finish cooking it in the oven, but he prefers to cook it more slowly over the pit so that he can serve a better product, but sometimes you gotta do what you gotta do.
Of course, the buffet offers more than just chicken. Here you'll find pulled pork, potato salad, cornbread, and homemade macaroni and cheese which is also very popular. They cook about 150 to 250 pounds of the stuff every day. In fact, this kitchen is in operation almost 24 hours a day. But Mike is not only cooking for the barbecue crowd. He's cooking and preparing food for the whole park.
This kitchen serves as the park's commissary providing pulled pork for the High Moon Saloon, seasoned chicken for Pablo's in Boulder Beach, pizza sauce for Caselli's Pizzeria, and they grind all of the hamburger for Lindy's restaurant. Of course, Mike has helped. The park employs about 30 to 35 kitchen employees during the peak season, including Mike's son, Thomas.
In the buffet area alone, Mike and his crew can feed up to 1,500 people per hour. And here's a great tip, while some food locations in the park can have wait times of up to 45 minutes, the average wait time at Chuck Wagon Johns is just six minutes. Meaning that you can load up, down a plate of goodness, and go back for more before some of the others in the park can make it to the ordering counter.
As for the Thunder Creek Picnic Grove Pavilions area, it makes for a nice breather from the crowds. The setting here is peaceful and the food is delicious. Whether you like your food drowned in barbecue sauce or prefer it sans sauce, the flavor comes through. Round out the meal with fresh-cut watermelon and chocolate chip cookies and you have a real meal deal. And you have Mike to thank for that.
Meet The Conductor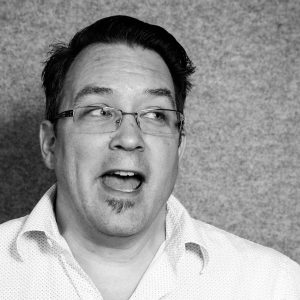 Jeffrey Totey and his wife live in the greater Seattle area and is a freelance writer and owner of Writer of Pop Culture website which focuses on pop culture, movies, TV, theme parks and more.