There are so many ways to quench your thirst at Silverwood, I've got some tricks up my sleeve, and I am sharing my super secret spot to refill, too. I'm almost tempted to keep it to myself a little longer.
For my coffee lovers, we have Silverwood Coffee Roasting and Trading Co. right when you get through the gates. I find this one of my favorite places to snag a drink because they have coffee and sodas and breakfast treats for those grumbles in your stomach. All mamas tend to feed babes before themselves, so I love the croissants with an iced coffee is essential. You can also grab a souvenir cup and the day of purchase is good for free refills around the park.
Another good spot to stop in and is filled with charm is the Victorian Coffee house. Heading towards Boulder Beach, it is aesthetically pleasing to be around, filled with a rich history. Enjoy a latte and play lawn chess; you won't be disappointed.
My super top secret spot for a quick top-off is none other than the Main Street Theater. Besides the oldies playing on the big screen and a sweet place to hide from the heat, 8 out of 10 times, there is only one other person in line. You can refill your cup, grab some popcorn and be on your way. I like to think it's my little hidden gem. Another good spot, look at me sharing them all with you (haha!), is down in the Critter Camp. I tend to spend a lot of time there with the kids. Tucked away closer to the Krazy Koaster is Kids Cafe; they don't have too many food options for the grown-ups, but it's a great place to fill up on your favorite drink (that souvenir cup is dandy, isn't it). 
I'm not much of a beer drinker, but never the less I have two spots for a good time in the park and, of course, one spot in Boulder Beach that is perfect for a nice cold one if you want to sit down and enjoy a sammy and beer High Moon Saloon got it for you. Right by the entrance and get LIVE performances. 
Down the way in Coaster Alley, they have Coaster Alley Refreshments. They have beer, some ciders, and a little more variety than other places I've seen. But I have to admit this spot has saved my behind. They serve espresso here, and one day I forgot the baby's milk, and the gal here got me some for the bottle. The service is by far my favorite, and we usually grab a drink here before hitting the rides. Be weary of drinking and roller coastering… we don't need any upchuck wagons around the park.
In Boulder Beach, of course, we have Cabana Coolers. This location is cool for frozen drinks, but the FLOAT UP BAR can't be beat! Head to The Cove, swim up, grab a spiked ice and float down that river without care… yeah, that's the dream right here. So many fun spots in the water park to fill your cups, but make sure you STAY HYDRATED .. this is the most important part of the park. Swap out a soda for water, especially while drinking and swimming. Stay safe out there, my friends. 
I think I saved this one for last because it's more of a dessert, but in my world, it's a beverage. HARD ICE CREAM SHAKES! I could drink them daily. I would drink them in a line, on a train, and playing a game.. oh wait, I already have. If you haven't gone into the ice cream parlor and gotten a shake, I dare you to do so now. They also have them down in Boulder Beach, but there are more flavors at Oasis. It is also important to note that the lines are shorter at South Creamery in the Coaster Alley. 
Overall this park is filled to the brim with places to quench your thirst with various refreshments and snacks to keep your hydration levels high. Be mindful that summer is hot hot hot, and you need to stay hydrated. Have fun and if you see me in one of our new secret spots, say HI! Let's cheer to the best day ever at Silverwood!
Meet The Conductor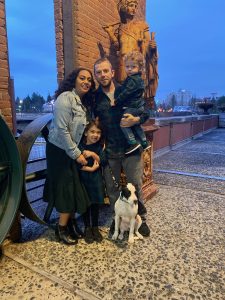 Rochelle Durruthy is a California transplant in the great Pacific Northwest, living and exploring in Spokane Washington, she is a content creator for her lifestyle blog, when she isn't busy creating content she's helping her fiancé and his renovation business and chasing their two children around. Always ready to conquer a new adventure Rochelle and her family are excited to share all the fun things to do at Silverwood what with you all.