Well, first of all, congratulations on that new life. Whether you or someone you know has just had a baby or is about to have a baby… Genuine congratulations to you.
I know from first-hand experience that having a baby is no easy task, from sleep deprivation, the desire to feel like a "normal person," and people constantly asking you for "updates." It's a rollercoaster of emotions.
So you know what helps with that rollercoaster? AN ACTUAL ROLLERCOASTER.
So if you are daring enough to brave Silverwood as new parents with a new baby. I promise that it's a lot of fun and that you just need to have a little slice of advice (Which we know people are giving to new parents in spades! But you'll want ours)
Here are 5 point's that you don't want to be missing about bringing an infant to Silverwood.
1.Bring A Friend
The best piece of advice I can give you is to bring a friend. That way, you don't have to constantly worry about holding the baby. How are you going to go on any of the rides? What's the point of coming if you and your other half have to go on rides are different times while you play "pass the baby"? Nope, bring a friend with you (BONUS POINTS: if they have a Silverwood pass) that is totally fine with holding your little precious one whilst you go on a ride that's going to spin you upside down. (Making you realize, of course, that after childbirth, nothing can scare you).
A friend who knows you well, knows your baby well, and can totally help you out on a day when you feel like you are resetting your soul with a little "me time."
2. Good Resting Spots
There are several great resting spots on the Silverwood property that I highly suggest.
· The Quiet Garden; I know this name might be self-explanatory, but it's named very well. It's a fantastic spot to sit and relax in between the business of the park. This is located by the Ferris Wheel.
· By Downright Slush. There is a lower spot with a garden that's off the main track. A great place to sit and rock a baby to sleep with very little disturbances
· By the Information Center and the Victorian Coffee House. There are plenty of quiet places here to just sit, relax, put your feet up and snuggle your little one away from the loudness.
3. Check The Best Time To Go
This is all going to be personal preference, but truly it's going to depend on YOU as the parent. If you're in the mood for some busy busy, then go peak season on a weekend. During the week, it can be quieter, but there can also be many school-age children. It just depends. Earlier in the season, the park tends to be quieter, and towards the end then, it seems to get much busier! Silverwood has made a guide for that HERE.
4. Places To Change A Diaper
Grab a copy of the map, and make sure you see how far away from any of the family restrooms are. Each one will have a larger stall at the end; this will have a changing table. They are very clean bathrooms and nice to use! You need to know how far you are at all times… Newborns are little ticking clocks… You never know when a Poonaumi is going to join you…
I know a "Poonaumi" sounds like a great name for a ride, But I can promise you that this is one wild ride that you will least expect, and you need to know exactly the path to the bathroom with the least path of resistance.
And finally… May the odds ever be in your favor.
5. Take It Slow 
You've brought a new life into the world. It's good that you're taking some time to go out and adventure besides the grocery store. But also just take it slow, and enjoy your time at the park. If you're not a season pass holder, then I suggest at least two days at the park to relax, enjoy and spend time as a little family unit! We also know that sleep deprivation and hormone challenges are REAL. So make sure that you have plenty of snacks, and just take… it…. Slow….
So there you have it! A simple guide to hitting up Silverwood with a newborn/little baby. They don't stay that tiny forever! Have the best time enjoying this chapter of your lives together.
You can read more about becoming a season pass holder HERE.
Meet The Conductor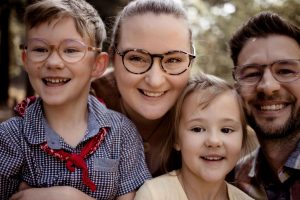 Hi! I'm Hannah! I have a family of 4, hailing from all corners of the globe, we've traveled the world with our kids, and constantly encourage our children to try new things, and experience new things. Enjoying in the little details is just as important to us as enjoy life's major milestones. We've recently moved to America from New Zealand. We have a passion for family, and encouraging family to spend time together. To truly be a unit. I lived 21 years in England, then 10 years in New Zealand, My husband Devin lived 18 years in South Africa, and then 18 years in New Zealand. Our kiddos were born and raised in New Zealand, and don't ask us what our accents are. They just awkwardly change mid conversation to suit the subject for no apparent reason. We love food, family, and theme parks. So with Silverwood, it's a match made in heaven!