For many of us, the past few months have been a consistent, questionable and personally draining blur. We are done talking about it, thinking about it, or worrying about it. We are ready for an escape; something to finally take our minds off of it all. Luckily for those of us in the Inland Northwest, this means a trip to Silverwood Theme Park.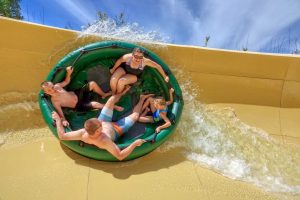 Deep down, we know that the reality of these past few months is still upon us, but Silverwood has taken precautions to allow us to enjoy our time without the worry, giving us the chance to actually enjoy ourselves, and let our children – or inner child – be free once again. At the entrance to the park, complimentary masks are provided for those who wish to wear one (masks are not required for visitors), all employees are required to wear CopperSafe masks, and Silverwood is now operating at a controlled, reduced capacity. The capacity is controlled by limiting the number of tickets sold online each day, and is based on a calculated average of incoming guests each year on any given summer day. This means that you will not be turned away when you arrive at the park, because tickets for that specific day were limited online.
Silverwood has incorporated a very flexible cashless system. Put money onto a waterproof wristband that can be reloaded and allows for an end-of-the-day refund! There's also the option of purchasing a gift card that can also be reloaded with money at any time. For those who visit often, you can join Silverwood's Free VIP Club that provides you with a debit card. Add and remove money at any time, with the protection of cardholder photos in the database. If you leave your card at home, you can still use it by providing Silverwood employees with your VIP Key. *Season pass cards double as VIP Cards! Of course, they also accept credit, debit, Apple Pay & Google Pay. You can read more about this Here.
Throughout the park, you'll find that tables are spaced apart accordingly, glass partitions are in place at ordering stations, and This New Map conveniently pinpoints all 115 hand sanitizing stations. Restaurants have been equipped with HEPA Filters, plastic menus & single-use condiments. On each ride, footprint paths are in place for social distancing while waiting in line and frequent disinfectant wipe-downs are required between ride cycles.
As for Boulder Beach, you'll of course find all of the above, but what about the innertubes? While you can certainly rent your own, the chlorine will kill germs on shared tubes and life jackets. So if you're feeling uneasy, dip them into the wave pool or lazy river.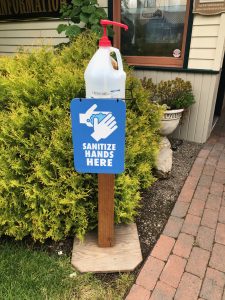 The additional beauty in all of this is that Silverwood is an outdoor adventure, does not involve sitting shoulder-to-shoulder with strangers & allows families to escape the day-to-day stress together. *Dare I also say that limited capacity means shorter lines?*
To all of you out there slowly coming out of quarantine, uneasy & looking for another family memory, Silverwood is here to remind you that they care, they want to give you your yearly escape & they are willing to work hard to give you a happy & safe atmosphere.
If you'd like to know more about how Silverwood is protecting you during the pandemic, visit the Coronavirus Update Page, the FAQs & Rules Page or call Silverwood at 208-683-3400.
About The Conductor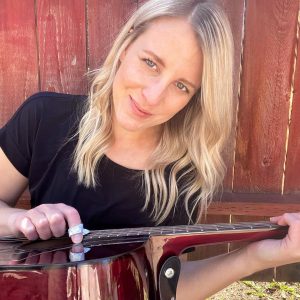 I'm Amy Riordan, optimist, bucket lister, podcaster & blogger. My passion is in social media strategy & product photography, so in 2019 I started a company to help small local business owners grow in online media. Growing up in the Inland Northwest meant frequent trips to Silverwood, hundreds of great family memories & now I share that tradition with my husband Tim. When we aren't working or at Silverwood, you'll find us out hiking with our dog Penny or working on our latest DIY project.