I remember going on my first REAL roller coaster when I was younger. It had an insanely fast launch, several loops, a corkscrew, and massive drops. As I waited in line with my father, my nerves really began hitting me hard. The screams got louder and the intensity of the track all around me became more pronounced. My heart was pounding out of my chest when it was suddenly our turn to board the vehicles. I was about to bail on my dad and take the chicken exit, but he kindly pushed me to give it a try. Once I was locked in with the restraints securely gripping my shoulders, I knew there was no turning back. A countdown blasted on the loudspeakers, and before I knew it, I was going 60 miles an hour, whipping around corners, dangling upside down, and screaming my heart out. Then it was all over. I was hooked. I finally understood the hype.
Roller coasters aren't for everyone, but for those that love them, Happy National Roller Coaster Day!  Celebrate this holiday today, tomorrow, or whenever you can! National Roller Coaster Day is officially on Sunday, but you are welcome to celebrate when and however you can! There's something about those drops, twists, turns, and inversions that keep us coming back for more. You can't easily replicate the feeling of your stomach dropping or the thrill of your screams escaping your lungs on anything other than a good old roller coaster. Whether it's a steel or wooden coaster, they're a great way to get your adrenaline pumping and to experience sensations that can't be found anywhere else.
Luckily, Silverwood has no shortage of thrills. There are plenty of ways to get your screams out at the park, but some of the best options are their iconic roller coasters, many of which can be seen looming on the horizon as you approach the park from a distance.
First of all, there's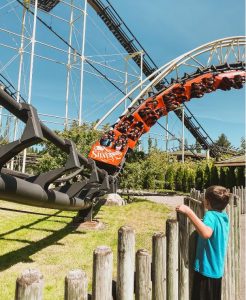 the Corkscrew, which originally debuted at Knott's Berry Farm, but now is housed in Northern Idaho. This steel coaster starts with a big chain lift, followed by a big drop and a few fun inversions. It might be somewhat of a short coaster, but it packs quite a punch in that small footprint.
Aftershock continues to be the one ride at Silverwood that makes me, a roller coaster enthusiast, nearly faint with fear. You see, I have a thing about dangling and heights, and Aftershock contains both of those. You start by going backwards up a 90 degree hill while your feet awkwardly dangle in front of you. Just when you think the thing can't go any higher, it stops, leaving you a moment to make your peace with your maker before you surely die… but then you don't. In fact, that's the moment that you plummet face first toward the ground, zip though the loading station, invert completely, then flatten out and climb a parallel tower, but this time, you're facing forward, looking up at the sky, not down at your feet. After another moment of eerie silence, you then fall to your doom and complete the entire ride backwards. It's an insane ride that will try the bravery of even the most iron hearted souls.
Timber Terror is one of the first coasters you'll see when you approach the park, as it contains a giant Silverwood sign on the side of it. As the name suggests, it's a wooden coaster, which gives it that crazy charm and feel that you just can't find on a steel coaster. You'll feel lots of good drops and dips on this one, but it's a little less intense than other coasters, which makes it a great choice for younger kids that might be afraid of going upside down on a steel coaster.
Finally, my favorite coaster at Silverwood is Tremors. This one is another wooden coaster, but there's something here that is truly terrifying: it has moments that you'll feel as if you're going to be decapitated (don't worry- you're actually not going to lose your head!). This wooden coaster dips under structures on a few occasions, giving it a terrifying sensation of danger, but there's actually plenty of clearance. I love this one because it's so unique and thrilling. Many people might think that a wooden coaster couldn't possibly be as good as modern steel coasters, but I think that Tremors is one of the best coasters out there because of its crazy twists and turns, massive sudden drops, and unexpected moments of impending doom. This is a must ride every time I am at Silverwood.
So tell us, what's your favorite roller coaster at Silverwood?
Meet The Conductor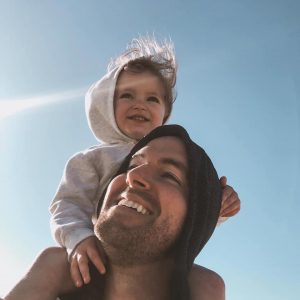 My name is Shaun Fisher and I absolutely love going to theme parks with my family. I'm an online Language Arts teacher and a father of 3 beautiful children. I started the website Park Padres so I could share my love of theme parks with others and give tips and advice when traveling with children. For me, a theme park is one of the best ways to have fun as a family!