My family has been enjoying Silverwood every summer for the past 19 years, but this is the first summer EVER that my husband and I decided to go without the kids! No kids, just us… for a DATE NIGHT! Some of you may be thinking, date night? YES!! Trust me when I say that we had such a great time and that everyone should have a date night at Silverwood at least once!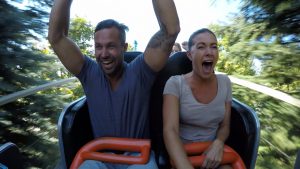 Since we had never experienced the park without kids, we weren't sure what to expect. Would it be fun without them? Would we be bored and ready to go home quickly? Let me just say that we had a great time and have gone back, just the two of us, a few times since our first date!
Our date started off relaxing in the lazy river. We each grabbed a tube, kicked back, and enjoyed the float. We have both said many times that we could just sit and float the lazy river all day long and be perfectly content and happy. I always seem to be the one that ends up going under the water spouts, but it's all good! We enjoy everything about it… including people watching and the music.
Next, it was off to the Magic Show! We hadn't been in a few years and we were glad we went. There were new tricks and illusions that we hadn't seen before and even some funny jokes about the current pandemic we are facing that made all the adults laugh! The magic show lasts about a half hour and is perfect for the entire family!
After the magic show, we walked around the park and decided to hop on the train! We have always enjoyed the relaxing and entertaining ride on Engine #7 through the woods and around the park. The 30-minute train ride is fun, scenic, and entertaining! I'm not going to give away all the details and secrets, but I love seeing the baby bison, the view and the pesky bandits are awesome! It's not only a ride but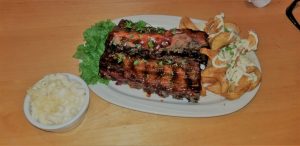 also a show!
To end our perfect date, we went to Lindy's for dinner. I've always been impressed by the fact that there is a sit-down restaurant inside the park. I honestly don't think that is common at amusement parks. I love the old-time feel and decor, it honestly makes you feel like you have gone back in time to the wild west… that's what I love about Main Street!
For dinner, hubby and I decided to order the full order of ribs and share it. It came with two sides, so we chose mac-n-cheese and garlic fries. When they brought our order out and sat it on the table in front of us, our eyes about popped out of our heads! How on earth were we going to be able to eat all that food? Let's just say, we had dinner and then hubby had the leftovers for lunch the next day!
Our food was absolutely delicious! Everything was cook perfectly! The mac-n-cheese was creamy, the ribs fell off the bone and we cooked perfectly and the garlic fries were to die for! I also had a huckleberry lemonade that was amazing!!! Plus, I got FREE refills! Our waiter was amazing as well. We couldn't have asked for our dining experience to be any better.
RJ and I celebrated our 21st anniversary earlier this year and I'm happy to say that we are still having fun and enjoying each other's company! Silverwood Theme Park and Boulder Beach Water Park is the perfect place to relax, laugh, have fun, and enjoy a memorable date with your special someone!
Meet The Conductor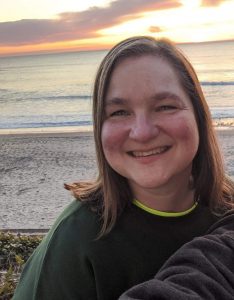 Hello! My name is Bridget Axtell. My husband and I were both born & raised in Idaho and wouldn't want to love anywhere else. We have two amazing children, (ages 16 and 19) and 3 mastiff's! We have been enjoying Silverwood as a family for 18 years, but my first experience at was the airshow back in the late 80's! The thing we love most about Silverwood is that there is something for EVERYONE to enjoy! Our family loves everything about visiting the park and am not sure what we would say is our favorite ride or attraction… but you absolutely MUST visit the Ice Creamery and have a waffle cone! I've always been a frugal Mom, so 10 years ago I started my blog Being Frugal and Making It Work, so I could share frugal deals, tips, tricks and even giveaways!