It's true not everyone's ideal day at Silverwood is the same, but for our large family of 7, with our kid's ages spanning 14 years, this is how we make it work for everyone to have the "best day ever!"
Our perfect day starts off with a late breakfast before heading to the park. Since the park opens at 11 AM, we like to arrive with our tummies full to jump right into the fun. If you're visiting from out of state, be sure to check out this post for great local breakfast options!
Our first stop at Silverwood is always Boulder Beach. We find that on a typical day, most people head straight for the coasters. We usually grab a shady spot in the water park and then hit the big slides without the long lines.
There are quite a few options for great places to set up for the day at Boulder Beach. Among our favorites are the private cabanas on Cabana Island. We celebrated the summer birthday's in our family earlier this season and had a blast!
If you don't want to pay for a private cabana, there are a dozen or so public cabanas spread throughout the water park. (Check out this post on more budget-friendly tips while at Silverwood!)
We also love the island in the middle of the Lazy River, there's a nice sandy beach packed with lounge chairs and a shady picnic table. Get there early! The cabanas and the island fill up quickly!



We like to spend two to three hours at the water park (you'd be surprised just how exhausting all those water slides and STAIRS can be!). A dozen floats on the Lazy River are needed just to recoup before heading into the dry park.
Our M.O. is to eat our lunch on the train. The 30-minute train ride is just long enough to rest your feet, fill your bellies and be ready for more adventure.
The train leaves the depot every hour on the hour, so plan accordingly! (Just a hint, if you sit in the middle cart, you WILL get wet!)  There's also a brand new baby bison, so be sure to bring your camera!
Our favorite lunch spot is High Moon Saloon, it's located just beyond the train depot and serves up some of the best fish and chips! If they aren't open, Lindy's is right next door and they have fish and chips too! They'll even package up your food in a to-go box, perfect for the train.
A packed lunch is also an option, and we LOVE that Silverwood allows you to bring in a soft-sided cooler. Just know that Curtiss' Candy Factory happens to have some of the best chocolate truffles and is conveniently located near the train depot.
After the train ride, we'll head over to the roller coasters and let the big kids get their thrills on Spin Cycle, Panic Plunge, and Aftershock. Then we'll ride the wooden roller coasters a few times (Tremors happens to be my favorite ride in the park!) before heading to the water rides to cool off again.
Thunder Canyon just so happens to fit our entire family and it's fun wagering about who will get the most soaked!
We'll then let the big kids hang out and play some games at Country Carnival (or head back to the big roller coasters if they haven't had enough thrills for the day) while the parents take the little kids to Garfield's Summer Camp.
This allows us to catch our breath, rest our feet, and grab a cold drink while the kids keep on playing with their endless energy. If you're ready for a sweet treat, the Ice Creamery is your best bet for hard scoop ice cream. I think their math is a little skewed as a single scoop equates to five actual scoops! Best deal in the park!
Our next stop is for dinner and a show at the Theater of Illusion. Be sure you know what times the magic shows are playing and show up about 30 minutes ahead of time. Order yourself a pizza (their chicken pizza is out of this world!) and grab a seat around one of the tables upfront.
The 30-minute show will NOT disappoint!
After the show, it's a great time to grab a quick jolt of energy for the adults. The Victorian Coffee House has what you need and it's across from the train depot.
Then it's time to head back to Coaster Alley. As the day turns to night, the park will become less crowded and lines will be shorter. Being at the park when it's all lit up is a completely different, and somehow even more magical feeling.
Keep riding the rides until you're about to drop, but don't forget about the walk back to your car or the RV park!
If you have a long drive, another stop for coffee might be in store! The Breve at Silverwood Coffee Roasting & Trading Co. is the best I've ever had!
It's so hard to enjoy everything the park offers in a single day. That's why we HIGHLY recommend becoming season pass-holders. It's something we gift our kids each year. We like to give experiences over gifts! You only need to go twice for it to pay for itself!
If you're visiting from out of town, a two-day ticket may be your best bet. If you're a camper, there's great tent or RV camping at the Silverwood RV Park.
Meet The Conductor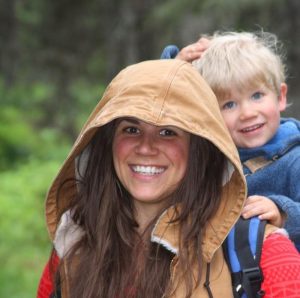 Kelsey Steffen is a wife, mom, and entrepreneur living in beautiful North Idaho. She has five rambunctious, loveable kiddos who bring excitement and joy to her every day. She and her husband, Jason, own Smalltown Design, LLC, a web management company, and they are blessed to be able to work from home and homeschool their kiddos. They also have a blog called Full of Days where they share (mostly) healthy recipes that fuel you to live a long life, "full of days". It's up for debate, but she's pretty sure the Lazy River at Boulder Beach is one of the best places on earth!